Educator Amar D. Gibran Virtually Welcomes Us To His Home For Children Of Migrant Workers
His home was also a shelter for more #BlueTentChildren during the pandemic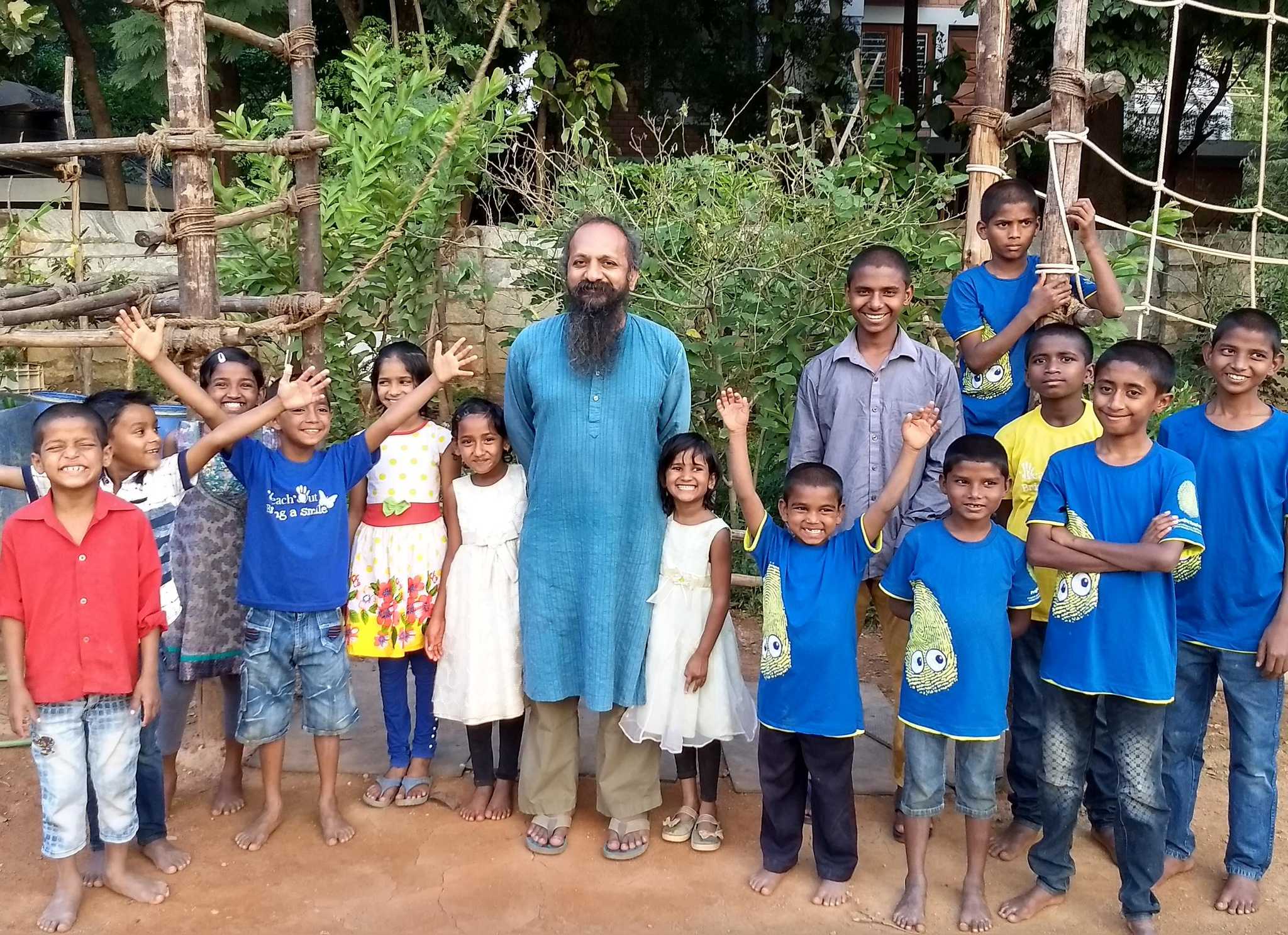 A transformation that changes a human in and out as a person can be either positive or negative, but definitely life-altering. Take Amar Daniel Gibran's life, for example. A resident of Bengaluru, India, he turned from a capitalist to a chief servant for homeless kids with his organization Ananda Sagara six years ago.
"A decade ago, I was an egoistic and self-seeking technologist, entrepreneur, capitalist, and consultant. Today, I am the chief servant at Ananda Sagara," Amar shares with us as he agrees to make us e-meet his 50 students with whom he lives in a rented house in the city.
Ananda Sagara is home to children of migrant workers or, as he calls them, #BlueTentChildren, which started and runs on Amar's own assets and savings. Elaborating on which, he shared, "We continue to serve these children both in our residential program and in our day-school with only answered prayers. We do not raise funds, we do not ask for funds, we do not email, phone, knock or call anyone for money." He thanks God for the little income he manages to earn from various means. (He, BTW, was once an atheist)
The children have found a home wherein they are educated about almost everything basic – from academics to co-curricular activities and even personal hygiene.
During our conversation with this selfless educator, we learned how his home became a shelter for more kids during the pandemic, his vision for all of them, and his life as a content teacher. Read below:
1. Your organization has been home to the migrant labourers' children. Today, with all the problems they're facing during the pandemic, how has it affected the education and well-being of the kids in your home? Also, were there more kids who found abode in your organization during this time?
As we run both residential and day-school programmes, homeschooling continued for the residential kids and in fact, they were able to learn more in terms of other pre-vocational skills, life skills, and survival skills. God has been grateful to us and with other generous individuals, who supported us during this pandemic making sure we did not lack provisions and other necessities for the kids.
But the ones attending our day-school, they went back to stay with their parents when the schools were shut. Hence, their education and wellbeing did get affected as they mostly sat idle at home with no learning, no activities, and not even playing.
We lent our support to both children and families (who lost their source of income), both financially and essentials-donations. We reached out to our day-school children and gave them daily lunch packets through sponsors and also gave them regular provisions until the lockdown was lifted.
2. You've had a shift in your profession – from corporate to an educator. What is the best part of being an educator?
The life in the corporate world is mostly a life of greed, it's mostly filling the wants of mankind without really bringing an improvement in the community. But, as an educator, especially when you are able to reach out to the bottom of the community, it's the hope to bring some improvement to the society that has become my driving force.
Today's children are tomorrow's citizens, but today's criminals were yesterday's children. So, if you do not uplift today's children, one cannot dream about a safe future. And, as an educator, I want to lay a foundation for their bright future.
3. What kinds of challenges do you usually face to run this home-school?
The biggest challenge is that these migrant workers do not have long term vision or plans for their children. Most of them send their children to our home or school due to economic reasons. And when things start to crumble in cities, they decide to move to their hometown and then pull the kids out of home and school. With that begins children leaving studies and earning for their family around the age of 14 years. So, convincing parents and kids dropping out stands as our biggest challenge.
Apart from this, we do face financial and infrastructure obstacles as well.
4. How do you manage to teach different subjects to your students? Do you have regular volunteers join you?
We did not have any teachers or volunteers when we started, so we started with creating an environment for self-learning. Once provided with resources, the kids grasp it so quickly because every child is intelligent and is so eager to learn. Adding to the self-learning, we had/have peers teaching the kids, and then older kids also help the younger lot. So more than teaching different subjects, we focus on helping the children learn. For example, we have been successful in helping the children learn many things from YouTube videos in subjects where we did not have much expertise or knowledge. The children have also learnt to play flute, mouth organ, making charcoal, crafts with bamboo, taking care of life stocks, gardening, etc.
We do have more teachers now who monitor and moderate children's learning.
5. What is your dream and vision for them?
Our dream and vision are to strengthen them, enable them and make them well-grounded citizens with strong individual values. As they grow up, we want them to respect their and others' background, culture, and roots. We want them to become micro-entrepreneurs & job creators and not job seekers. We hope when they grow up, they'll help their parents and community at large.
6. How exposed and open are your students to technology? Talk about the Digital Divide we've in the education sector from your perspective.
We have intentionally minimized the internet and technology usage in our home and schools with no access to cable TV. There are many reasons, of which, falling prey to wrong things due to technology with no proper guidance remains foremost. Second, we want them to experience the raw nature of the world, more hands-on learning with the environment and experience the beautiful world that God has created. It gives us happiness to see them enjoy the real world more than the virtual.
Having said that, we do not want to keep them alien to the world of technology as well. So, they do have a fixed computer time, where kids draw, paint and use the computer, we do show them a lot of "selected" YouTube videos, which will help them learn about current events (news). We also watch movies together, which inspire and motivate them in some way.
This Young Woman From A Tribal Village Is Teaching The Children While Schools Are Closed
The only graduate of a Tamil Nadu village has volunteered to teach the children of the village while the pandemic persists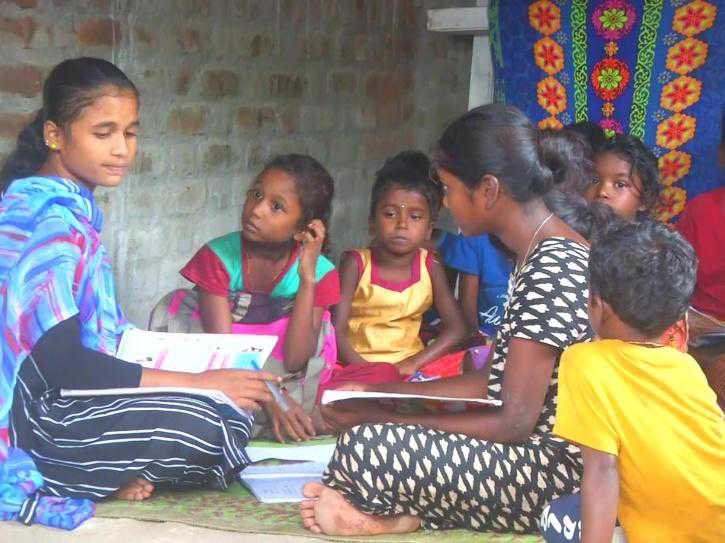 Where the digital network failed these tribal children in the southern part of India, their own stood to support them. Sandhya volunteers in teaching the kids of her village, Chinnampathy in Tamil Nadu. She is a graduate of B.Com, she is the only person from her village to have graduated college. Sandhya told India Today, "If it rains, we can't go to school. We only have one bus to our village and so after a certain age, people drop out of school."
Having gone through struggles herself, Sandhya knows how important a teacher and school is for growing children. So she volunteered to teach the children by herself, so they don't lag behind due to school closure. Sandhya said "When I was a child, I had no one to help me study. These children here have me to help them study."
One must ask the children from a remote rural or economically backward area, how it feels to not have the proper learning opportunities. The pandemic took more than the ability to roam about freely, it snatched away the ability to go to school for children on a global level. While it is easier for families with better income to support their child's online learning, most rural and financially challenged families are struggling.
The Indian government did start many projects for such students, but even learning via a television channel or free online course needs some basic gadgets and network connection. Many remote villages, like the tribal village, Chinnampathy, can not find enough network strength to have their children sit in front of a television and learn via the education channels.
On being asked how her classes are enduring she said, "The children come and ask me very freely all their doubt and they are not afraid of me. I see these children learning well and answering all the questions when I ask them."
Youth like Sandhya, who appreciate and signifies the work educators do and want to help the cause, are the future of the education sector!