Kanya Kelavani drive in the urban areas commences on 17th June
The school-enrollment programme plans to educate underprivileged girls all over the country.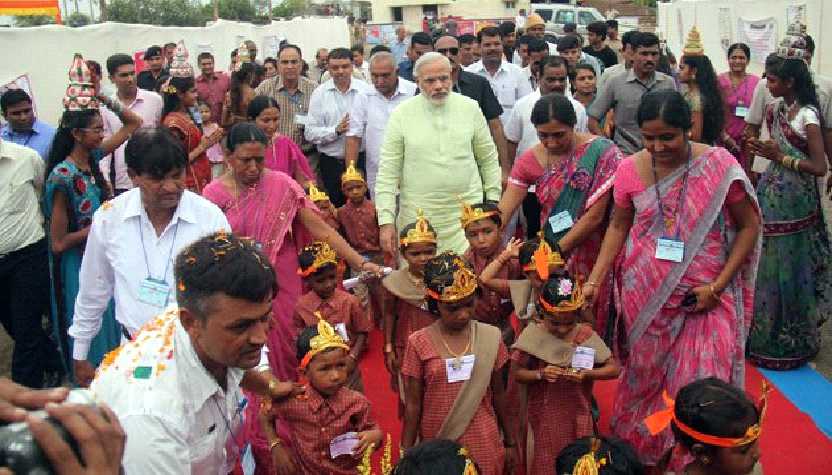 "Educate a girl, empower a nation."
As women are making huge strides as motivators, leaders and pioneers around the world, we as a nation have started to realize that girl education is critical for a bright, stable future. And in a highly-populated country like India, it is important for the government to improve the female literary rate of just over 65%.
Led by Prime Minister Mr. Narendra Modi, the Kanya Kelavani drive will begin on the 17th June in the urban areas including the Nagar Palikas and the eight Municipal Corporations. The drive in the rural areas ended on June 10th following the three-day school enrollment programme.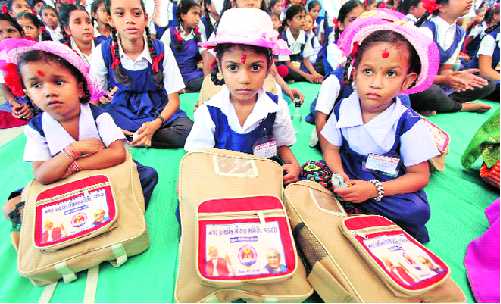 The campaign proved to be highly successful with reports emerging that about 23 crore was received as funds from the local people while bonds worth Rs 9.71 were provided for the education of young girls. A whopping total of 8.93 lakh students were enrolled in class I and class IX during the program, out of which 47.38% were girls while 52.62 were boys.
According to the state government, the drop-out rate after class VIII was over 20% and to curb that, the school enrollment drive, for the first time, decided to admit IX class students. 4.14 lakh students were admitted in class IX out of which 1.87 lakh were girls. Education Minister Bhupendrasinh Chudasma stated that in the 1st standard, a total of 4.79 lakh students were enrolled, of which 2.36 lakh were girls.
"A total of 3000 officials, minister MLAs took part in the drive. It proved to be a great success." Chudasma said. He further said that this time principals and senior professors were also persuaded for the enrollment.
Image courtesy: gujaratindia.com; Indian Express
Sarala Birla Gyan Jyoti honoured with prestigious 'Climate Action Project School of Excellence' Award
Only 250 schools globally were recognized because of their intense work on climate education in a whole-school approach. The recognition was awarded by Cartoon Network Climate Champions and Climate Action Project.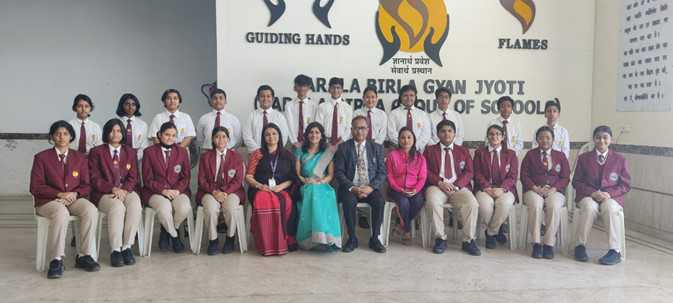 Sarala Birla Gyan Jyoti in Guwahati, India, was awarded the Climate Action Project School of Excellence. Only 250 schools globally were recognized because of their intense work on climate education in a whole-school approach. The recognition was awarded by Cartoon Network Climate Champions and Climate Action Project.
Cartoon Network Climate Champions is a climate change awareness initiative that sets out to inspire kids to take on daily challenges that collectively can make a big difference to the health of our planet. It has been developed in collaboration with WWF, a world-renowned environmental organization.
Climate Action Project is a free, global education project that was launched by Take Action Global, an education non-profit based in the USA, involving 2,700,000 teachers and students across 146 countries. The project aims to help students learn about the climate crisis in authentic ways and disseminate solutions online. The recognized schools submitted their work for the past year and met extensive criteria, including a school-wide commitment to climate education and student solutions.
Sarala Birla Gyan Jyoti has participated in global projects RiseUp4SDGs (India), Let's Be Human, Be One (Serbia), LeapEd Global Learning – Climate Change (Malaysia), the 17 Sustainable Development Goals competitions, implementing the three R's schoolwide and planting gardens in the community, at home and school. Students committed to training to become active Global SDG Ambassadors to raise awareness during virtual Student Hubs with 21 other countries. Students also actively collaborated with students in Brazil, Croatia, South Africa, Sweden and the UK in task-based projects. Currently, all Climate Change projects are student-led.
The selected 250 Climate Action Project Schools of Excellence were announced on 4 November 2021, during Climate Action Day, an annual online live event attended by 250,000 people globally. The event speakers included HRM Prince William, President James Alix Michel, Seychelles, Rick Davis, NASA, Matt Larsen-Daw, WWF, HRM Princess Esmeralda, Belgium, Juan Pablo Celis Garcia, UN Environment Programme, and other world leaders and climate scientists.
The winners were announced by Dan Russell, the voice actor behind several characters in Cartoon Network global hit series The Amazing World of Gumball, and Nandi Bushell, an 11-year-old musician, an influencer, and passionate climate advocate.
Statement by HRM Prince William "We need youth's creativity to repair our planet. We need students to invent and to innovate – to think beyond where we are now and to be optimistic about our future."
Statement by Koen Timmers, Climate Action Project: "Young people have the capacity to do more than learning about climate change. They all can come up with solutions, take small actions, and inspire others to change their lifestyles."
Statement by Dr. Jennifer Williams, Climate Action Project: "Our community of educators has come together in support of climate education for all. We are committed to ensuring students have access to information, ideas, and opportunities to take action for the planet, and, today, these Schools of Excellence are leading the way for the entire world."
Statement by Dr. Diganta Halder, Principal Sarala Birla Gyan Jyoti: "Stopping Climate Change has become a critical issue that needs to be addressed by every human being, but even more importantly in our schools. Students should be aware of Climate Action and the importance of achieving the goals set by the United Nations for peace and prosperity for all by 2030 and to become leaders of impact in the future."