Private school education slowly but steadily gaining favour in Manipur.
More and more parents are choosing private (independent) schools as compared to state schools in Manipur. Some of the private schools are comparable to Modern Public School (private co-educational, day scholar and boarding school) at Barakhamba Road near Connaught Place in New Delhi, which is among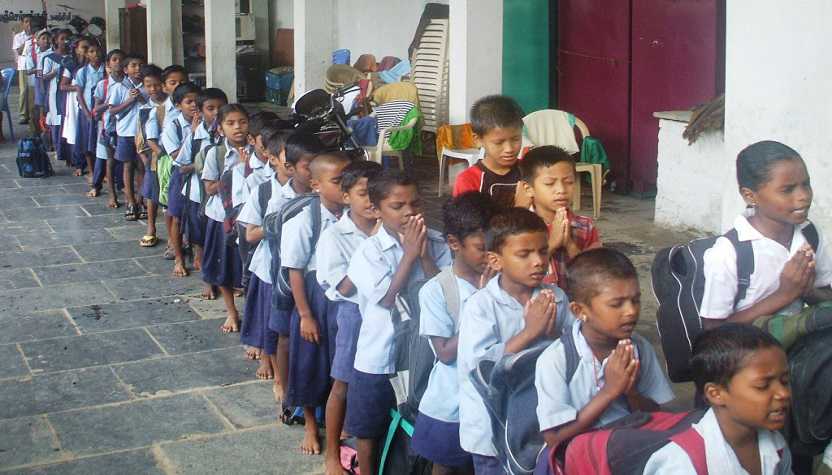 There is now growing evidence in Manipur that private (independent) schools are better than state schools as visible by more and more parents choosing private school education for their children.
No one can argue that private education has brought a storm of advancement in Manipur. Imphal has become the Education and Health hub, not only do the Manipuri middle class benefit from private education and private health care but also the lower income families who use the booming private health care industry because of state dysfunction.
Private schools in Manipur are no more reflections of yesteryears' Catholic institutions. They are more Indian than the imitation British public schools. Imphal City has a chance to make its mark with schools such as Sishu Nista Niketan at Mayai Koibi or St Anthony's School at Chingmeirong. The educational system is of high calibre equivalent to Modern School (private co-educational, day scholar and boarding school) at Barakhamba Road near Connaught Place in New Delhi, which is among the top five day-cum-boarding schools nationwide.
In Manipuri society it is clear to everyone that mobility to an upper class will be possible only through education. Hence, rich and poor parents ensure that their children attend private schools, a choice borne out of the poor standard of teaching in state schools in Imphal or hardly any teaching, especially in remote rural and hill areas where some teachers do not attend or send unqualified proxies for a small payment out of their salaries.
State schools across India not only in Manipur, are failing and losing out to private schools. Children in the 6 to 14 age group attending private schools in rural areas have risen from 18.7% in 2006 to 30.8% in 2014. Knowing that state schools are failing and realising the difference between government and private-owned schools, Manmohan Singh, in his second term in office as prime minister of India, tried to experiment with government funded private schools. The initiative, however, never got much traction with the BJP government coming to power in 2014.
Right from the beginning, education hasn't got its due in Manipur. The British colonial rulers had no interest in spreading education in Manipur while the Meitei kings were equally uninterested. Manipuris have a lot to thank James Johnstone for valley education and William Pettigrew for hill education. It is sad that the old Johnstone High English School is now only conspicuous by its absence.
It was only during the tenure of William Bentinck (1828-1835 CE) as the governor general of Bengal did "modern" English education system reach Manipur. He expressed his strong opinion in favour of English education as "western education was superior and could only be taught in English".
He despised vernacular education for Hindus (pathsala) and Muslims (madrasa), which he said was "defective and corrupted." He appointed Thomas Babington Macaulay to chair a Committee of Public Instruction (English Education Act,1835). English also replaced Persian/Urdu in law courts.
In India, private (independent) schools can be governed by the state or the union government as education is in the Concurrent list of legislative subjects in Indian constitution. These schools are subject to Recognition (Certification) from the state government that sends out school inspectors to check infrastructure and teaching compliance.
This is clearly a source of corruption leading to failure to educate pupils in rural India and the interior of hill districts. And ultimately, poor academic achievements in state schools enable private schools to edge them out. Legally, only non-profit trusts and societies can run schools in India.
A study in 2004 in the UK by Prof Alice Sullivan et al, involving 7,700 school pupils found that private school pupils have many advantages over state school pupils, even though their academic ability is inferior, and regardless of their exam results.
They are more likely to graduate from an elite university, and almost one and half times more likely to graduate from a mainstream university than their state school peers.
Because of failing state schools, the British government is doing what Manmohan Singh had been trying to do before the advent of the BJP government. It is turning mainstream schools into Academies. These are independent, state-funded schools, which receive funding directly from the central government, rather than through provincial authorities but they are overseen by individual charitable bodies called Academy Trusts.
In Manipur, private schools teach in English, Hindi as well as in vernacular right from the Kindergarten stage giving the children a significant lead over their government school counterparts. With increased educational qualities they are suitably prepared for tertiary education anywhere in India.
Slowly Manipur is showing the way but with Private schools leading the way. Should this be a reason for the government to react and better the government backed schools is a matter of policy but if left untouched, it will change the educational landscape of Manipur forever.
Image used for representational purpose only
Smile Foundation and Shell Launch STEM Project on Pi Day
The initiative will benefit less-privileged students from government schools.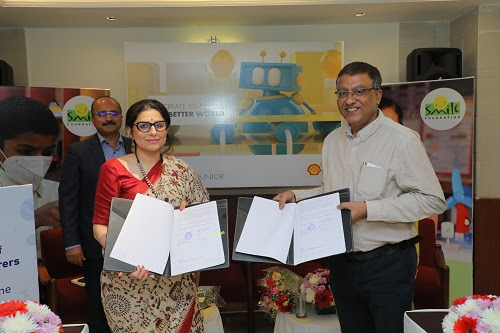 On the occasion of International Pi (π) Day, Smile Foundation and Shell launch 'NXplorers Junior' programme in three Indian states. NXplorers is Shell's global flagship Social Investment STEM (Science, Technology, Engineering, and Mathematics) educational programme aims to benefit over 25,000 children during the first year by enabling them to understand, navigate and address local and global challenges, as underlined in the Sustainable Development Goals (SDGs). NXplorers is also aligned with the National Education Policy 2020 and delivers societal benefits.
The innovative initiative will benefit less-privileged students from government schools and affordable private schools, studying in rural and hard-to-reach areas in the states of Andhra Pradesh, Telangana and Kerala. Its design also includes endeavour to create awareness amongst parents on the importance of STEM education, especially for girl children.
"Shell firmly believes that, provided with the necessary skills and guidance, young people can be a driving force to find sustainable solutions to the major global challenges of our time. Launched in 2018, Shell's global flagship STEM programme NXplorers is aligned with the National Education Policy 2020 that aims to transform India into an equitable and vibrant knowledge society. With the Smile Foundation partnership, we aim to expand this programme to Andhra Pradesh, Kerala, and Telangana and offer young minds the platform to design sustainable solutions to ease the pressure on food, water, and energy," said Ms. Latika Taneja, Head of Corporate Relations – India.
The programme is being rolled out in concurrence with the educational authorities of the respective state governments. Besides students, teachers, parents and communities are involved actively while implementing the programme so that it remains sustainable in the long-term.
"We are excited to roll out this innovative programme in India. We are hopeful that our children will not only leverage STEM education in building their future career but also will grow up and develop leadership ability in finding sustainable solutions in various walks of life," said Mr. Santanu Mishra, Co-founder & Executive Trustee, Smile Foundation.
The NXplorers Juniors will train both 6th and 7th grade students. NXplorers Juniors Level-I course will be delivered through a combination of teacher's guide, PowerPoint slides, and several instructional videos. The facilitator guide will outline the essentials to be covered in each session, exercises, discussion, checkpoint questions, a summary, assessment, and research to be undertaken by students after the session.
The United Nations Sustainable Development Goals (SDGs), exploring SDG Solutions, researching global goals, and developing a challenge and choosing a solution etc. are covered in the NXplorers Juniors Level-1.
NXplorers – Learning for a Life Time, envisions to provide a minimum of 3-5 years of NXplorers exposure to the students at various levels. The objectives include developing strong knowledge and skill set among students so that local and global challenges can be addressed by them. Developing sustainable models of implementation by engaging teachers, school leaders and communities effectively, creating awareness amongst parents regarding the importance of STEM education, especially concerning girl education are part of the overall goals.
About Smile Foundation
Smile Foundation is a national development organization directly benefiting over 1.5 million underprivileged children and their families every year through more than 400 welfare projects in education, healthcare, livelihood and women empowerment spread across 2,000 remote villages and urban slums in 25 states of India.
About Shell
Shell is one of the most diversified international energy company in India with over 10,000 employees and presence across upstream, integrated gas, downstream, renewable energy, and deep capabilities in R&D, digitalisation, and business operations; with a retail presence across six states – Karnataka, Tamil Nadu, Telangana, Maharashtra, Gujarat, and Assam.