Private school education slowly but steadily gaining favour in Manipur.
More and more parents are choosing private (independent) schools as compared to state schools in Manipur. Some of the private schools are comparable to Modern Public School (private co-educational, day scholar and boarding school) at Barakhamba Road near Connaught Place in New Delhi, which is among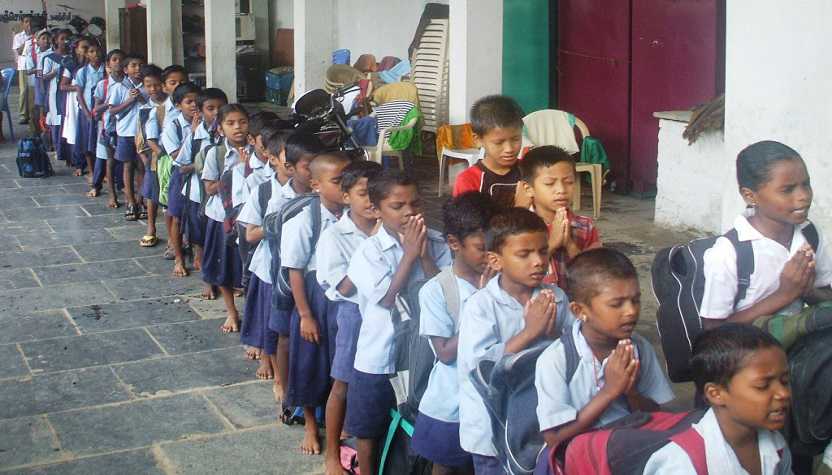 There is now growing evidence in Manipur that private (independent) schools are better than state schools as visible by more and more parents choosing private school education for their children.
No one can argue that private education has brought a storm of advancement in Manipur. Imphal has become the Education and Health hub, not only do the Manipuri middle class benefit from private education and private health care but also the lower income families who use the booming private health care industry because of state dysfunction.
Private schools in Manipur are no more reflections of yesteryears' Catholic institutions. They are more Indian than the imitation British public schools. Imphal City has a chance to make its mark with schools such as Sishu Nista Niketan at Mayai Koibi or St Anthony's School at Chingmeirong. The educational system is of high calibre equivalent to Modern School (private co-educational, day scholar and boarding school) at Barakhamba Road near Connaught Place in New Delhi, which is among the top five day-cum-boarding schools nationwide.
In Manipuri society it is clear to everyone that mobility to an upper class will be possible only through education. Hence, rich and poor parents ensure that their children attend private schools, a choice borne out of the poor standard of teaching in state schools in Imphal or hardly any teaching, especially in remote rural and hill areas where some teachers do not attend or send unqualified proxies for a small payment out of their salaries.
State schools across India not only in Manipur, are failing and losing out to private schools. Children in the 6 to 14 age group attending private schools in rural areas have risen from 18.7% in 2006 to 30.8% in 2014. Knowing that state schools are failing and realising the difference between government and private-owned schools, Manmohan Singh, in his second term in office as prime minister of India, tried to experiment with government funded private schools. The initiative, however, never got much traction with the BJP government coming to power in 2014.
Right from the beginning, education hasn't got its due in Manipur. The British colonial rulers had no interest in spreading education in Manipur while the Meitei kings were equally uninterested. Manipuris have a lot to thank James Johnstone for valley education and William Pettigrew for hill education. It is sad that the old Johnstone High English School is now only conspicuous by its absence.
It was only during the tenure of William Bentinck (1828-1835 CE) as the governor general of Bengal did "modern" English education system reach Manipur. He expressed his strong opinion in favour of English education as "western education was superior and could only be taught in English".
He despised vernacular education for Hindus (pathsala) and Muslims (madrasa), which he said was "defective and corrupted." He appointed Thomas Babington Macaulay to chair a Committee of Public Instruction (English Education Act,1835). English also replaced Persian/Urdu in law courts.
In India, private (independent) schools can be governed by the state or the union government as education is in the Concurrent list of legislative subjects in Indian constitution. These schools are subject to Recognition (Certification) from the state government that sends out school inspectors to check infrastructure and teaching compliance.
This is clearly a source of corruption leading to failure to educate pupils in rural India and the interior of hill districts. And ultimately, poor academic achievements in state schools enable private schools to edge them out. Legally, only non-profit trusts and societies can run schools in India.
A study in 2004 in the UK by Prof Alice Sullivan et al, involving 7,700 school pupils found that private school pupils have many advantages over state school pupils, even though their academic ability is inferior, and regardless of their exam results.
They are more likely to graduate from an elite university, and almost one and half times more likely to graduate from a mainstream university than their state school peers.
Because of failing state schools, the British government is doing what Manmohan Singh had been trying to do before the advent of the BJP government. It is turning mainstream schools into Academies. These are independent, state-funded schools, which receive funding directly from the central government, rather than through provincial authorities but they are overseen by individual charitable bodies called Academy Trusts.
In Manipur, private schools teach in English, Hindi as well as in vernacular right from the Kindergarten stage giving the children a significant lead over their government school counterparts. With increased educational qualities they are suitably prepared for tertiary education anywhere in India.
Slowly Manipur is showing the way but with Private schools leading the way. Should this be a reason for the government to react and better the government backed schools is a matter of policy but if left untouched, it will change the educational landscape of Manipur forever.
Image used for representational purpose only
28th edition of CBSE Sahodaya Schools Conference begins at Vadodara
The 28th National Annual Conference of Sahodaya School Complexes on the theme of Education 4.0-Reinventing
Education 2030 and beyond begins.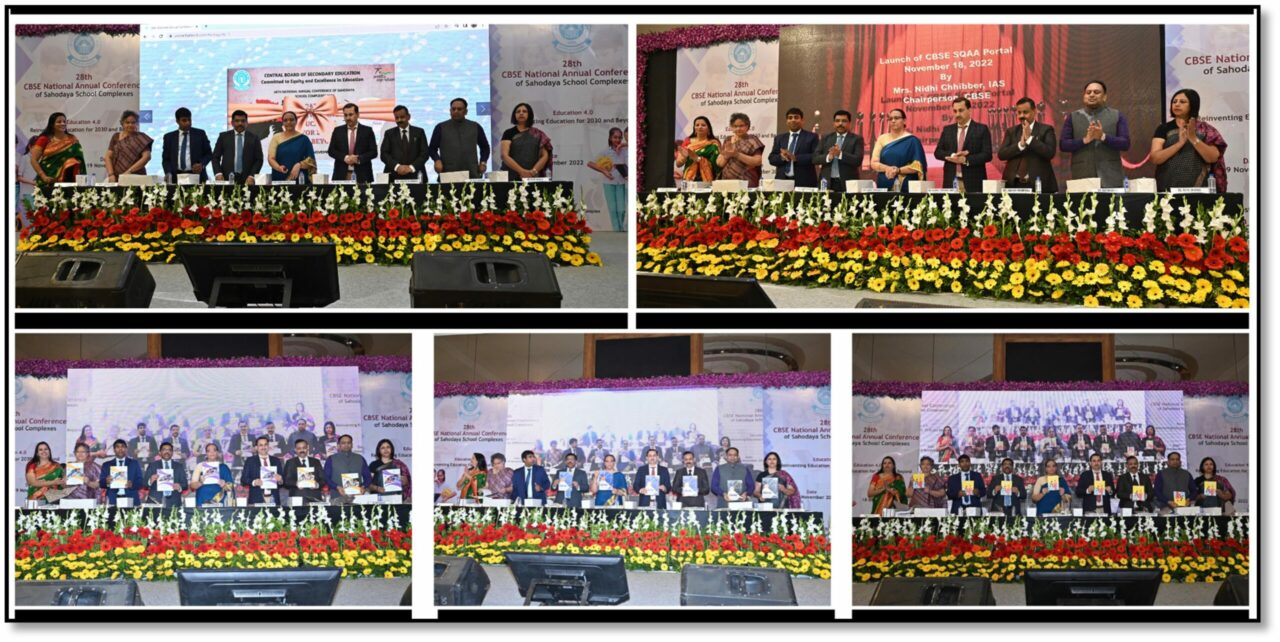 The 28th National Annual Conference of Sahodaya School Complexes (2022) began on 18th November 2022. This year the conference is being held in collaboration with Gyan Sarovar Sahodaya –The Central Gujarat CBSE Schools Sahodaya Complex.
The theme of the conference is "Education 4.0: Reinventing Education for 2030 and Beyond" with the objective to sensitize school leaders and prepare them for the era of education 4.0 with the necessary changes in the design of curriculum and pedagogy.
Sub Themes
Social dynamics and development of education
School Leadership for futuristic schools
Technology is indispensable for education
Capacity Building of teachers
AI in school education
Creative Learning
Positioning curriculum for 2030 and beyond
Moving from Transactional Leadership to Transformational Leadership
Building Learning Communities
Schooling Vs. Education: Bridging the gap for a better India for 2030 and beyond
Community School Partnership for quality education
This year's conference is hosting the representatives of more than 200 Sahodaya School Complexes and educationists from around the world in a two-day event at Vadodara.
Principals from 800 plus CBSE affiliated schools in the country and abroad, academics, and senior officers of the Board are participating in this two-day conference which will dwell upon various themes such as Community School Partnership, Schooling versus Education, Technology for Education, Artificial Intelligence in Education, Building Learning Communities, Leadership, Creative Learning, and Capacity Building of Teachers.
The inaugural session of the conference began with the address of the Chairperson CBSE Smt. Nidhi Chhibber highlighting the roles and responsibilities of school principals and administrators in realizing the objectives of NEP 2020 and making schools future ready.
A number of publications prepared by the Board were also launched by the Chairperson, on this occasion.
Conference Souvenir
A compilation of the probable best practices received from different schools across the country in the area of curriculum, pedagogy, capacity building of teachers, school leadership, school community partnership, and use of technology.
CBSE SQAA Portal
As per NEP 2020 recommendations, CBSE has developed a 'School Quality Assessment and Assurance (SQAA)' Framework based on 7 domains covering all the aspects of school functioning and can be useful as a tool for accomplishing individual and institutional excellence.
Practice Books in Science and Mathematics have been developed for Students of classes IX and X in the subjects of Mathematics and Science to strengthen the skills and competencies of students and help them apply the learned concepts in real-life situations and draw inferences.
These workbooks present a series of questions organised as themes, mapped to concepts from the curriculum of the respective class.
Item Banks
The board has designed and developed Competency Focussed Practice Questions aligned to the NCERT curriculum in the subjects of English, Mathematics, Science, and Social Science for Class X students to test conceptual understanding and application.
SAFAL Assessment Frameworks for grades 3, 5, and 8 were also launched today in the subjects of Language (English/Hindi), Mathematics, and EVS/Science. These include domains, strands, and competencies, and define learning outcomes at various proficiency levels.
PRAYOG
Pradhanacharya Yojna for Growth, has been designed in view of the important role of the Principals in the effective implementation of NEP 2020 in CBSE schools and covers various themes such as Innovative Pedagogy, Competency Focussed Education, Experiential Learning, Art integrated learning, Story Telling and Sports Integrated Learning, Systemic Reforms via initiatives such as SAFAL, HPC, SQAA, and Competency-based assessments, and other topics like Peer Education and Life Skills, Inclusive Education, Environmental Education, Pedagogy Leadership and Expectations from Principals.
Skill Education
A number of Skill Modules for Class VI-VIII on Travel and Tourism, Marketing, Media, Beauty & Wellness, Design Thinking, and Innovation were also launched today along with new modules for classes IX-XII in Library and Information Science, Cost Accounting, Early Childhood Care and Education.
Hand Book on Positive Parenting – A Ready Reckoner
The Board has always been sensitive and proactive regarding the mental health and wellness of students. Positive Parenting – A Ready Reckoner has been brought out by CBSE with the hope of adding value to the nuances of parenting and nurturing skills in a very simplistic and easy-to-follow manner. This publication by no means attempts to undermine the concerns and care of the parents already in place but may help in deepening the understanding and in building positive relationships amongst schools, parents, and students. The contents have been carefully curated post-COVID challenges and include topics such as the Mental and Emotional Wellness of Children, Parenting the Pre- teens, Gender Equality and Child Abuse Protection, Children with Special Needs, Online Learning for Parents, and more.