Right-Wing Education apparatus is increasingly clawing away at India
Gayatri Chakravorty Spivak, the famous professor from Columbia University who runs 7 elementary schools in rural West Bengal has discovered to her dismay the steadily spreading Right-Wing education apparatus. These schools are channelling political support to the Hindu majority ruling party.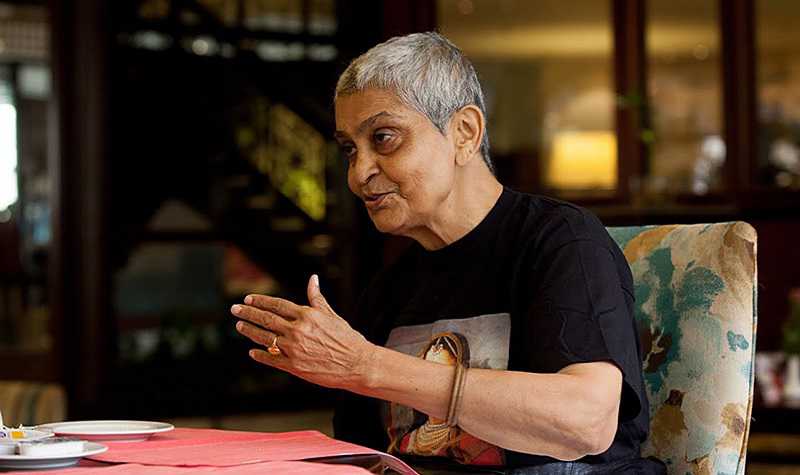 If a person or an authority were to say that a major right-wing educational agenda is being played out in the country today, rest assured the source of that comment will face vehement opposition and maybe violence too. For this reason, let us examine this claim from the lens of a neutral outsider who may not have an axe to grind.
Gayatri Chakravorty Spivak, the famous professor from Columbia University, started the Pares Chandra and Sivani Chakravorty Memorial Literacy Project several years ago in the rural West Bengal district of Birbhum. Under the project the professor has started 7 elementary schools. The exercise was driven by the wish to expand the horizons of young people who derived little or no benefits from the modern state. Each year, Spivak makes a journey to the schools, and interacts with the students and the teachers to ensure the vitality of her project.
In her latest annual trip to Birbhum, Spivak was concerned with the growth of right-wing schools in India. These schools, she says, not only "choke the imagination," but they also—more dangerously—produce a "genocidal nature" amongst the vulnerable students. In Birbhum itself, there are between 300-500 such right-wing schools points out Spivak.
In West Bengal, there are 2700 right-wing schools. Across India, there are an alarming 57,000 such schools. They are not spread out evenly, and clearly it is by design as they are opened in specific areas to target adivasis or tribals—those whose well-being has been neglected by the Indian Republic, and those who the Right has long considered as gullible. Santhals, a tribal community, form a considerable part of Birbhum's rural areas. They are a target of the Right.
The Bharatiya Janata Party (BJP), which currently rules the country, came to power on the basis of a massive octopus-like network. Part of that network includes its schools, run by Vanvasi Kalyan Kendra (VKK) and Ekal Vidyalaya. Both the VKK and Ekal operate on the basis of community building where they first build physical schools, then hire locals to teach in them, and finally develop a local committee to run these schools. On the surface, this seems like an ideal situation of how education should be—local teachers, local control. However, Spivak says, this is merely a façade. In reality, these schools are invisibly controlled by the BJP and they disseminate the gospel of Hindutva.
What is Hindutva? It is a Hindu radical idea that claims that non-Hindus are foreigners and that "race pride" amongst Hindus should be developed. Such a curriculum is in direct contrast with what is being taught at Spivak's schools.
Here is a description of these schools from central India where these schools are in vast numbers. These schools mainly target the tribals who had converted to Christianity, and whom the Right waned to bring back into its fold or home (ghar wapsi) to Hinduism. A similar agenda had been put into motion in Gujarat, India's Prime Minister Narendra Modi's home state. Here, Modi's adjutant Swami Aseemanand approached the Dangs region to convert Christian tribals to Hinduism, driving a hard anti-Muslim and anti-Christian agenda. Such is the efficient propaganda machine handled by the Hindutva right that they actually convinced the tribals that their own deity—Vanardeva—was actually the Mahabharata's Hanuman. The brigade utilised cash and influence to build large Hanuman temples and destroy the older tribal shrines for Vanardeva. In 2006, the People's Union for Civil Liberties pointed out that these organizations "targeted the tribal belts of the country to see that adivasis lose their identity, culture and traditions of worshipping nature by asserting that they are Hindus."
But loss of identity is just the tip of the Hindutva Right's agenda. Aseemanand's followers diligently and systematically not only destroyed Vanardeva's identity but also prevented fraternization between the young tribals and Muslims. It is increasingly concluded that violence is an integral and central part of the agenda.
Aseemanand later admitted being a member of a terrorist network that bombed trains—he further declared that he took orders from the Hindutva leadership. He has landed in prison, but expectedly his allegations are all in thin air today. People like Aseemanand are active today in the Hindutva web. The Justice Tewatia Commission on the 2002 anti-Muslim riots in Gujarat pointed out that "earlier in Gujarat, tribals never got involved in the Hindu-Muslim riots." This time considerable numbers of tribals participated in the riots, killing Muslims in rural areas.
Spivak is rightly concerned. Like tribals elsewhere, the VKK and Ekal schools have gone after the traditions of the Santhals in Birbhum. That they have argued that the Santhals god—Marang Guru– is actually Shiva is eerily similar to their modus operandi from the past. The goal of equating the two deities is to convince the Santhals to see themselves as part of Hinduism and within the Hindutva fold.
Last year, there was a huge noise when Santhal Christians converted to Hinduism in a public ceremony. Naturally the event attracted media attention when journalist Sohini Chattopadhyay decided to visit a VKK school in Birbhum. She met Mohitosh Gole, the head of the eastern wing of the VKK. He was open with his prejudices. "Wherever there are Christians, there are anti-national activities," he told Chattopadhyay. "And wherever Muslims are the majority community there are problems—social problems." The schools make "students aware of these things." There is an edge to his stories. "A Muslim will come to your house and you feed him, give them a room to stay, and then next day, they marry your daughter." Such mindset is peddled freely in schools here. It produces a toxic social environment, one of fear and resentment.
These schools if viewed without any lenses are the infrastructure of the Right. They are spreading rapidly, there modus operandi is simple – teach their narrow and dangerous ideology, use modest amounts of money to build support through social services and then finally convert this into political power.
In both Gujarat and central India, the long-term work of the Right is now bearing fruits. Older nationalist and leftist parties have fallen by the wayside. When one asks, how the land of Gandhi (Gujarat) became the laboratory for the Hindutva Right, the answer lies —partly—in this educational infrastructure.
Spivak is rightly afraid and concerned for the future of West Bengal, which had been the bulwark against the Hindutva Right. These tentacles of Right violence, she says, will eventually undermine the political culture of West Bengal. "If West Bengal falls to the BJP," she says, "then the movement in India against democracy will be completely dead."
Image Courtesy: dawn.com
Smile Foundation and Shell Launch STEM Project on Pi Day
The initiative will benefit less-privileged students from government schools.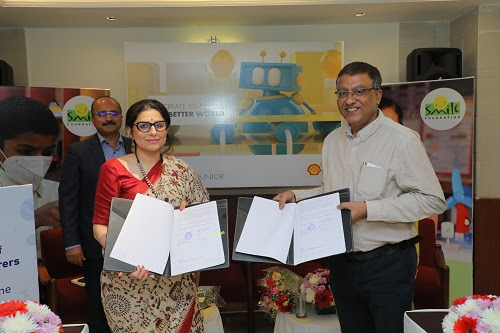 On the occasion of International Pi (π) Day, Smile Foundation and Shell launch 'NXplorers Junior' programme in three Indian states. NXplorers is Shell's global flagship Social Investment STEM (Science, Technology, Engineering, and Mathematics) educational programme aims to benefit over 25,000 children during the first year by enabling them to understand, navigate and address local and global challenges, as underlined in the Sustainable Development Goals (SDGs). NXplorers is also aligned with the National Education Policy 2020 and delivers societal benefits.
The innovative initiative will benefit less-privileged students from government schools and affordable private schools, studying in rural and hard-to-reach areas in the states of Andhra Pradesh, Telangana and Kerala. Its design also includes endeavour to create awareness amongst parents on the importance of STEM education, especially for girl children.
"Shell firmly believes that, provided with the necessary skills and guidance, young people can be a driving force to find sustainable solutions to the major global challenges of our time. Launched in 2018, Shell's global flagship STEM programme NXplorers is aligned with the National Education Policy 2020 that aims to transform India into an equitable and vibrant knowledge society. With the Smile Foundation partnership, we aim to expand this programme to Andhra Pradesh, Kerala, and Telangana and offer young minds the platform to design sustainable solutions to ease the pressure on food, water, and energy," said Ms. Latika Taneja, Head of Corporate Relations – India.
The programme is being rolled out in concurrence with the educational authorities of the respective state governments. Besides students, teachers, parents and communities are involved actively while implementing the programme so that it remains sustainable in the long-term.
"We are excited to roll out this innovative programme in India. We are hopeful that our children will not only leverage STEM education in building their future career but also will grow up and develop leadership ability in finding sustainable solutions in various walks of life," said Mr. Santanu Mishra, Co-founder & Executive Trustee, Smile Foundation.
The NXplorers Juniors will train both 6th and 7th grade students. NXplorers Juniors Level-I course will be delivered through a combination of teacher's guide, PowerPoint slides, and several instructional videos. The facilitator guide will outline the essentials to be covered in each session, exercises, discussion, checkpoint questions, a summary, assessment, and research to be undertaken by students after the session.
The United Nations Sustainable Development Goals (SDGs), exploring SDG Solutions, researching global goals, and developing a challenge and choosing a solution etc. are covered in the NXplorers Juniors Level-1.
NXplorers – Learning for a Life Time, envisions to provide a minimum of 3-5 years of NXplorers exposure to the students at various levels. The objectives include developing strong knowledge and skill set among students so that local and global challenges can be addressed by them. Developing sustainable models of implementation by engaging teachers, school leaders and communities effectively, creating awareness amongst parents regarding the importance of STEM education, especially concerning girl education are part of the overall goals.
About Smile Foundation
Smile Foundation is a national development organization directly benefiting over 1.5 million underprivileged children and their families every year through more than 400 welfare projects in education, healthcare, livelihood and women empowerment spread across 2,000 remote villages and urban slums in 25 states of India.
About Shell
Shell is one of the most diversified international energy company in India with over 10,000 employees and presence across upstream, integrated gas, downstream, renewable energy, and deep capabilities in R&D, digitalisation, and business operations; with a retail presence across six states – Karnataka, Tamil Nadu, Telangana, Maharashtra, Gujarat, and Assam.