Rural Jhapa villages caught in a time warp with no secondary schools
In direct contradiction to government claims that Jhapa leads in all literacy parameters. Villagers say that there is no secondary school in Jhapa since years and the government is not doing anything about it too.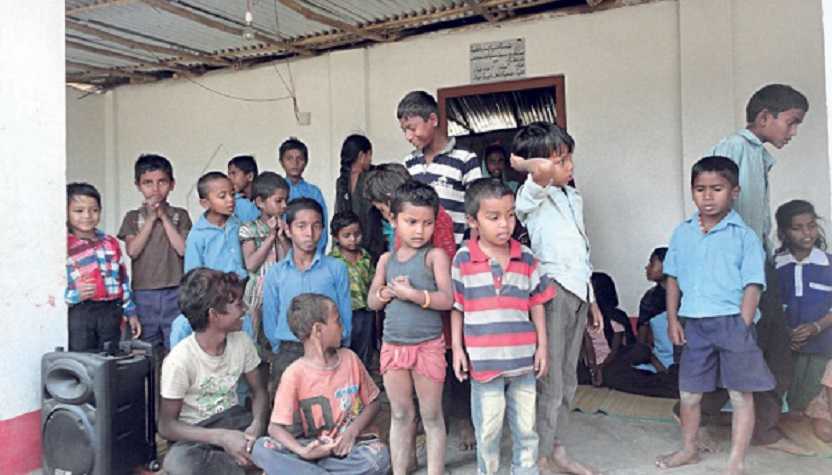 Every year when the new budget is passed, it generates a suitable buzz. However, step into rural Jhapa in the eastern section of Purwanchal and nobody is interested in talking about the budget. Nobody cares about the budget; it is just another annual tamasha by the administration. For life in Jhapa remains largely unaffected by the happenings in the capital, more specifically no budget has ever addressed so far and none are expected to address the one thing the area is crying out for – A secondary school.
"Budget? No idea. Well, it comes every year. But we don't have schools around. We can't afford bicycles for children so that they can join schools that are far from here," said Abdul Miya of Pathamari – 3, whose village shares border with India.
The children of Pathamari are forced to sit at home after completing primary school as few have bicycles on which they dare to cycle very long distance to study. Miya says that even though Muslims dominate the population of the village, interest for modern education is growing. Every parent desires their child to attend a school that provides mainstream education rather than limiting them to Muslim schools. However, lack of easy access to schools has lain to waste the dreams of parents.
"It is still understandable if our children have to go out of the village for campus, IA, BA. But it is very sad even for school level education; they have to venture a long distance away from home. We would appreciate if the government could establish a secondary school in our area," he said.
However, what is truly surprising is that the condition of Miya's village is in direct contradiction to the reputation Jhapa has built up. Jhapa has been regarded as the most 'prosperous', 'educated', and 'developed' place. In fact, on Monday, government officials and other stakeholders officially announced that Jhapa is ahead of all places in the state in terms of literacy. The district education office claimed that Jhapa's literacy excellence is unrivalled among other districts.
It is immediately apparent that the figures collated by the district administration have omitted Miya's village. Several villages in Jhapa lack secondary school for children. In order to attend secondary school, the children have to trek for 12 km one side. The sheer hard work of trekking 24 km every day eventually takes a toll on the kids and they abandon their educational dreams.
Pathamari and Kumarkhod are 2 such unfortunate villages that lack secondary schools. It isn't that the government is apathetic about the village's condition. It has been years since the government announced to open secondary school in every VDC. However, the words haven't seen any action or implementation yet. According to a local Rastriya Prajatantra Party Anjar Alam, debate and discussion over the issue have been carried out several times. During the discussions the District Education Office (DEO) had also stressed on the need to open schools in those VDCs. However, things have not changed so far.
The biggest casualty of the absence of secondary schools is the children from Muslim families who are a dominant population (60%) besides Rajbanshi and Gangai communities. According to the VDC secretary Baburam Pokhrel, "Since I started working as the VDC secretary here 2 years back, I have worked hard with the locals to establish a secondary school in the area. But so far we have been not able to fulfil our objective. We have held discussion with the DEO several times but these discussions too have yield result," he reported.
He admitted that having no secondary school in entire VDC is very pathetic and reflects on the failure of the government mechanism. He said on one hand political parties show no interest, the government shows no interest, on the other hand, concerned authorities never stop from holding meetings and discussions. All this ultimately translates into empty words as anything discussed in these meetings is never implemented.
The story of Kumarkhod is no different. The area thankfully has schools that offer education till grade VIII, lack of schools that could offer higher education has been depriving them of secondary education.
According to assistant District Education Office (DEO), Uddhav Bista, all the students of Kumarkhod go to Taghandubba for higher secondary level. As students from two VDCs are learning at same place this school has been facing shortage of spacious classrooms. Bista explained that opening new schools is not feasible in these areas as there are no incomes for schools in these areas. "Geographical complexities and lack of resources are important reasons for the areas to not have secondary schools," he said.
Smile Foundation and Shell Launch STEM Project on Pi Day
The initiative will benefit less-privileged students from government schools.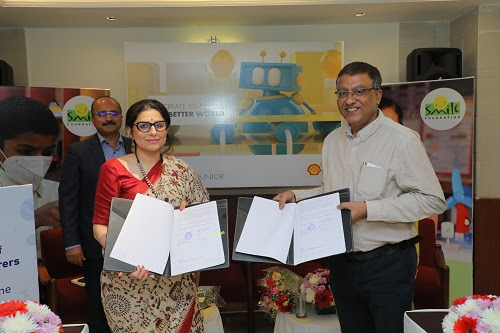 On the occasion of International Pi (π) Day, Smile Foundation and Shell launch 'NXplorers Junior' programme in three Indian states. NXplorers is Shell's global flagship Social Investment STEM (Science, Technology, Engineering, and Mathematics) educational programme aims to benefit over 25,000 children during the first year by enabling them to understand, navigate and address local and global challenges, as underlined in the Sustainable Development Goals (SDGs). NXplorers is also aligned with the National Education Policy 2020 and delivers societal benefits.
The innovative initiative will benefit less-privileged students from government schools and affordable private schools, studying in rural and hard-to-reach areas in the states of Andhra Pradesh, Telangana and Kerala. Its design also includes endeavour to create awareness amongst parents on the importance of STEM education, especially for girl children.
"Shell firmly believes that, provided with the necessary skills and guidance, young people can be a driving force to find sustainable solutions to the major global challenges of our time. Launched in 2018, Shell's global flagship STEM programme NXplorers is aligned with the National Education Policy 2020 that aims to transform India into an equitable and vibrant knowledge society. With the Smile Foundation partnership, we aim to expand this programme to Andhra Pradesh, Kerala, and Telangana and offer young minds the platform to design sustainable solutions to ease the pressure on food, water, and energy," said Ms. Latika Taneja, Head of Corporate Relations – India.
The programme is being rolled out in concurrence with the educational authorities of the respective state governments. Besides students, teachers, parents and communities are involved actively while implementing the programme so that it remains sustainable in the long-term.
"We are excited to roll out this innovative programme in India. We are hopeful that our children will not only leverage STEM education in building their future career but also will grow up and develop leadership ability in finding sustainable solutions in various walks of life," said Mr. Santanu Mishra, Co-founder & Executive Trustee, Smile Foundation.
The NXplorers Juniors will train both 6th and 7th grade students. NXplorers Juniors Level-I course will be delivered through a combination of teacher's guide, PowerPoint slides, and several instructional videos. The facilitator guide will outline the essentials to be covered in each session, exercises, discussion, checkpoint questions, a summary, assessment, and research to be undertaken by students after the session.
The United Nations Sustainable Development Goals (SDGs), exploring SDG Solutions, researching global goals, and developing a challenge and choosing a solution etc. are covered in the NXplorers Juniors Level-1.
NXplorers – Learning for a Life Time, envisions to provide a minimum of 3-5 years of NXplorers exposure to the students at various levels. The objectives include developing strong knowledge and skill set among students so that local and global challenges can be addressed by them. Developing sustainable models of implementation by engaging teachers, school leaders and communities effectively, creating awareness amongst parents regarding the importance of STEM education, especially concerning girl education are part of the overall goals.
About Smile Foundation
Smile Foundation is a national development organization directly benefiting over 1.5 million underprivileged children and their families every year through more than 400 welfare projects in education, healthcare, livelihood and women empowerment spread across 2,000 remote villages and urban slums in 25 states of India.
About Shell
Shell is one of the most diversified international energy company in India with over 10,000 employees and presence across upstream, integrated gas, downstream, renewable energy, and deep capabilities in R&D, digitalisation, and business operations; with a retail presence across six states – Karnataka, Tamil Nadu, Telangana, Maharashtra, Gujarat, and Assam.