School buses to have next-level technology as road-accidents raise safety concerns in Bengaluru
With the increase in road-accidents involving school buses, school administrations have decided to make buses hi-tech.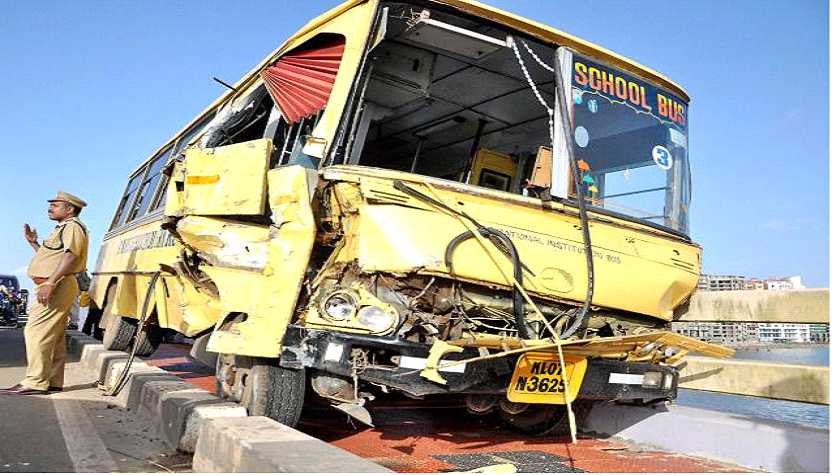 Not only does India have the worst road accident record in the world, the fact that more and more school children are becoming victims in these accidents paints a scary picture. The rising number of accidents due to the irresponsibility of bus drivers has put schools and parents in a state of panic. Therefore, schools have decided not to risk with their children's safety and install the best of technology in their school buses. Private school bus operators are providing different security installations plus monitoring and resolution mechanisms for schools and parents. Features like motion cameras with HD recordings, speed sensor alarms, two-way audio systems, GPS-based video recorders, fuel sensors and theft sensors are being inserted in school buses.
Several companies have come to the aid of these damaging calamities by providing safety solutions to schools and school bus manufacturers.
Magnasoft's first product Northstar provides real-time tracking of almost 5 lakh school buses across 675 schools. "The system is well-equipped. In any case of route deviation, sudden stops, over-speeding or delays, an instant red-alert is sent to the school administration," says Bobbie Karla, founder of Magnasoft. Parents have to pay Rs 80-100 each month in order to gain access to the app. Schools pay a retainer fee of Rs 10,000-Rs 15,000 per year depending upon their requirements.
Holding more than 40 patents in the school bus safety sector, Agent Technologies has tied up with Royal Tourist, a bus-service provider, to cater to 700 buses across 34 schools. The double-cameras put inside and outside the bus cost approximately Rs. 28000. "We are aware that such expensive equipment is prone to theft, and we have installed theft sensors and safety gear for that. Because cheaper cameras give blurred images, we go for motion capture cameras but the next step is to install a live-streaming system," says Deepak Rajgopal, owner, Royal Tourist.
Mansoor Ali Khan, founder of the KKECT Trust running the DPS group of schools, has claimed that parents are reluctant towards the added cost. The government, under the RTE Act, has ordered to save CCTV data for six months, but for an organization like the KKECT trust which has almost 500 buses under its banner, this becomes a challenge. Mansoor adds, "The government expects us to shell out crores but public schools are not financially capable of installing such equipment and gear. This is hypocrisy. The past two years have been a stressful time for school transport. Safety equipment like CCTV's should ideally be subsidized."
Image courtesy: The Hindu
Sarala Birla Gyan Jyoti honoured with prestigious 'Climate Action Project School of Excellence' Award
Only 250 schools globally were recognized because of their intense work on climate education in a whole-school approach. The recognition was awarded by Cartoon Network Climate Champions and Climate Action Project.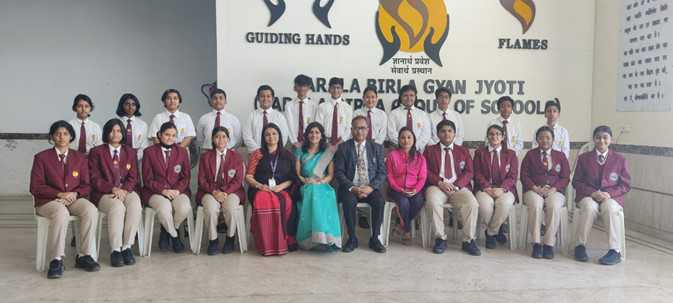 Sarala Birla Gyan Jyoti in Guwahati, India, was awarded the Climate Action Project School of Excellence. Only 250 schools globally were recognized because of their intense work on climate education in a whole-school approach. The recognition was awarded by Cartoon Network Climate Champions and Climate Action Project.
Cartoon Network Climate Champions is a climate change awareness initiative that sets out to inspire kids to take on daily challenges that collectively can make a big difference to the health of our planet. It has been developed in collaboration with WWF, a world-renowned environmental organization.
Climate Action Project is a free, global education project that was launched by Take Action Global, an education non-profit based in the USA, involving 2,700,000 teachers and students across 146 countries. The project aims to help students learn about the climate crisis in authentic ways and disseminate solutions online. The recognized schools submitted their work for the past year and met extensive criteria, including a school-wide commitment to climate education and student solutions.
Sarala Birla Gyan Jyoti has participated in global projects RiseUp4SDGs (India), Let's Be Human, Be One (Serbia), LeapEd Global Learning – Climate Change (Malaysia), the 17 Sustainable Development Goals competitions, implementing the three R's schoolwide and planting gardens in the community, at home and school. Students committed to training to become active Global SDG Ambassadors to raise awareness during virtual Student Hubs with 21 other countries. Students also actively collaborated with students in Brazil, Croatia, South Africa, Sweden and the UK in task-based projects. Currently, all Climate Change projects are student-led.
The selected 250 Climate Action Project Schools of Excellence were announced on 4 November 2021, during Climate Action Day, an annual online live event attended by 250,000 people globally. The event speakers included HRM Prince William, President James Alix Michel, Seychelles, Rick Davis, NASA, Matt Larsen-Daw, WWF, HRM Princess Esmeralda, Belgium, Juan Pablo Celis Garcia, UN Environment Programme, and other world leaders and climate scientists.
The winners were announced by Dan Russell, the voice actor behind several characters in Cartoon Network global hit series The Amazing World of Gumball, and Nandi Bushell, an 11-year-old musician, an influencer, and passionate climate advocate.
Statement by HRM Prince William "We need youth's creativity to repair our planet. We need students to invent and to innovate – to think beyond where we are now and to be optimistic about our future."
Statement by Koen Timmers, Climate Action Project: "Young people have the capacity to do more than learning about climate change. They all can come up with solutions, take small actions, and inspire others to change their lifestyles."
Statement by Dr. Jennifer Williams, Climate Action Project: "Our community of educators has come together in support of climate education for all. We are committed to ensuring students have access to information, ideas, and opportunities to take action for the planet, and, today, these Schools of Excellence are leading the way for the entire world."
Statement by Dr. Diganta Halder, Principal Sarala Birla Gyan Jyoti: "Stopping Climate Change has become a critical issue that needs to be addressed by every human being, but even more importantly in our schools. Students should be aware of Climate Action and the importance of achieving the goals set by the United Nations for peace and prosperity for all by 2030 and to become leaders of impact in the future."