Shravan and Sanjay Kumaran, India's youngest app developers and CEOs
Shravan and Sanjay Kumaran are two brothers from Chennai who've become India's youngest app developers and founders of Go Dimension, making their parents and country proud.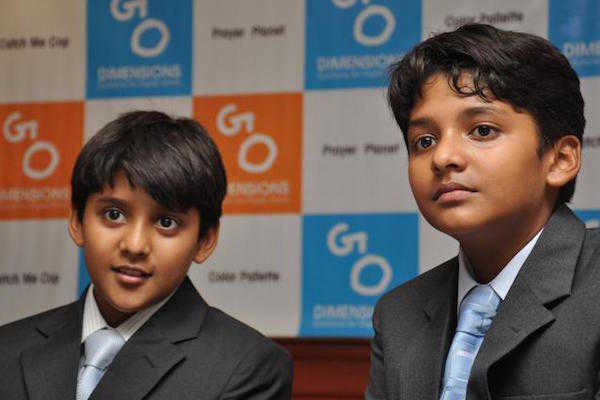 At an age when most of us don't even know the basics of App developing, two tech savvy brothers have become the youngest Mobile Application Programmers in India and one of the youngest in the World. Shravan (15) and Sanjay Kumaran (14) are running their very own App developing company called Go Dimension like any other adult CEOs. Shravan is the Co-Founder and President while his brother Sanjay Kumaran is Co-Founder and CEO of the company.
Studying in Vaels Billabong High International School, Chennai, the two young and brilliant minds developed a keen interest in computer at early childhood and spent hours in searching what more to do with it which led them to develop mobile applications.
They founded Go Dimensions out of their passion and love for computer and app developing in the last month of 2011 but within two months their first mobile application Catch me Cop was on display at Apple's App Store and within next few weeks it received attention of cnet.com, one of the most popular websites for tech news, reviews and listings of popular apps.
For the prodigy brothers the only cost in their venture is to buy gadgets and that's where their father, Kumaran Surendran, steps in. "We are a dad-funded company, which means we do not go to a VC to pitch our ideas, but instead approach our dad. He in turn accepts our ideas and buys the gadgets," says Shravan Kumaran. They add that their father, who is the Associate Vice President at Cognizant Technology Solutions, has been a huge pillar of support.
Some of their more popular applications include Alphabets Board (This App is for kids to Learn alphabets), Color Pallette (This App is to Learn various colors for kids) and prayer planet (the game is for religious prayers of different communities).
Catch Me Cop is a Game App which is accessible on iPhone & iPad. In this game, the whole nation is behind a convict who escapes from a prison and runs through the difficult places including Desert, forest, Beach & Maze fields. Apart from primary level, there are more levels with some more difficulties, more speed & cops.
The Kumarans didn't limit themselves to just apps but beyond and created their own Virtual Reality device called GoVR. "Using our headset you can place your phone and experience virtual reality. There are a couple of other products in the market, but they are really expensive. They are priced at Rs. 26,000- Rs. 40,000 per piece, but our device is available for a mere Rs. 799," says Sanjay.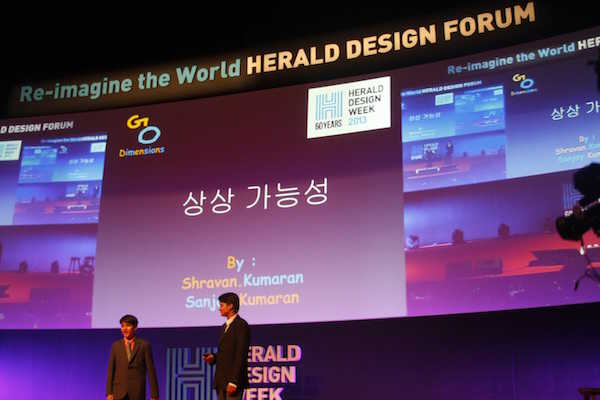 The brothers have made the country proud by being part of innumerable conferences.
By far, they have developed 7 applications that are available in Apple's App Store and have also created 3 apps for Google's Android Play.
With more than 70,000 downloads, the exuberant kids have an average app rating of 4.5 with millions of fans on social media.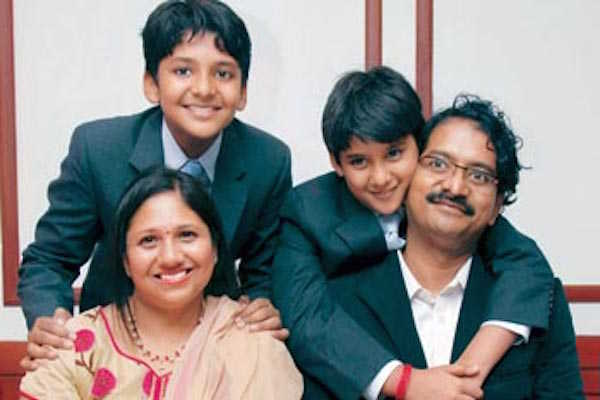 India in the past few years has seen a growing number of investors and entrepreneurs which has captured the imagination of young Indians and with the launch of the Startup India action plan, India is now slowly building a conducive environment for startups. Educational institutes are encouraging children to use their abilities to follow their passion and start their own ventures by fostering the spirit of entrepreneurship and leadership.
Along with an aim to achieve new heights, Shravan and Sanjay are focused on completing their education; the two brothers plan on developing more educational app for kids.
Check out their website: godimensions
Image courtesy: godimensions
NIOS celebrates 33rd Foundation Day
Dr. Subhas Sarkar addresses the 33rd Foundation Day Celebrations of NIOS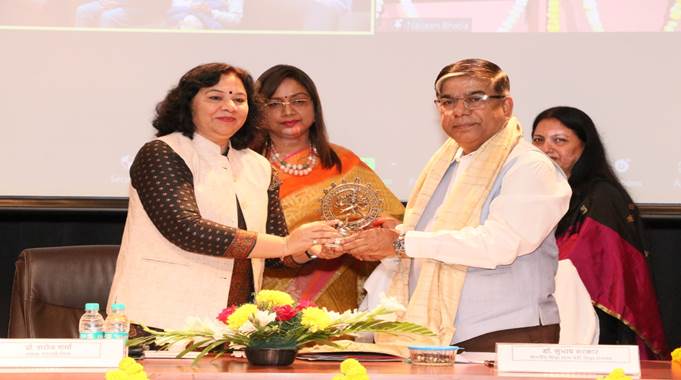 Union Minister of State for Education, Dr. Subhas Sarkar addressed the 33rd Foundation Day Celebrations of NIOS as the Chief Guest.
The function was attended by senior officials of the Ministry of Education, Chairpersons of educational institutions, Heads of Departments, officers, and staff of NIOS. Prof. Naval Kishore Ambasht, former Chairman, of NIOS and Pro-Vice Chancellor, of the Central University of Haryana, Prof. Sushma Yadav graced the occasion.
Dr. Subhas Sarkar in his address appreciated the various programmes and schemes of NIOS and said that NIOS is lighting the lamp of knowledge all over the world. Talking about the Azadi Ka Amrit Mahotsav, he mentioned that today's children will be young people in the age group of 30-40 years on the completion of 100 years of independence and will be responsible for building our nation.
He said that the Ministry of Education has entrusted NIOS with several responsibilities such as developing inclusive education resources, expanding the open and distance education system in states/UTs, translating all courses into more languages as required, creating Indian Knowledge Tradition based courses and propagating Indian culture by translating them into major foreign languages. He also praised the programmes of NIOS enrolling 10 crore adults under 'Basic Literacy Assessment', training of in-service teachers, Gender Green Project, and training in Yoga. He said that Indian Sign Language as a subject at the secondary level has been acknowledged on national and international platforms. He described the launch of an e-library called 'DEEP' by NIOS as a big step forward.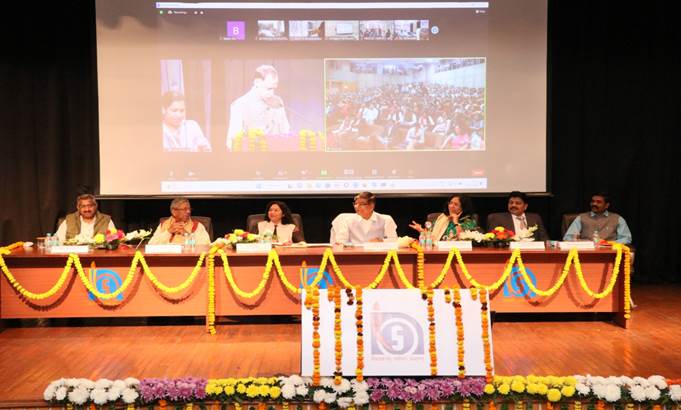 Prof. Saroj Sharma spoke about the journey of 33 years of NIOS and highlighted the special achievements. She said that NIOS is one of the two National Boards of Education under the Ministry of Education, which provides school education through Open and Distance Learning (ODL) for secondary, senior secondary, and vocational education. She elaborated on the role of NIOS in the field of education, efforts being made by NIOS for the successful implementation of the New Education Policy, Virtual Open School, Digital Library (DEEP), NEPIA Project, MoU with Ministry of Defence for Agniveer Project, setting up of Mukta Kaushal Kendras and subjects offered under Indian knowledge Tradition.
It was also conveyed by her that a curriculum called 'Aarambhika' is being developed by NIOS for catering to the Indian Diaspora.
A documentary based on the journey of 33 years of educational endeavours of NIOS was presented on the occasion. In this documentary, 'All England Badminton winner Pullela Gopichand said that most of the players in his badminton academy are getting an education from NIOS.
NIOS alumni, Ms. Niranjana and Vinod Kumar Chaudhary were also felicitated on the occasion. Shri Vinod Kumar said that only due to his education in NIOS, he was able to get the credit of making the Guinness Book of World Records 10 times (8 in Typing and 2 in sports). A proud learner of NIOS, Ms. Niranjana is a successful ventriloquist. Prof. N. K. Ambasht, former Chairman, NIOS said that in this age of technology, innovations must lead to developing 'standalone' courses for the Indian Diaspora, to achieve the goals of the National Education Policy- 2020. Pro-Vice Chancellor, Prof. Sushma Yadav said that the role of NIOS increases in the light of New Education Policy. NIOS has such potential that the institute will be able to achieve the ambitious goals of National Education Policy 2020 in the coming years.
The half-yearly magazine of NIOS 'Pragyan' was released by Dr. Subhas Sarkar on this occasion.