This man and his team helped 300 underprivileged students in TN get free higher education.
Chennai based Maatram foundation was formed by sheer coincidence. However, founder, Sujith Kumar worked very hard to continue bridging the gap between deserving underprivileged students and seats in educational institutes. The foundation also works on Santa kids and building libraries for primary sc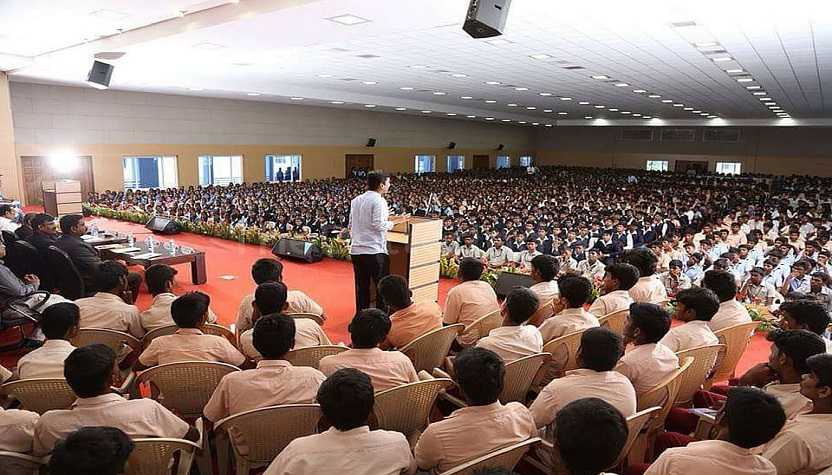 Ajith, a class XII student who dreams of some day becoming an engineer calls 2 walls and a tarpaulin sheet standing for a roof his home. Despite his abject poverty, Ajith had scored 1126 out of 1200 marks in his board exams, an astounding accomplishment in itself.
However, there was every chance that the young boy's dream could come to a grinding halt as his family was so poor that he couldn't afford even the counselling fee even though his performance could guarantee him a place in any engineering college of his choice. So he took up a job in a garage 54km from his home… till he met 39-year-old Sujith Kumar, founder of a Chennai-based NGO called Maatram Foundation, which provides free higher education to students from economically weak backgrounds.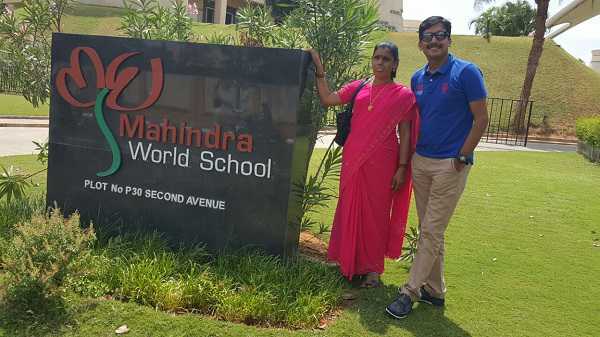 "Ajith told me that he wants to become a civil engineer because his biggest dream is to build a house for his parents," says Sujith. Today, thanks to Sujith, Ajith is in his third year of engineering, does not have to worry about his fees, and is one step closer to his goal.
Sujith, an HR professional from Chennai says that he started Maatram Foundation in 2013 after an incident that he refers to as sheer "coincidence."
It happened during one of his regular 10-day long counselling sessions he conducts in April every year for students in rural Tamil Nadu. In these sessions, he travels to corners of the state to make students aware of their career options after their board exams.
One such counselling session turned out to be extraordinary when he met a young girl who bluntly asked him, "Can you recommend a course after which I will get a job for sure?" She had just taken her board exams. Her father was an alcoholic and she had lost her mother when she was only in Class VII.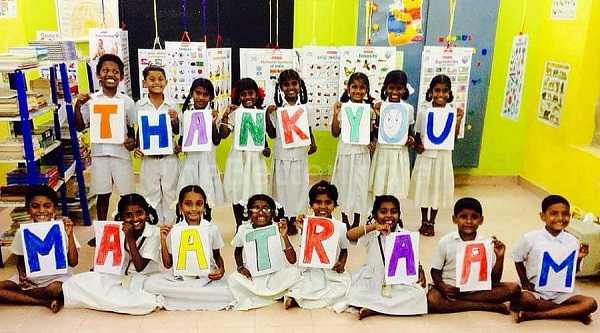 She had stoically supported not only her own education but that of her two siblings too by doing domestic work in 4 houses. "Her story was like a big slap on my face. Usually, when people come and ask you for help, the first thing you do is give some money. But I realised that giving money to this kid was not going to help her. So I asked her to call me after her results. She did, and she had scored 1152 out of 1200," remembers Sujith.
Sujith was so moved by the not only the situation of the girl but also by her sparkling performance in the midst of sheer poverty and helplessness that he called the chairman of a college soliciting a free engineering seat for her. In return, he promised to provide free placement training to final year students of that college. The chairman was so inspired that he agreed to give 20 free seats for underprivileged students. And the Maatram Foundation was born.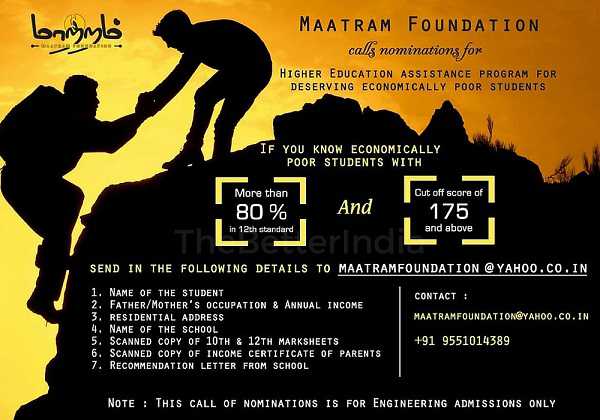 Sujith wanted to ensure that the cycle continues and he is able to provide seats to deserving students year after year. So he contacted Balaji Patturaj, a radio jockey, comedian, and actor who is also known as RJ Balaji. Together, they put together a radio show which reached out to students from weaker economic backgrounds and invited them to get in touch if they looking for college admissions. Fortunately, the number of seats they could offer also kept up with the growing number of students. "To date, we have not approached any colleges for seats. They approach us and we run promotions around the time of admission. We have admitted 327 students in different colleges in engineering, arts and science streams. This year we helped with about 125 admissions," says Sujith.
The Maatram foundation has received such a phenomenal response that various educational institutions have themselves initiated talks with the foundation offering to partner with them by way of offering free admission, tuition fees, transportation charges, hostel fees, food expenses, books and stationery expenses, etc.
Sathyabama University, Chennai Institute of Technology, Dr. MGR Janaki Arts & Science College, Peri Institute of Technology, etc. are just some of the partners of the foundation. The NGO gives first priority to orphan children, then to students with single parents, and then others from underprivileged backgrounds. The driving criterion is that the applicants should be from economically backward sections of society.
Students are not helped immediately. The organization carries out its own due diligence including conducting telephonic interviews with the applicants, followed by home visits to verify their actual financial status. The next round is personal interviews with the students after which they are shortlisted.
The Maatram team has 11 core members. All of them hold fulltime day jobs. They also have a team of 10 advisors who are eminent academicians and school principals and over 200 volunteers who help with the verification process.
Besides doing this wonderful work, the foundation also works on Santa Kids – a project under which students from different Chennai schools fulfil wishes of underprivileged children by becoming their Santas.
The Foundation has also set up a library for the Chennai Primary School in Taramani with the help of funds and books received from donors. It plans to set up many such libraries in low-income schools in the city.
"People say you need money to help someone. We say you just need the intent. We believe in the power of networking. There are educational institutions that are willing to offer free seats, and there are students who need them. We are just bridging that gap," he concludes.
You can support Sujith by writing to him at [email protected].
SHE STEM 2022 honours and celebrates women
SHE STEM 2022 encourages students to 'Unleash their imagination' as part of the Sweden India Nobel Memorial Week.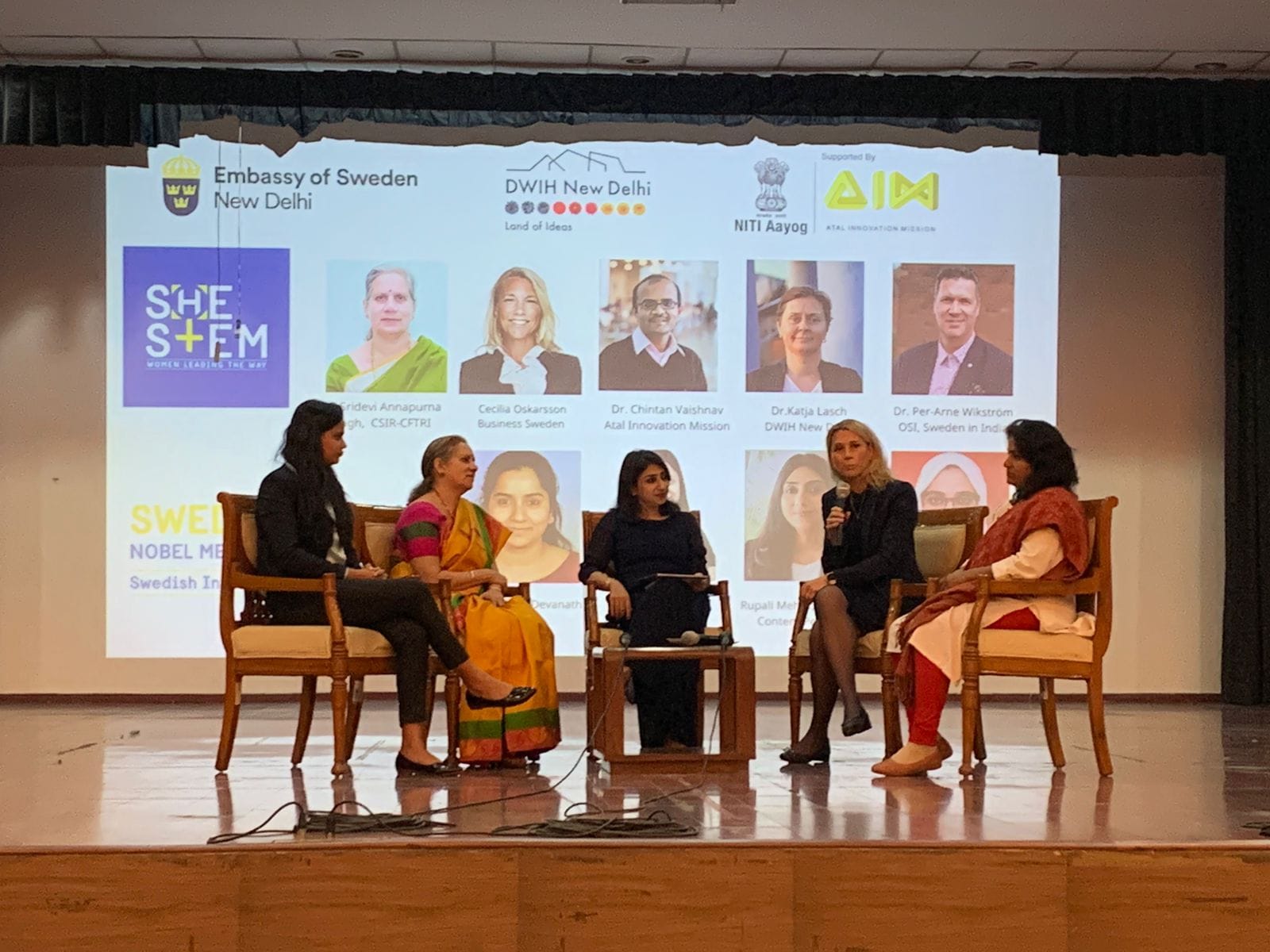 As part of the Sweden-India Nobel Memorial Week, SHE STEM, the annual event to celebrate women in the fields of science, technology, engineering, mathematics, and sustainability, was successfully held for the third year in a row.
The annual event is organized by the Sweden Embassy in India in partnership with the Atal Innovation Mission of the Government of India and the German Centre of Innovation and Research (DWIH New Delhi).
Ambassador of Sweden to India H.E. Jan Thesleff, who also addressed the students via a video message said, "We are very happy to continue the tradition of SHE STEM – it is a flagship event of the Sweden-India Nobel Memorial Week. Congratulations to all the winners of this year's SHE STEM Video challenge."
Dr. Chintan Vaishnav, Director of ATAL Innovation Mission said, "Today, the face of women's involvement in STEM is changing and the rate of participation has increased. It was in ATL Marathon 2021, that there was a spike where the women's participation was 49%. A strong STEM education will go a long way in cultivating such critical thinkers."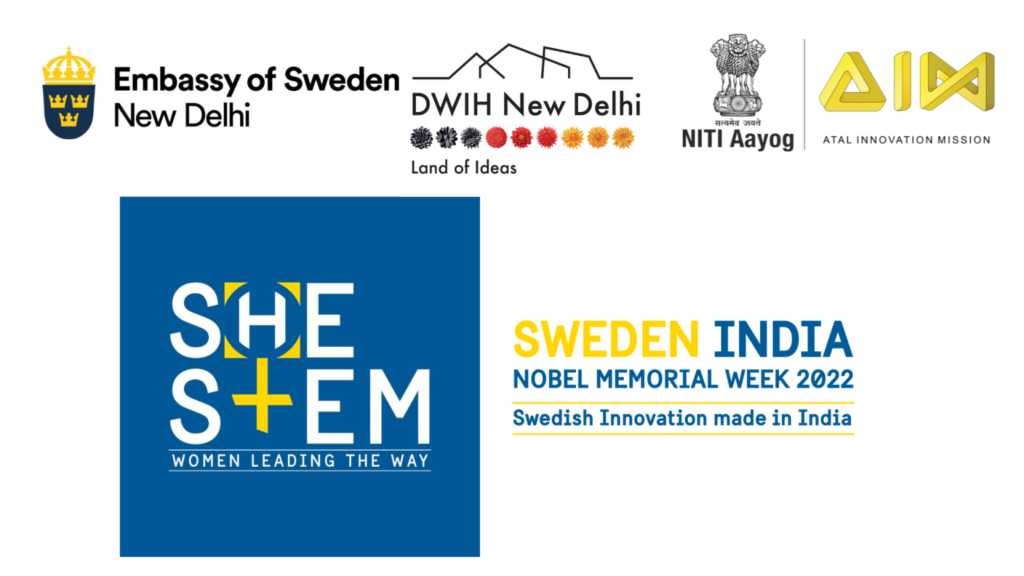 SHE STEM 2022 began with a musical performance by the students of Darbari Lal DAV Model School, New Delhi, the host school for SHE STEM 2022, followed by talks, and a panel discussion with women in the fields of STEM and business, including D. Sridevi Annapurna Singh, Director of Council of Scientific and Industrial Research – Central Food Technological Research (CSIR-CFTRI), Ministry of Science and Technology, Government. of India.
Dr. Annapurna Singh has done extensive work in the development of supplementary foods for undernourished children and in studying the impact of protein-rich food on children. She spoke to the audience about the need for women in fields of STEM to bring in their unique perspectives to problem-solving for a sustainable future.
Other participants included Cecilia Oskarsson, Trade, and Invest Commissioner of Sweden to India, who shared her thoughts on the role of diversity in triggering and enabling positive changes for girls and women, Mamta Kumari, co-founder and CEO of Prepbytes, an ed-tech company in India, and Dr. Vasudharani Devanathan, Neurobiologist and Professor of Biology at the Indian Institute of Science Education Research (IISER). Rupali Mehra, Founder of Content People AB moderated the event.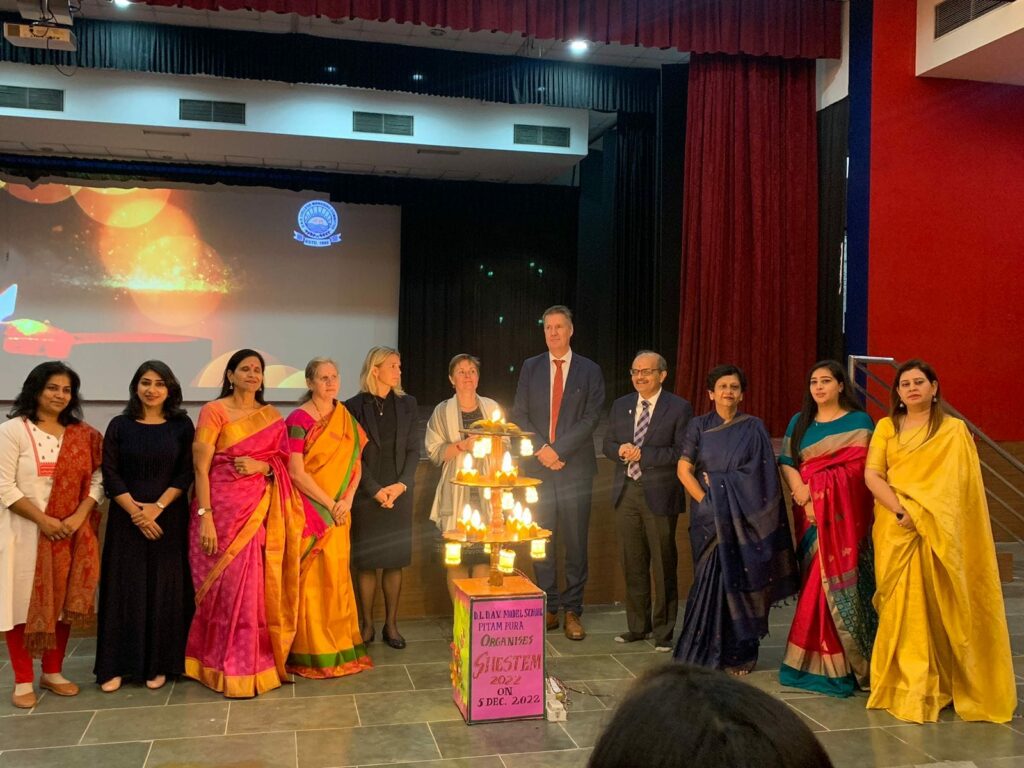 Dr. Per-Arne Wikström, Head of Office of Science & Innovation, Embassy of Sweden in New Delhi said: "When women and girls provide their talent, their knowledge, and their capabilities to science and technology on equal terms with men and boys, then we know that societies prosper and that innovation capacity actually increases. So for us, gender equality is an integrated part and an important aspect of everything that we do. We would like to thank our Indian partners for their support for this very important initiative."
"As Johann Wolfgang von Goethe said, 'who is not curious will not gain knowledge,' so keep your curiosity on, drive your knowledge forward and who knows maybe one or other idea will be implemented," said Dr. Katja Lasch, responsible for Strategy Management at the German Centre for Research and Innovation (DWIH New Delhi) and head of German Academic Exchange Service (DAAD) Regional Office in New Delhi.
Following the success of the Insta-reels Video Challenge in 2021, SHE STEM hosted the #SHESTEM2022 Video Challenge across Instagram, Youtube, Facebook, and Google Drive for students of ages 13 to 17, asking them to imagine themselves in the year 2047, and speak about an innovation of theirs that has helped in tackling climate change. The response was overwhelming with over 930 videos of which 15 were shortlisted. SHE STEM had an extensive jury round of 3 jury teams; Atal Innovation Mission Team led by Dr. Chintan Vaishnav, the Swedish Embassy team, led by Dr. Per-Arne Wikström, and the German Centre for Research and Innovation, represented by Dr. Katja Lasch.
The videos were assessed on the:
Novelty of idea
Clarity of thought and articulation
Sustainability or climate action angle
G. Nivethiga Rani who created a video on how she as a STEM Leader in 2047 had invented a robot that collected and converted biodegradable and non-biodegradable waste into electricity, won the first prize in the video challenge. The second prize was tied between T Shatananda Dhanwantari and Shreya Singh and Nistha Aswal, who participated as a team. Gaurav Hanjoora won third place.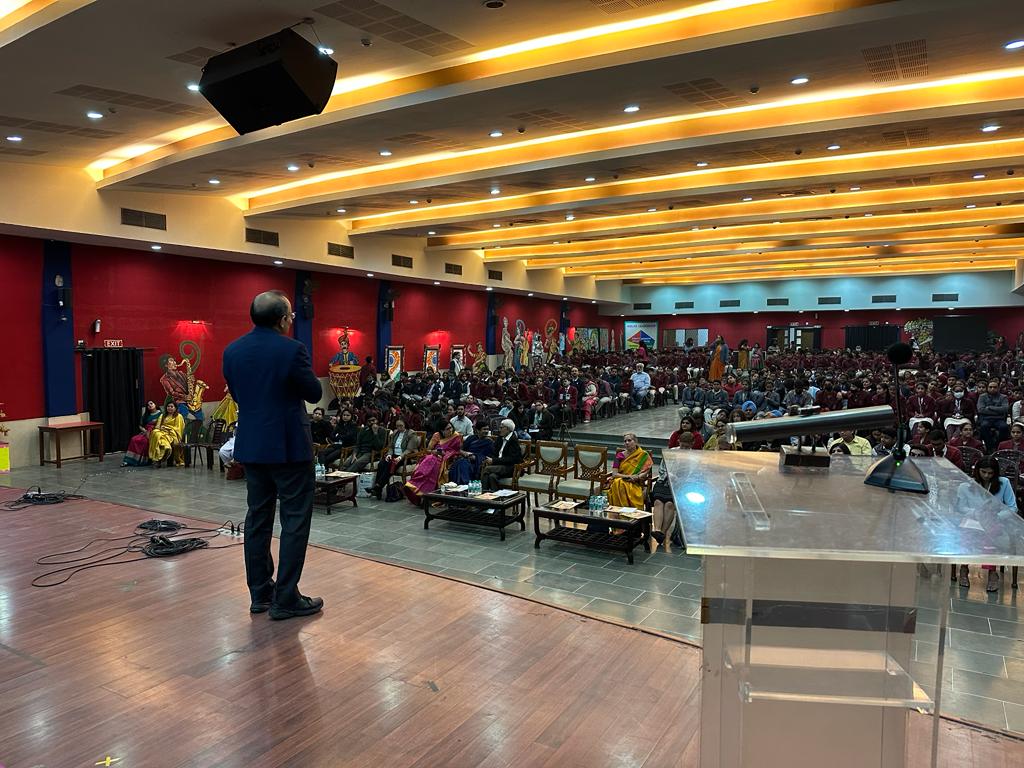 "I congratulate all the winners of the SHE STEM 2022. I have to say what caught my attention was that every single idea was addressing a fundamental constraint confronting us," said Dr. Chintan Viashnav.