A Rote Learning epidemic is sweeping through Indian education system.
According to a survey, 80% of principals believe that rote learning is leading poor quality of our education system. A survey of 200 Indian and foreign companies found that a mere 14% of Indian graduates were unable to apply their knowledge to solve real-world problems.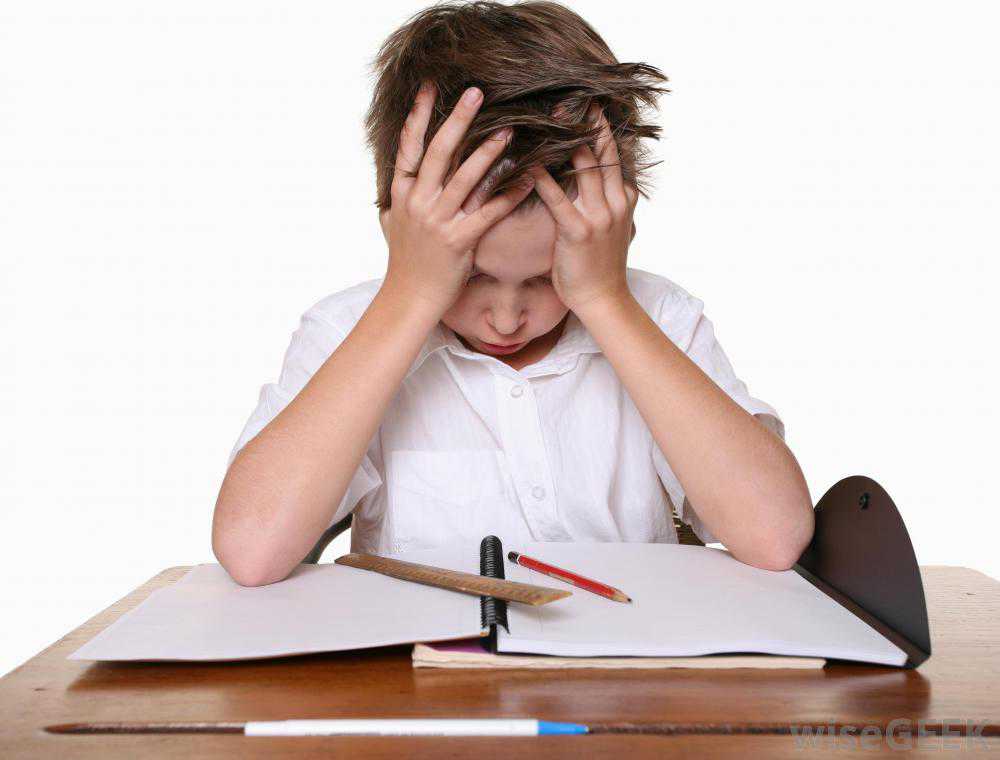 Have you heard an entire classroom repeat the same thing, sentence after sentence, in perfect chorus? Or you must have at least seen someone with a textbook in hand looking skywards and repeating concepts loudly to see if she has got it right?
Well, you have just seen India's biggest learning technique in action –Rote Learning. Prevalent not only in government schools but across the country with rate pockets of exception.
Rahul spent much of the past year preparing for his Class X board exam, attending tuitions 7 days a week, attempting to memorise answers to past year questions. Everyone knows that those who memorised the most scored the highest. Wasn't school supposed to be about learning and understanding?
Rote Learning Crisis
Rahuls are living all across the country and attend every single school in India. According to a nationwide survey by EZVidya, 80% of principals believe that the emphasis on rote learning is leading to the poor quality of our education system. WIPRO recently conducted a study that found that the practice of rote learning was equally prevalent in the country's top schools.
Some say that the practice of rote learning was inherited from our ancestors who were taught to memorise religious texts, whether the Vedas, the Quran, or others. Another theory is that the rote system was installed by the British during colonial rule to quash critical thinking. Either way, rote learning has been deeply ingrained in the Indian education system for many years.
There is no doubt that many Indians can attribute their success to this system, but simply being able to recall information is not enough in today's world when that information is instantly available to anyone with a mobile phone. A survey of 200 Indian and foreign companies found that a mere 14% of Indian graduates were prepared for the workforce, largely because most graduates were unable to apply their knowledge to solve real-world problems.
What's the alternative?
Rote learning can be tamed with a stronger leadership in our education system and schools. The school leadership – block officers, inspectors, management, and principals – must shift their focus from administration to 'leading learning'. The job of schools should be to facilitate a deeper understanding of the subject so that every child develops the ability to take information and apply it when necessary. This can happen only when schools are encouraged to implement 3 simple practices: planning, assessment, and accountability.
In the current milieu, teachers often do limited or no planning before they teach a class. Without proper planning, the teachers conveys information in the easiest way possible – writing on the board or reading out of a book while students go on duplicating the information in their books. School leaders must institute systems that encourage the teacher to plan not only what information to present but also how the students will engage with this content. The process of thinking about this in advance will push teachers to incorporate practices beyond the standard rote method of teaching.
Much of the debate around assessment has been about the need for board exams or the frequency of assessment in policies like the Continuous and Comprehensive Evaluation (CCE) mandated by the Right to Education Act (RTE). However, what is completely missing from the discussion is a focus on the types of questions being our students are asked – whether in board exams, class tests, or even when a teacher is simply posing a question to his or her class. These questions must simply not make the students recall the correct information but also apply the information picked up in class. Assessments must be designed to provide students the opportunity to show that they can analyse and synthesise content and apply their learning to real-world problems.
While evaluating the success of schools, leaders must not only ask 'What have the students been taught' but also 'What have students learned'. School leaders must make time to classrooms for evidence of student learning. The leaders themselves must be aware what to look for, so that they don't settle for checking the word for word definition of a science concept but, instead, observe whether the student has the ability to use this concept.
Learning for Understanding
Rahul's Class X experience could be vastly different than what he is going through. Instead of making mnemonics and memorising answers, concepts and definitions word for word he could be spending his time understanding how the concepts like the tangent function can unlock the secrets of our existence – how planets travel, how tall our highest peaks are, and how sound moves through the atmosphere.
All of India's students deserve this education and this is what will ultimately give our population advantage the edge. Responding to the rote learning crisis is one of the biggest challenges facing school leaders and it is not an exaggeration to say the future of the nation depends on it.
*The article originally appeared in www.youthkiawaaz.com
Images used for representational purposes only
SHE STEM 2022 honours and celebrates women
SHE STEM 2022 encourages students to 'Unleash their imagination' as part of the Sweden India Nobel Memorial Week.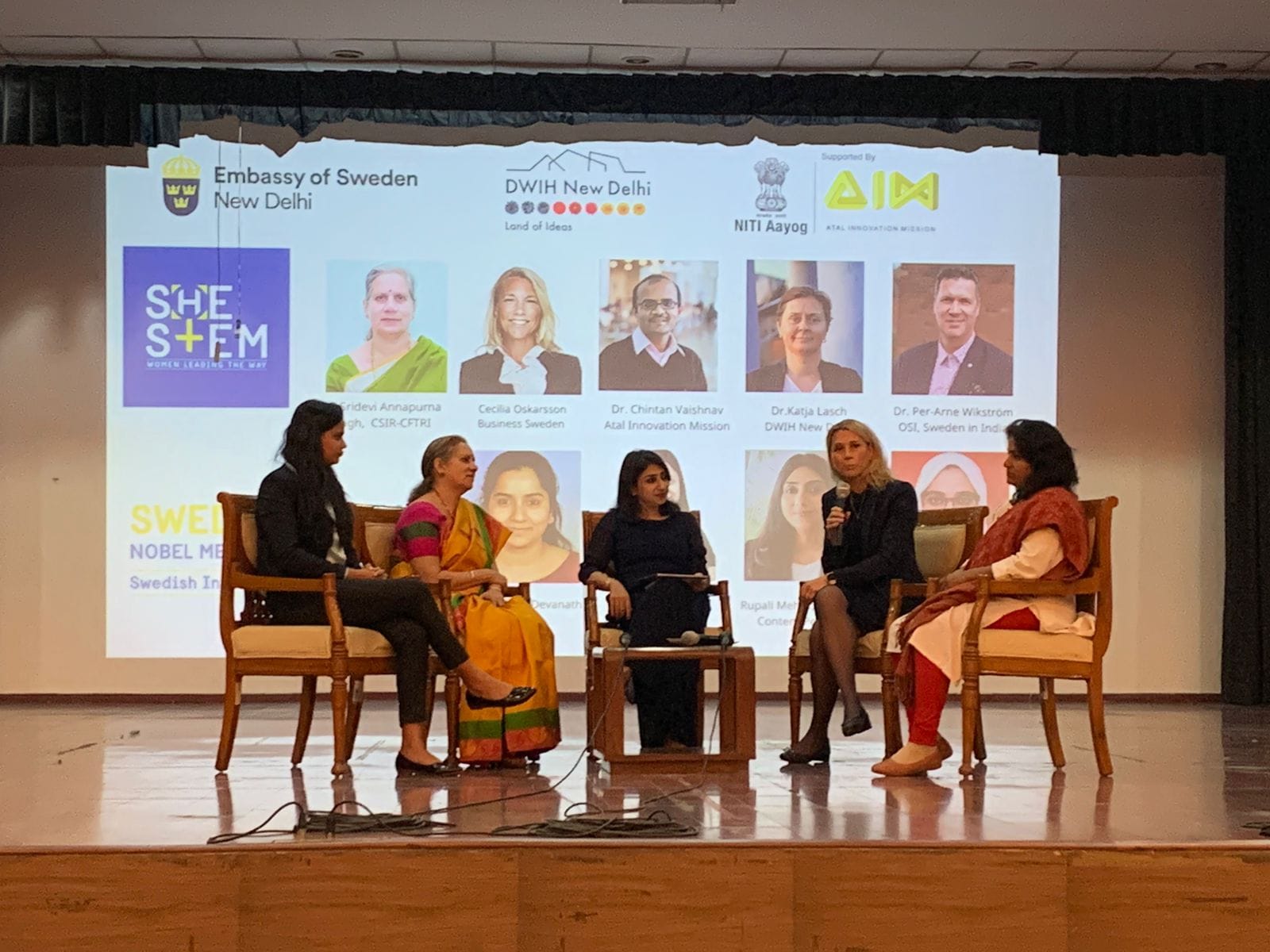 As part of the Sweden-India Nobel Memorial Week, SHE STEM, the annual event to celebrate women in the fields of science, technology, engineering, mathematics, and sustainability, was successfully held for the third year in a row.
The annual event is organized by the Sweden Embassy in India in partnership with the Atal Innovation Mission of the Government of India and the German Centre of Innovation and Research (DWIH New Delhi).
Ambassador of Sweden to India H.E. Jan Thesleff, who also addressed the students via a video message said, "We are very happy to continue the tradition of SHE STEM – it is a flagship event of the Sweden-India Nobel Memorial Week. Congratulations to all the winners of this year's SHE STEM Video challenge."
Dr. Chintan Vaishnav, Director of ATAL Innovation Mission said, "Today, the face of women's involvement in STEM is changing and the rate of participation has increased. It was in ATL Marathon 2021, that there was a spike where the women's participation was 49%. A strong STEM education will go a long way in cultivating such critical thinkers."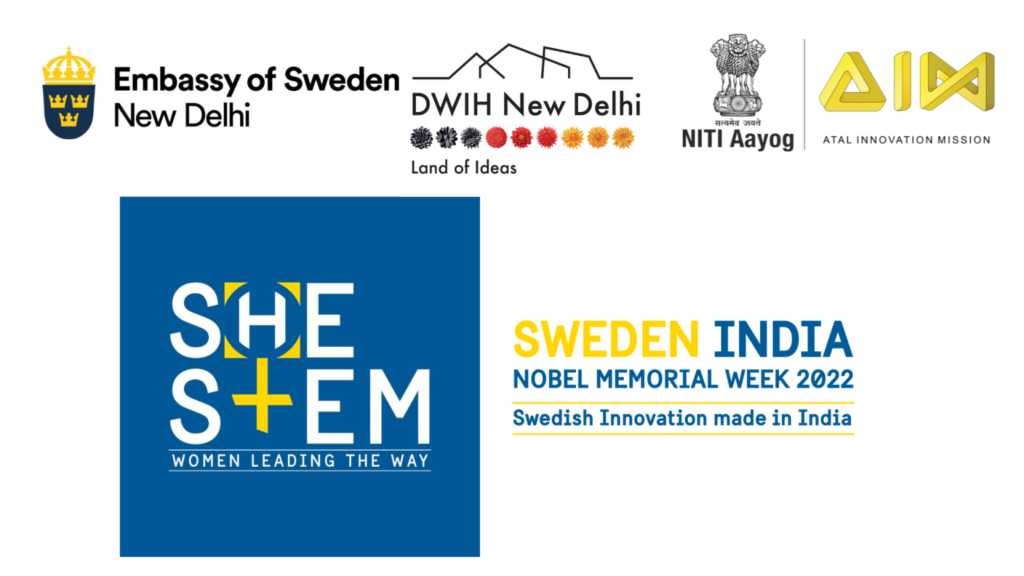 SHE STEM 2022 began with a musical performance by the students of Darbari Lal DAV Model School, New Delhi, the host school for SHE STEM 2022, followed by talks, and a panel discussion with women in the fields of STEM and business, including D. Sridevi Annapurna Singh, Director of Council of Scientific and Industrial Research – Central Food Technological Research (CSIR-CFTRI), Ministry of Science and Technology, Government. of India.
Dr. Annapurna Singh has done extensive work in the development of supplementary foods for undernourished children and in studying the impact of protein-rich food on children. She spoke to the audience about the need for women in fields of STEM to bring in their unique perspectives to problem-solving for a sustainable future.
Other participants included Cecilia Oskarsson, Trade, and Invest Commissioner of Sweden to India, who shared her thoughts on the role of diversity in triggering and enabling positive changes for girls and women, Mamta Kumari, co-founder and CEO of Prepbytes, an ed-tech company in India, and Dr. Vasudharani Devanathan, Neurobiologist and Professor of Biology at the Indian Institute of Science Education Research (IISER). Rupali Mehra, Founder of Content People AB moderated the event.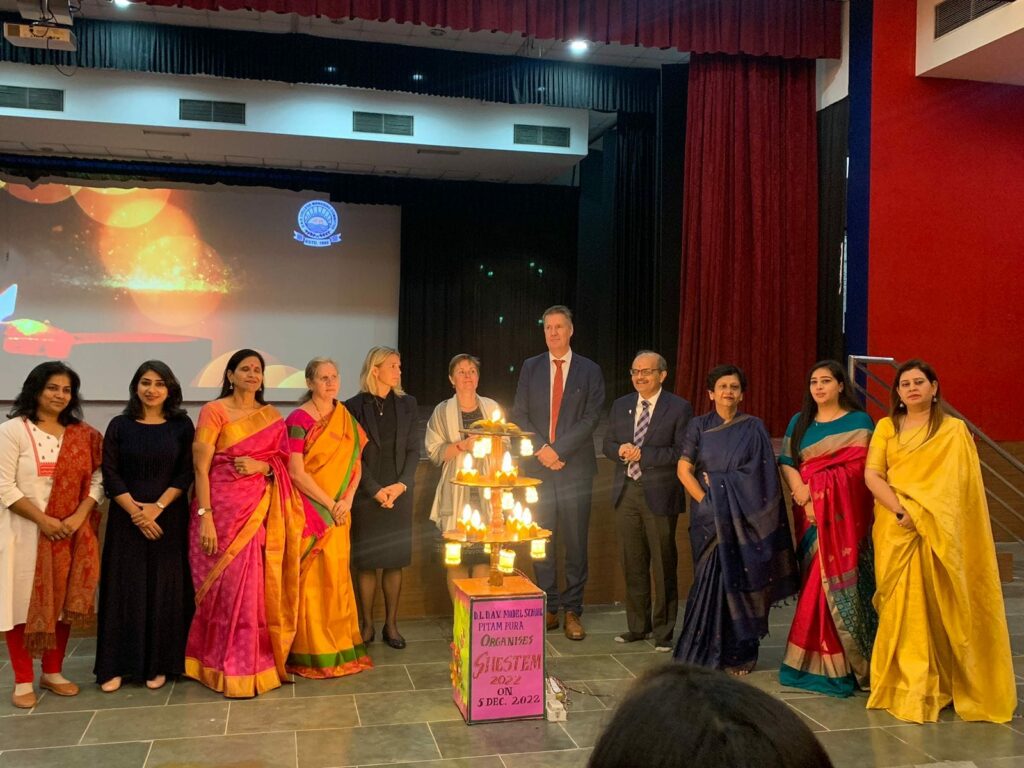 Dr. Per-Arne Wikström, Head of Office of Science & Innovation, Embassy of Sweden in New Delhi said: "When women and girls provide their talent, their knowledge, and their capabilities to science and technology on equal terms with men and boys, then we know that societies prosper and that innovation capacity actually increases. So for us, gender equality is an integrated part and an important aspect of everything that we do. We would like to thank our Indian partners for their support for this very important initiative."
"As Johann Wolfgang von Goethe said, 'who is not curious will not gain knowledge,' so keep your curiosity on, drive your knowledge forward and who knows maybe one or other idea will be implemented," said Dr. Katja Lasch, responsible for Strategy Management at the German Centre for Research and Innovation (DWIH New Delhi) and head of German Academic Exchange Service (DAAD) Regional Office in New Delhi.
Following the success of the Insta-reels Video Challenge in 2021, SHE STEM hosted the #SHESTEM2022 Video Challenge across Instagram, Youtube, Facebook, and Google Drive for students of ages 13 to 17, asking them to imagine themselves in the year 2047, and speak about an innovation of theirs that has helped in tackling climate change. The response was overwhelming with over 930 videos of which 15 were shortlisted. SHE STEM had an extensive jury round of 3 jury teams; Atal Innovation Mission Team led by Dr. Chintan Vaishnav, the Swedish Embassy team, led by Dr. Per-Arne Wikström, and the German Centre for Research and Innovation, represented by Dr. Katja Lasch.
The videos were assessed on the:
Novelty of idea
Clarity of thought and articulation
Sustainability or climate action angle
G. Nivethiga Rani who created a video on how she as a STEM Leader in 2047 had invented a robot that collected and converted biodegradable and non-biodegradable waste into electricity, won the first prize in the video challenge. The second prize was tied between T Shatananda Dhanwantari and Shreya Singh and Nistha Aswal, who participated as a team. Gaurav Hanjoora won third place.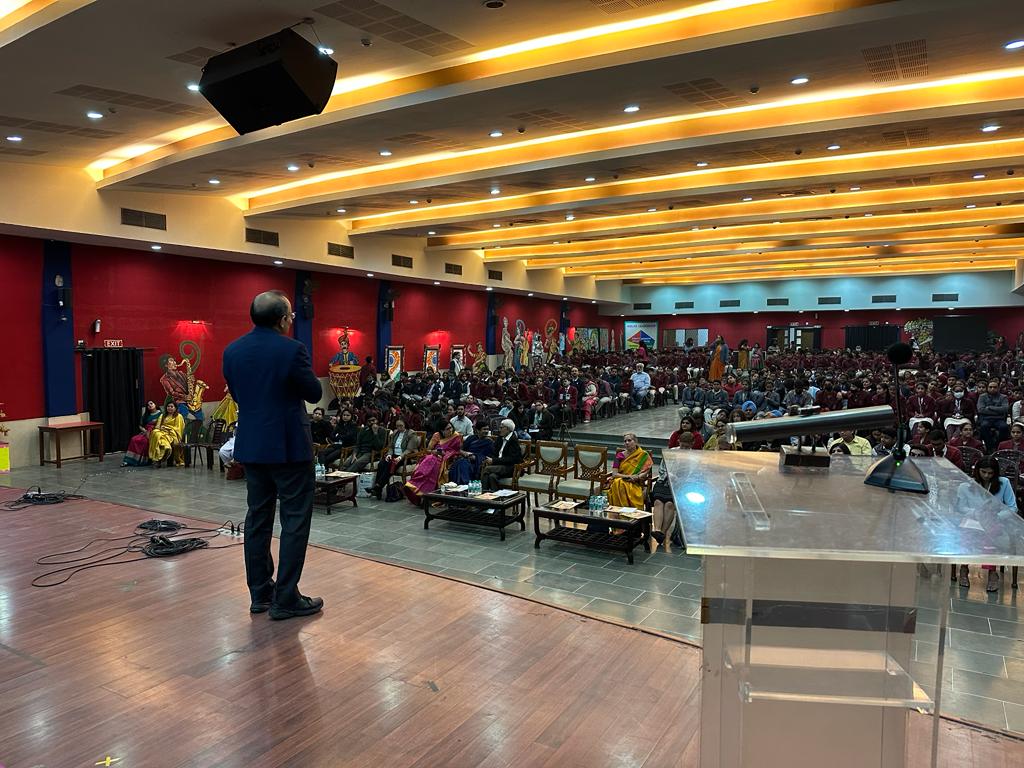 "I congratulate all the winners of the SHE STEM 2022. I have to say what caught my attention was that every single idea was addressing a fundamental constraint confronting us," said Dr. Chintan Viashnav.