Check Out Our Rapid-Fire Round With 2 Prominent Indian Women Edupreneurs
Enjoy our quick conversations with Divya Lal of Fliplearn and Samriddhi Sharma of HABA Learning, as they take you on their work journey, and give a sneak-peek into their Sundays and the books they're currently reading.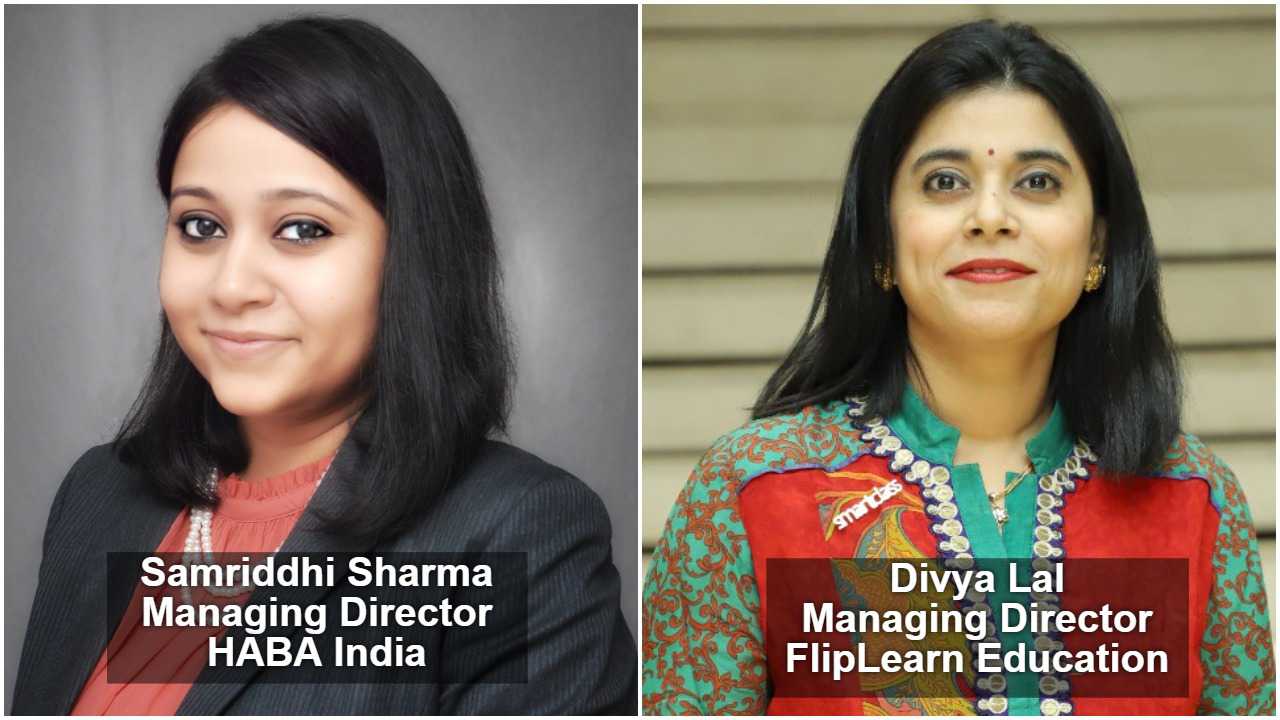 Nothing is more powerful than women writing their own curriculum and taking on the new chapters of their lives successfully. Seeking solutions with enthusiasm and embracing lessons head-on while fighting the social norms ruled by patriarchal approaches, many female powerhouses deserve a shout-out, especially in March when we celebrate International Women's Day worldwide.
ScooNews reached out to two women heading their respective companies, that have taken the educational setting in India a notch up. We strongly believe that their ideas, investment plans, contribution in economy, ways to wipe out the sexist policies, and #BossBabe attitude have the power to set a benchmark in the field of education or any other business.
Scroll down and enjoy our rapid-fire rounds with Divya Lal, Managing Director, Fliplearn Education Pvt. Ltd., and Samriddhi Sharma, MD & CEO, HABA Learning & Playing Solutions Pvt. Ltd., as they take you on their respective work journeys, and give a sneak-peek into their Sundays and the books they're currently reading.​
SAMRIDDHI SHARMA
Profile: MD & CEO, HABA Learning & Playing Solutions Private Limited, Gurgaon, India
Past Experience: India – Head of Business Development, Habermaass GmbH, Germany
Active Years: 2009 – present
Lessons Learnt: One's belief in their calibre and what the Universe has in store for them is essential
Favourite Quote: The woods are lovely, dark and deep. But I have promises to keep and miles to go before I sleep.
Memorable Success Story: Setting up a foreign subsidiary in India
Secret To Having-It-All: Perseverance
Work Ethics: To be fair to others
Prejudice In The Industry: Age is directly proportional to business acumen
Current Read: Conquering the Chaos: Win in India, Win Everywhere by Ravi Venkatesan
Sundays Are For: Family
Let's Put A Period To: Body-shaming
If Not This, I'd Be: A poet
DIVYA LAL
Profile: Leading Fliplearn
Active Years: 2000 – present
Past Experience: 20 years in Ed Tech space, enabling teachers & students for better learning experiences using technology
Lessons Learnt:
People are your true power. Product and process follow.
Perseverance is the true key to success.
​Leadership: Handling two teams of more than 370 people
Favourite Quote: The will must be stronger than the skill
Secret To Having-It-All: Staying happy and being the energizer for your team
Work Ethics: Respect everyone, stay unbiased, conduct a transparent operating process, and create a meritocratic environment
Prejudice Faced: Not much
Best Teaching App/Website: Fliplearn
Passion: Music, Dance, Boxing
Current Read: The Boy, the mole, the fox and the horse
Sundays Are For: Self-love
Let's Put A Period To: Making women achievements a big deal and letting it be a meritocratic society
If Not This, I'd Be: Wanderer & world explorer
Aren't women like these, who're independent and successful, the real key to developing our country? Their words sound confident and comfortable for they celebrate progress and self-love in both work and personal life. But more than that, we think it's their ability to be unapologetic that makes them a brand in themselves. Do you agree?
Badminton Ace PV Sindhu Launches Suchitra FitKid, India's 1st Online Physical Educational Curriculum
The curriculum is designed by PV Sindhu's personal trainer, Mr Srikanth Varma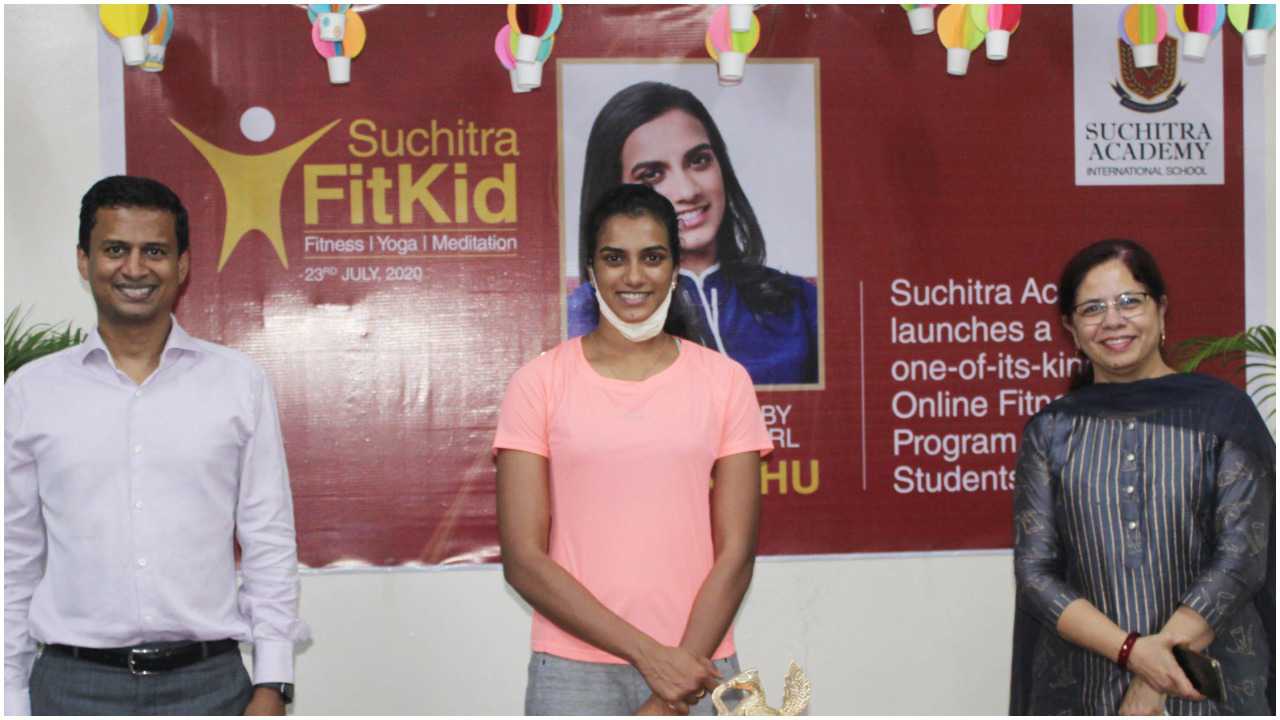 Hyderabad, July 23rd, 2020: Suchitra Academy, launched a scientifically designed comprehensive and first of its kind online Physical Education curriculum in India, the SUCHITRA FITKID, at the Suchitra Academy. The unique online curriculum was formally unveiled by the World Badminton Champion Ms PV Sindhu. Mr Praveen Raju, Chief Mentor; Ms Deepa Kapoor, Principal and Ms Trisha Chakraborty, Vice-Principal, Suchitra Academy; PV Sindhu's personal trainer and the author of the Suchitra FitKid, Mr Srikanth Varma, along with the physical instructors of the school were present on the occasion. Later Ms Sindhu participated in a live session of fitness.
The curriculum is designed by Ms Sindhu's personal trainer Mr Srikanth Varma
The online fitness program Suchitra FitKid is designed to address the fitness needs of students from Grade I to XII. The program is integrated into the school curriculum and brings back the fun and fitness elements missing otherwise in the current monotonous online education. The initiative is unique as it blends physical fitness with a built-in assessment of specific goals planned at each level. Above all, it is compliant with CBSE norms, making it a result-oriented and success measured programme.
Physical fitness has gained paramount importance especially in these unprecedented times of movement restrictions. Even though online education is effectively addressing the academic needs of students, the daily dose of physical activity, which is an indispensable part of the growing age, has been grossly neglected. Suchitra FitKid initiative hopes to bridge and address this concern.
Interestingly, it is framed to suit the needs of different growing age groups. The regimen incorporates key workouts to finetune mind locomotor skills and includes strength training, balance, flexibility and endurance. The exercise regime is combined with yoga, specific to each age group. The program incorporates four classes for students from Grade IV onwards and two classes for Grades I to III, of physical education every week. Mr Venkateshwar Rao, Sports Director, Suchitra Academy, with a rich experience of over twenty-five years in the domain, along with his team of five instructors will conduct the program at different levels.
The plan is to share the curriculum with schools in Telangana and Andhra Pradesh so that the far-reaching effects of a physical education curriculum serving the mind, body and spirit reaches beyond Suchitra Academy benefitting countless children in the two states.