Corporal punishment claims another life. Student commits suicide.
Inspite of 3 statutory provisions – NCPCR, RTE and the TN govt order, corporal punishment continues in schools. Firstly, teachers have not been sensitised towards the issue and secondly parents tend to brush the issue under the carpet as they fear for the continuity of their wards education.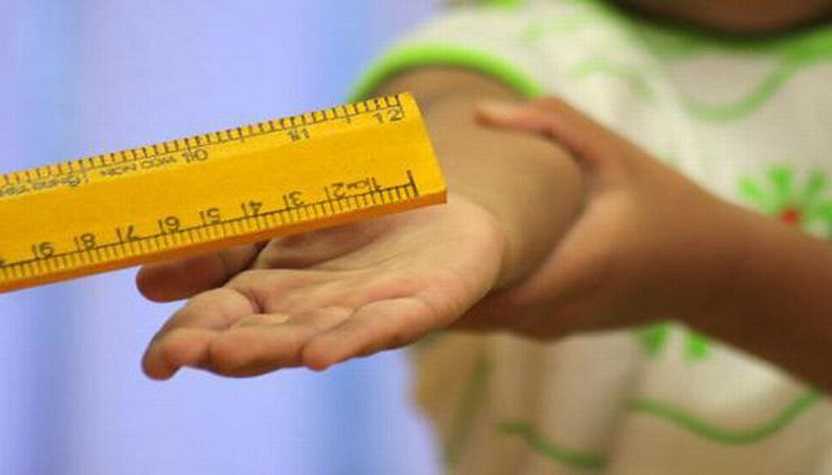 The spectre of corporal punishment has once again reared its ugly head, this time, claiming the life of a Grade IX boy, N Babu from Coimbatore. He ended his life on August 16 allegedly due to severe harassment by his teachers.
The harsh reality is that corporal punishment is present in most schools but very few cases are reported. Parents ignore the issue as they feel that confrontation will only spoil the chances of their child continuing in the same school. Education activists feel that the government's silence can be perceived as its unwillingness to create awareness about how detrimental such form of punishment can be for the students.
On paper the parents have the support of not one but three statutory provisions that are especially against corporal punishment. However, the parents feel that they remain on paper only. These statutory provisions are the guidelines set by the National Commission for Protection of Child Rights (NCPCR)' to eliminate corporeal punishment in schools, the provisions of the Right of Children to Free and Compulsory Education Act, and the subsequent Tamil Nadu government order.
Activist P R Parvathavarthini reflects upon the lack of awareness in many teachers and parents about child rights, corporal punishment and its consequences. The government should shoulder its responsibility and educate teachers but it has not done so. The NCPCR guidelines clearly have 3 categories under which corporal punishment can be classified – physical punishment, mental harassment and discrimination.
While teachers are definitely to be blamed, an equal onus lies with parents who brush such instances under the carpet.
"To my knowledge, the daughter of a woman member of the Child Welfare Committee of a neighbouring district of Madurai who is studying in a private school was severely caned by her teacher. The member, who is supposed to act on the issue, asked me to do something about it. When I asked her why she did not initiate action, she said her daughter had to continue studying in the same school," said child rights activist P Rajagopal of Virudhunagar.
There has been a precedent set by the Delhi high court, in the Parents Forum for Meaningful Education case, where it clearly said that subjecting children to physical violence for discipline or education is cruel. It also classified the child as a precious national resource, which is to be nurtured with care and not with cruelty. Subjecting the child to corporal punishment to reform him cannot be part of education, the court observed.
However, many schools prefer to ignore this and choose the physical route to discipline children.
Tamil Nadu Post Graduate Teachers' Association KPO Suresh counters this; there is little or no time to handle the students psychologically when the state government is breathing down upon schools to achieve 100% results in grade X and XII.
Educational officers publicly humiliate teachers who fail to achieve the target of cent per cent results. It pushes the teachers to punish the students.
* Read the original story by L. Saravanani on www.timesofindia.indiatimes.com
Image used for representational purpose only
NIOS celebrates 33rd Foundation Day
Dr. Subhas Sarkar addresses the 33rd Foundation Day Celebrations of NIOS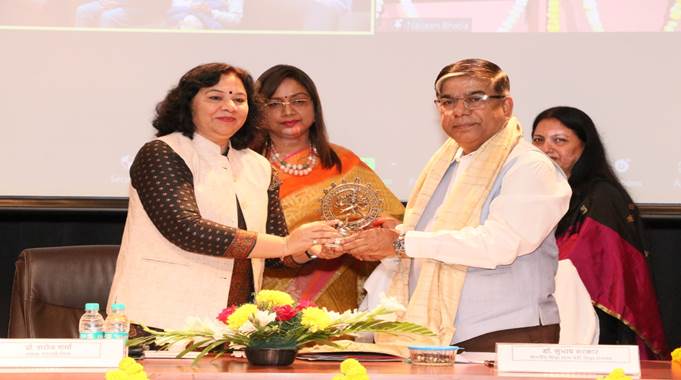 Union Minister of State for Education, Dr. Subhas Sarkar addressed the 33rd Foundation Day Celebrations of NIOS as the Chief Guest.
The function was attended by senior officials of the Ministry of Education, Chairpersons of educational institutions, Heads of Departments, officers, and staff of NIOS. Prof. Naval Kishore Ambasht, former Chairman, of NIOS and Pro-Vice Chancellor, of the Central University of Haryana, Prof. Sushma Yadav graced the occasion.
Dr. Subhas Sarkar in his address appreciated the various programmes and schemes of NIOS and said that NIOS is lighting the lamp of knowledge all over the world. Talking about the Azadi Ka Amrit Mahotsav, he mentioned that today's children will be young people in the age group of 30-40 years on the completion of 100 years of independence and will be responsible for building our nation.
He said that the Ministry of Education has entrusted NIOS with several responsibilities such as developing inclusive education resources, expanding the open and distance education system in states/UTs, translating all courses into more languages as required, creating Indian Knowledge Tradition based courses and propagating Indian culture by translating them into major foreign languages. He also praised the programmes of NIOS enrolling 10 crore adults under 'Basic Literacy Assessment', training of in-service teachers, Gender Green Project, and training in Yoga. He said that Indian Sign Language as a subject at the secondary level has been acknowledged on national and international platforms. He described the launch of an e-library called 'DEEP' by NIOS as a big step forward.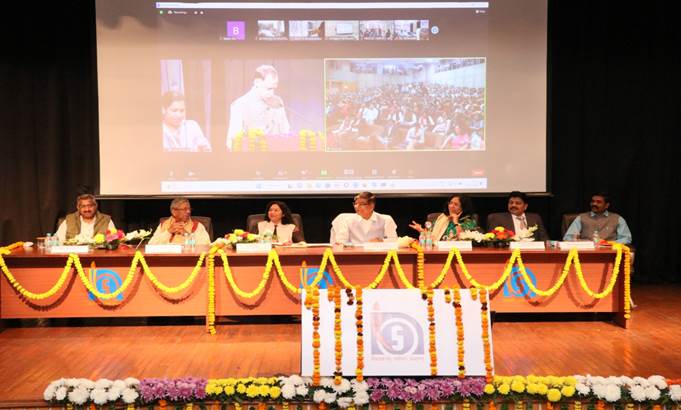 Prof. Saroj Sharma spoke about the journey of 33 years of NIOS and highlighted the special achievements. She said that NIOS is one of the two National Boards of Education under the Ministry of Education, which provides school education through Open and Distance Learning (ODL) for secondary, senior secondary, and vocational education. She elaborated on the role of NIOS in the field of education, efforts being made by NIOS for the successful implementation of the New Education Policy, Virtual Open School, Digital Library (DEEP), NEPIA Project, MoU with Ministry of Defence for Agniveer Project, setting up of Mukta Kaushal Kendras and subjects offered under Indian knowledge Tradition.
It was also conveyed by her that a curriculum called 'Aarambhika' is being developed by NIOS for catering to the Indian Diaspora.
A documentary based on the journey of 33 years of educational endeavours of NIOS was presented on the occasion. In this documentary, 'All England Badminton winner Pullela Gopichand said that most of the players in his badminton academy are getting an education from NIOS.
NIOS alumni, Ms. Niranjana and Vinod Kumar Chaudhary were also felicitated on the occasion. Shri Vinod Kumar said that only due to his education in NIOS, he was able to get the credit of making the Guinness Book of World Records 10 times (8 in Typing and 2 in sports). A proud learner of NIOS, Ms. Niranjana is a successful ventriloquist. Prof. N. K. Ambasht, former Chairman, NIOS said that in this age of technology, innovations must lead to developing 'standalone' courses for the Indian Diaspora, to achieve the goals of the National Education Policy- 2020. Pro-Vice Chancellor, Prof. Sushma Yadav said that the role of NIOS increases in the light of New Education Policy. NIOS has such potential that the institute will be able to achieve the ambitious goals of National Education Policy 2020 in the coming years.
The half-yearly magazine of NIOS 'Pragyan' was released by Dr. Subhas Sarkar on this occasion.