International cricketers to emphasise the importance of toilets to children.
ICC Cricket for Good, Unicef, ICC and BCCI have come together to hold Team Swachh clinics to promote good hand washing habits, use of toilets through cricket coaching camps and toilet based games during the ICC World Twenty20 India 2016.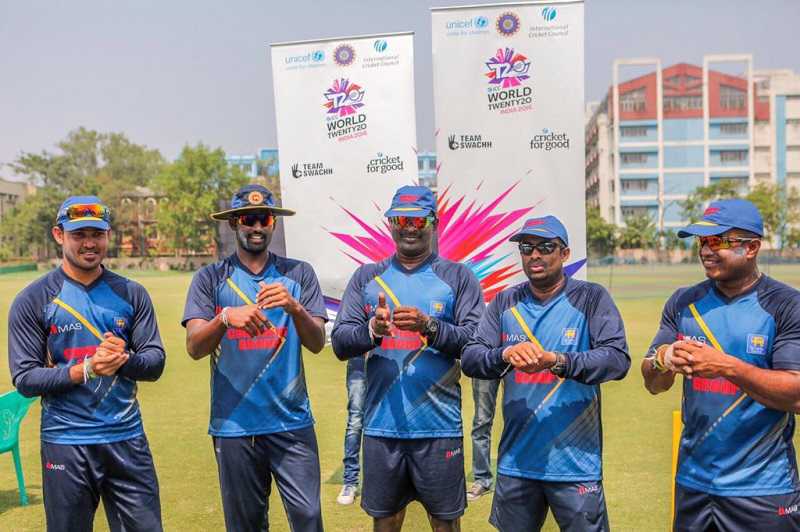 This ICC World Twenty20 India 2016, as the euphoria over gigantic sixes, foxy lbws and brilliant diving catches grips the nation, a different excitement will wash over school children across India; a thrill of being a part of Team Swachh and interacting with cricketers from 16 teams across the world.
Team Swachh is the first in a series of collaborations between the ICC Cricket For Good, UNICEF and the Board of Control for Cricket in India (BCCI) with the aim of leveraging the vast reach, appeal and immense power of cricket in India for a social cause. This visionary collaboration aims to build a social movement for sanitation and toilet use, thereby leading to an open-defecation free India.
During the tournament, cricketers of participating teams will interact with children through a cricket coaching programme and educate them in the use of toilets, stressing on the importance of hygiene and sanitation at specially designed Team Swachh cricket clinics set up at the various stadia.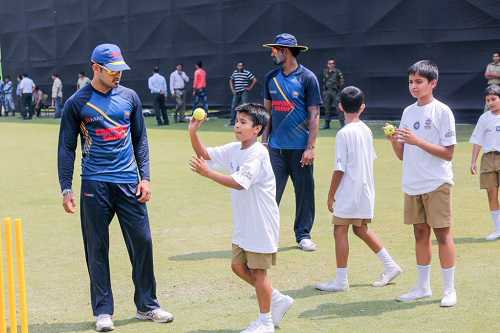 With more than 564 million people still defecating in the open – the largest number of any single country in the world and half the global total – India's children suffer the effects of poor toilet use. Almost 1 in 10 of the 1.2 million children under five years old who die every year in the country succumb to diarrhoea, which is linked to poor water, hygiene and sanitation. Some 40% of the India's children are stunted – chronically malnourished – a condition which is scientifically linked to open defecation.
UNICEF India representative Louis George Arsenault said, "Open defecation affects every aspect of a child's life putting them at risk of stunting and exposing them to avoidable diseases. The aim is to harness the enormous popularity and appeal of cricket in this country to spread the word about why everyone should use a toilet. We can achieve this if we come together as a team – then we will see real progress."
UNICEF Goodwill Ambassador Sachin Tendulkar reiterated the need for team play, "Ending open defecation and achieving sanitation for all in India takes a genuine team effort in which all relevant actors–from the Government to the people practicing open defecation, from role models to international development partners–play together as one team."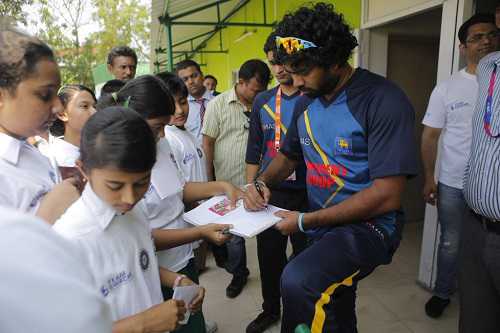 At the ICC WT20 Host City Tour during the month of February- March 2016, children and adolescents from local NGOs in the host cities joined Team Swachh and got an opportunity to meet local heroes like Yuvaraj Singh, Venkatesh Prasad, Umesh Yadav, Dinesh Karthik, Mithali Raj, Jhulan Goswami, Shubhlakshmi Sharma and Diana Edulji and get photographed with ICC WT20 Men's and Women trophies on the Nissan Trophy Tour float that travelled more than 3,000 km- through the eight host cites.
At the Team Swachh clinics, these prominent cricketers demonstrated handwashing, played cricket and toilet-based cricket games to bring out the importance of basic hygiene to urban and rural populations.
Speaking at the launch of the initiative, ICC Chief Executive David Richardson said ICC was committed to working with UNICEF to help improve the health, education, nutrition, and protection of children. Globally, ICC and UNICEF will continue to engage the broader cricketing community to empower children and adolescents. Under the umbrella of Team UNICEF, UNICEF continues to use the power of sport to change the lives of children.
Mind Matters: The Importance of Mental Health for Students and Teachers in Schools
By investing in mental health, schools can help students and teachers to reach their full potential and achieve academic and personal success.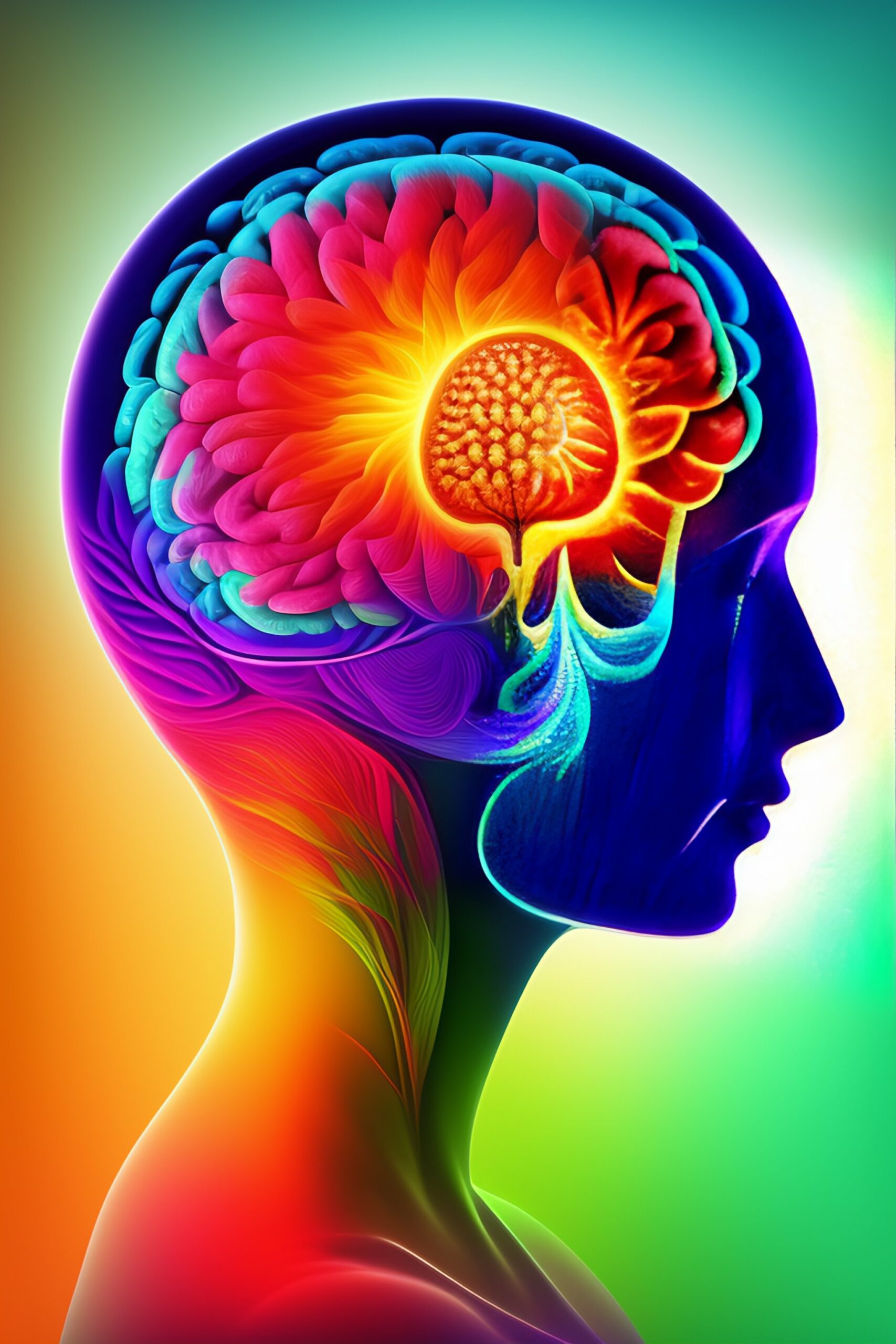 Mental health is a critical aspect of overall well-being that affects individuals at all stages of life. It plays a crucial role in shaping an individual's thoughts, emotions, and behavior, which can impact their daily lives, relationships, and academic performance. Mental health is especially important for students and teachers in schools, where it can have a significant impact on the learning and teaching process.
For students, mental health is crucial to their academic success. Mental health problems such as anxiety and depression can lead to a decline in academic performance, absenteeism, and behavioral issues. Children who struggle with their mental health are also more likely to experience bullying, which can further compound their problems. The school environment should provide a supportive and safe space for students to thrive, and this requires addressing their mental health needs.
Schools can help students maintain their mental health by creating an inclusive and supportive environment. This includes having a strong anti-bullying policy, providing opportunities for students to engage in physical activity and exercise, and promoting positive relationships between students and teachers. Schools can also offer mental health support services, such as counseling and therapy, to help students deal with any mental health issues they may face.
Teachers, too, play a vital role in promoting and maintaining mental health in schools. Teachers spend a considerable amount of time with students, and they have the ability to identify and address mental health problems early on. By providing a safe and supportive environment, teachers can help students feel valued and appreciated, which can positively impact their mental health.
However, teachers themselves can also experience mental health problems, and they need support to maintain their well-being. Being a teacher is a demanding job, and they can experience high levels of stress and burnout, which can negatively affect their mental health. This can lead to increased absenteeism, decreased job satisfaction, and a decline in their ability to perform their duties effectively.
Schools can support teachers' mental health by providing them with opportunities for professional development and regular self-care activities. Schools can also offer mental health support services, such as counseling and therapy, to help teachers deal with any mental health issues they may face. Moreover, schools can implement flexible work arrangements and provide support for work-life balance to help reduce stress and burnout among teachers.
In conclusion, mental health is a critical aspect of overall well-being for students and teachers in schools. By promoting mental health and addressing mental health issues, schools can create a supportive and inclusive environment that benefits everyone. Mental health should be given the same level of importance as academic performance and physical health, and schools should take proactive steps to address this critical issue. By investing in mental health, schools can help students and teachers to reach their full potential and achieve academic and personal success.