Meet the schools which are stars in their own rights.
The bleak government school scenario has a few exceptions where a handful of schools across India are consistently raising the bar, nurturing talent through innovative teaching, and setting students on course for higher education in reputed institutes.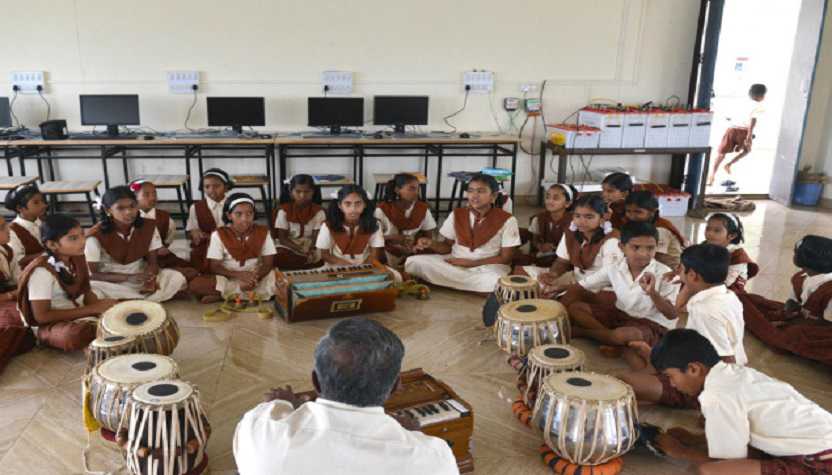 69 years after Independence, and India is still compelled to hang its head in embarrassment due to its illiteracy ratio. That's 282.6 million people aged 7 and above are non-literate in India, making it the largest such segment in the world. The recent report from the Human Resource Development Ministry, which lays down inputs for the Draft National Education Policy 2016, reveals a high gender gap in youth literacy and low retention rates, with 4 in every 10 children leaving school before Class VIII. The situation continues to be bleak for certain categories of children: children with disabilities, children in remote locations, migrant children and poor children.
India's government schools are an open book. It is known that they grapple against enormous odds. By the government's own admission, schools struggle with teacher absenteeism, high dropout rates, especially among girls, and poor teacher training. The yardstick for learning, meanwhile, continues to focus on rote. But this need not be the norm.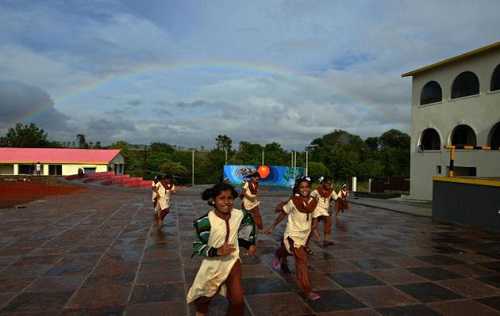 The extremely bleak scenario is mercifully lit up by a handful of government schools across the country that are consistently raising the bar, nurturing talent through innovative teaching, and setting students on course for higher education in reputed institutes.
In Kozhikode, Kerala, a girl's school has science labs installed by the Indian Space Research Organisation (ISRO). A higher secondary school in Kohima, Nagaland, has had the distinction of producing 2 chief ministers. At the Zilla Parishad School in Kenjal village outside Pune, students learn Hindustani music once a week.
Let us take a peek in the Zilla Parishad School, Kenjal, Maharashtra
In 2013, Govardhan Jaysingh Bathe was enrolled in the Zilla Parishad School in Kenjal, Pune, without many expectations. The boy had a mental disability and weak eyesight and wasn't expected to last long in a mainstream school.
Today, 3 years later, Bathe is in Class IV, he recites English poems and is running about happily on the slushy playground with his classmates.
"He was taken to school on his father's shoulder the first day. Now, he gets ready by himself and walks to school alone," says his proud grandmother Bhimabai.
The tiny hamlet of Kenjal is roughly 35 km from Pune on NH 4. It is home to only 2,000 inhabitants, but its Zilla Parishad School has earned it a place in the education hall of fame as it is possibly among of the first schools in Maharashtra to successfully implement Activity-Based Learning (ABL) for Classes I to IV. With its renovated building, open-air theatre, spacious cultural hall and bright classrooms, it has drawn the attention of the State's Education Department.
Says headmaster Jaygonda Patil, "It started in 2010 when some teachers were taken to Chennai for an introduction to ABL. Later, Pune Zilla Parishad ran a pilot project and our school was part of it." Special workshops were organised for 20 teachers with an aptitude for ABL in Mumbai's Bhabha Atomic Research Centre.
"Students are split into as many groups as available teachers, and not necessarily by age. They do the exercises prescribed on flashcards. Teachers observe progress and if found satisfactory, the student is promoted to the next level. There is no fear of missing a lesson if a student is absent for a day, as she can resume from where she left off," says Ratnamala Nigde, the Marathi teacher.
According to Patil, ABL has not only resulted in exciting changes in the students but has also brought them closer as a group. "They discuss, question, shake hands. Govardhan's acceptance among students is a result of that."
The villagers have seen visible changes in their wards and are so delighted with their progress that they recently pooled together ₹2 crore for the renovation of the school building. "We can sense the improved confidence in our children. Students from surrounding villages are joining our school, some have even left private schools," says Ganesh Bhalgare, a gram panchayat member.
Although the government claims that like Kenjal, 11,000-odd schools in Maharashtra are using ABL, but teachers differ. "The government is not too keen on ABL because it needs some investment from the government's side," says Kishore Darak, Pune-based independent researcher. This could be roughly ₹100 per student per year. Darak points out that constructing a school building with people's money should not become the norm. "It sounds good but also points to the government's failure."
Such is the popularity of the school that over 15,000 people from across the country, mostly government officers, teachers and enthusiasts, have visited the school since 2011. "We may not produce IIT toppers but that will happen eventually. At first, we want to bring students out of the age-old rote process of learning. We want to ensure students learn by themselves," says Patil.
This Young Woman From A Tribal Village Is Teaching The Children While Schools Are Closed
The only graduate of a Tamil Nadu village has volunteered to teach the children of the village while the pandemic persists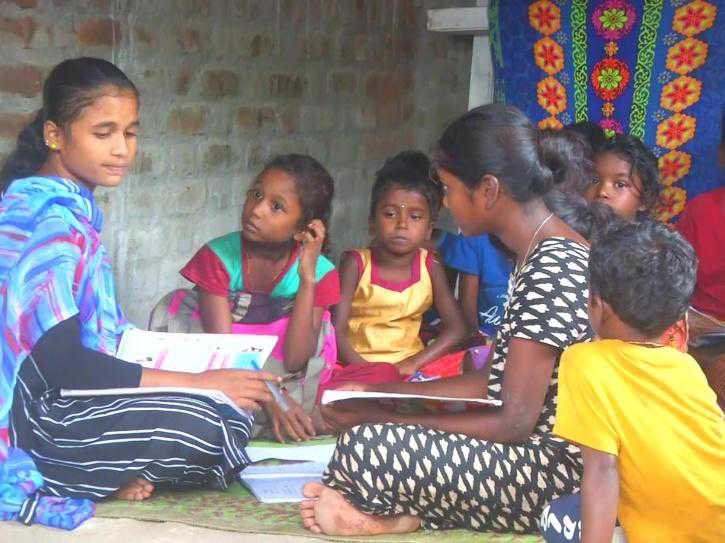 Where the digital network failed these tribal children in the southern part of India, their own stood to support them. Sandhya volunteers in teaching the kids of her village, Chinnampathy in Tamil Nadu. She is a graduate of B.Com, she is the only person from her village to have graduated college. Sandhya told India Today, "If it rains, we can't go to school. We only have one bus to our village and so after a certain age, people drop out of school."
Having gone through struggles herself, Sandhya knows how important a teacher and school is for growing children. So she volunteered to teach the children by herself, so they don't lag behind due to school closure. Sandhya said "When I was a child, I had no one to help me study. These children here have me to help them study."
One must ask the children from a remote rural or economically backward area, how it feels to not have the proper learning opportunities. The pandemic took more than the ability to roam about freely, it snatched away the ability to go to school for children on a global level. While it is easier for families with better income to support their child's online learning, most rural and financially challenged families are struggling.
The Indian government did start many projects for such students, but even learning via a television channel or free online course needs some basic gadgets and network connection. Many remote villages, like the tribal village, Chinnampathy, can not find enough network strength to have their children sit in front of a television and learn via the education channels.
On being asked how her classes are enduring she said, "The children come and ask me very freely all their doubt and they are not afraid of me. I see these children learning well and answering all the questions when I ask them."
Youth like Sandhya, who appreciate and signifies the work educators do and want to help the cause, are the future of the education sector!