Silent emergency hits India as 29% children stunted.
UNICEF India Representative, Louis Georges Arsenault pointed out that 29% of Indian children are stunted. This figure is very drastic and can be a serious detriment in the national growth irrespective of the infrastructure development schemes undertaken. NITI Aayog is undertaking a new National nutr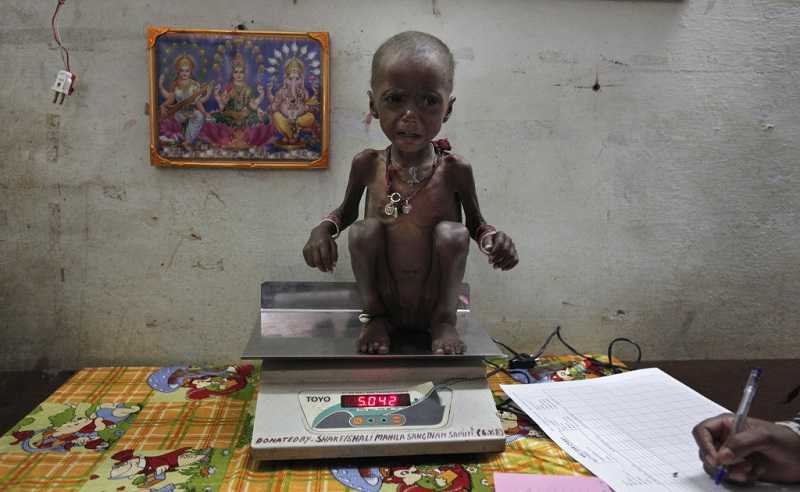 Speaking at a day-long consultation on 'Public Investment in Nutrition: Challenges and Opportunities in the New Fiscal Architecture in India' UNICEF India Representative, Louis Georges Arsenault presented the shocking statistic that 29% of stunted children are in India and likened it to a silent emergency.
The consultation was organised by the Centre for Budget and Governance Accountability (CBGA) in collaboration with UNICEF and saw earnest participation by senior government officials, nutrition experts and public finance specialists in the day long discussions relating to public spending for nutrition.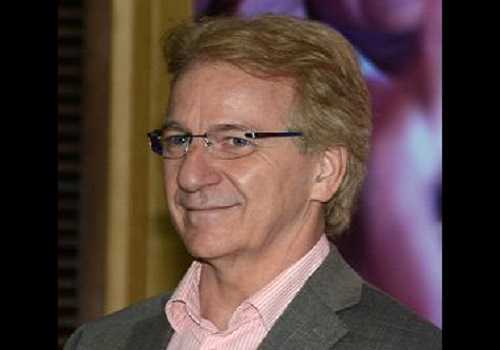 Louis Georges Arsenault also added that not only a strong political will but a sense of urgency is needed for tackling this problem. Alok Kumar, Nutrition Advisor, NITI Aayog pointed out the administrative problem that with a higher magnitude of untied resources flowing to states, Centre's leverage with states has gone down.
Former bureaucrat S B Agnihotri reiterated the need to carry out evidence based analysis of what is driving under-nutrition and suggested that interventions focusing on different aspects of the problem of nutrition need to be mapped and linked for better results.
Saba Mebrahtu, UNICEF pointedly spoke on what needs to be done to reduce the problem of malnutrition. She said that with 47 million stunted children in the country, economic growth measures alone will not yield significant results and a long term vision is required. There should be emphasis on identifying issues and challenges across sectors which require greater attention in the policy framework.
While the Integrated Child Development Services scheme has been successful in reaching out to the targeted groups in some pockets, it was also felt that there are gaps in the scheme which need to be addressed urgently. Given the greater autonomy to the states, they now have a hitherto unavailable opportunity to redesign some of the existing schemes and also introduce new schemes that are more suited to local needs. Hence the need to engage meaningfully with state capitals rather than focusing at the Centre.
Sudipto Mundle, member of the Fourteenth Finance Commission said, "We need to recognise that human development is equally important, along with infrastructure development. It is about training the community about child caring practices and building the capacity of community workers about child feeding processes. It's more about properly structuring nutrition programme, and can be done in campaign mode. While budgeting for nutrition, we also need to incorporate the demand side perspective. Large scale community ownership of schemes will help improve nutrition outcomes on the ground."
Image Courtesy: FirstPost India
Smile Foundation and Shell Launch STEM Project on Pi Day
The initiative will benefit less-privileged students from government schools.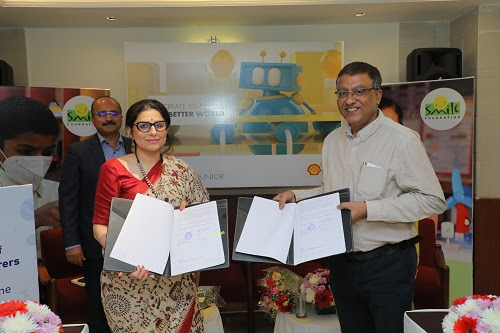 On the occasion of International Pi (π) Day, Smile Foundation and Shell launch 'NXplorers Junior' programme in three Indian states. NXplorers is Shell's global flagship Social Investment STEM (Science, Technology, Engineering, and Mathematics) educational programme aims to benefit over 25,000 children during the first year by enabling them to understand, navigate and address local and global challenges, as underlined in the Sustainable Development Goals (SDGs). NXplorers is also aligned with the National Education Policy 2020 and delivers societal benefits.
The innovative initiative will benefit less-privileged students from government schools and affordable private schools, studying in rural and hard-to-reach areas in the states of Andhra Pradesh, Telangana and Kerala. Its design also includes endeavour to create awareness amongst parents on the importance of STEM education, especially for girl children.
"Shell firmly believes that, provided with the necessary skills and guidance, young people can be a driving force to find sustainable solutions to the major global challenges of our time. Launched in 2018, Shell's global flagship STEM programme NXplorers is aligned with the National Education Policy 2020 that aims to transform India into an equitable and vibrant knowledge society. With the Smile Foundation partnership, we aim to expand this programme to Andhra Pradesh, Kerala, and Telangana and offer young minds the platform to design sustainable solutions to ease the pressure on food, water, and energy," said Ms. Latika Taneja, Head of Corporate Relations – India.
The programme is being rolled out in concurrence with the educational authorities of the respective state governments. Besides students, teachers, parents and communities are involved actively while implementing the programme so that it remains sustainable in the long-term.
"We are excited to roll out this innovative programme in India. We are hopeful that our children will not only leverage STEM education in building their future career but also will grow up and develop leadership ability in finding sustainable solutions in various walks of life," said Mr. Santanu Mishra, Co-founder & Executive Trustee, Smile Foundation.
The NXplorers Juniors will train both 6th and 7th grade students. NXplorers Juniors Level-I course will be delivered through a combination of teacher's guide, PowerPoint slides, and several instructional videos. The facilitator guide will outline the essentials to be covered in each session, exercises, discussion, checkpoint questions, a summary, assessment, and research to be undertaken by students after the session.
The United Nations Sustainable Development Goals (SDGs), exploring SDG Solutions, researching global goals, and developing a challenge and choosing a solution etc. are covered in the NXplorers Juniors Level-1.
NXplorers – Learning for a Life Time, envisions to provide a minimum of 3-5 years of NXplorers exposure to the students at various levels. The objectives include developing strong knowledge and skill set among students so that local and global challenges can be addressed by them. Developing sustainable models of implementation by engaging teachers, school leaders and communities effectively, creating awareness amongst parents regarding the importance of STEM education, especially concerning girl education are part of the overall goals.
About Smile Foundation
Smile Foundation is a national development organization directly benefiting over 1.5 million underprivileged children and their families every year through more than 400 welfare projects in education, healthcare, livelihood and women empowerment spread across 2,000 remote villages and urban slums in 25 states of India.
About Shell
Shell is one of the most diversified international energy company in India with over 10,000 employees and presence across upstream, integrated gas, downstream, renewable energy, and deep capabilities in R&D, digitalisation, and business operations; with a retail presence across six states – Karnataka, Tamil Nadu, Telangana, Maharashtra, Gujarat, and Assam.