Small wonder, Tanay Kothari from DPS RK Puram, brings friends closer
This youngster has achieved beyond his age. While his pals were competing at video games, he was into game coding. Now, at age 16, he has set up his own startup.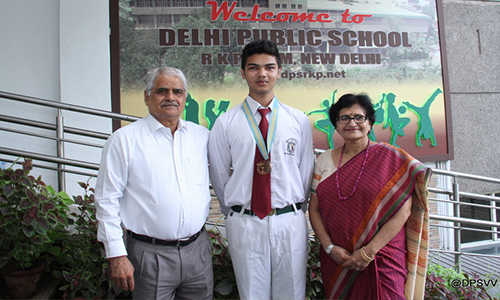 With startups being the flavour of the season, this young IT-obsessed student from Delhi Public School, RK Puram has become an entrepreneur with the development of his app. Proximity. That's what he calls his venture, a friend finder that helps one locate friends in strange lands.
Meet Tanay Kothari.
Class 12.
Coder since age 12, class 7.
With 36/36, among the top performers at American College Testing exam.
Has cracked Informatics and Linguistics Olympiads, soon to start with training programmes in Chennai and Bangalore.
Has completed 17 undergrad courses from Stanford, MIT, UPenn in computer science and maths.
Youngest Microsoft Certified Solutions Developer.
Can programme in 20 languages.
Has developed many applications.
Phew!
And if that isn't it, he is a singer, can play the harmonium, guitar and keyboard, regularly volunteers at an NGO, and, hold your breath, makes time for a game of squash or swimming.
And this is just a gist of all that Tanay Kothari does!
With his forte in programming, he has researched and written a paper on diagnosis methods for early stage cancer and is now trying to build software for it. That said Tanay, along with his team, has earlier been selected as Indian representative for a NASA project in which the team had to design space settlements.
Coding since class 7, Tanay first tried it with Windows and, realising its limitations, soon moved to other platforms. "In class 9, I was exposed to other programming languages and have chosen to immerse myself in developing applications for iOS and Android devices," he said in an interview.
But, of the entire list of his achievements, what has put Tanay to the fore is his startup Proximity, which helps people find friends within their proximity using their social media handles.
It was when his father, an avid traveller, talked of how he occasionally bumps into old friends at various places that he visits that the idea struck Tanay. He discussed it with Arjun Malhotra, co-founder at Investopad, where Tanay was then interning, and both of them together conceptualised Proximity. Moving on from the concept itself, the first challenge for Tanay was getting in-depth knowledge of iOS, which he did. In 5 days.
After some sleepless nights, Proximity was live and ready to help users locate friends or known people in the city of their visit and also fix up meetings. Soon, the idea of joining hands with Uber hit the co-founders, with the expectation that it would be a hit, and it was! Other than Uber, Proximity has also joined with Sinch to help promote carpooling, etc.
With no marketing plans in place, the app has already achieved 250 downloads on iOS. Android and PlayStore are in the pipeline and expected to increase the downloading rate.
And what happens to school?
He has a 'penchant for coding' says Tanay, and does it 'after school hours'. Talking to media, he said, "I don't go for tuition or coaching. That probably helps me strike a balance between academics and Proximity."
Some words of wisdom from the youngster:
"Complex problems can always be broken down into chunks and solved creatively, be it math, programming, or life. Embrace nothingness. Be the blank slate."
Young but way mature than most people his age, Tanay Kothari is probably the most noted youngster in his school. And there enough reasons why.
Way to go, champ!
Sarala Birla Gyan Jyoti honoured with prestigious 'Climate Action Project School of Excellence' Award
Only 250 schools globally were recognized because of their intense work on climate education in a whole-school approach. The recognition was awarded by Cartoon Network Climate Champions and Climate Action Project.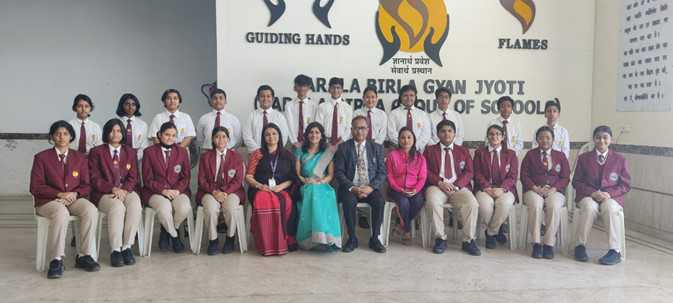 Sarala Birla Gyan Jyoti in Guwahati, India, was awarded the Climate Action Project School of Excellence. Only 250 schools globally were recognized because of their intense work on climate education in a whole-school approach. The recognition was awarded by Cartoon Network Climate Champions and Climate Action Project.
Cartoon Network Climate Champions is a climate change awareness initiative that sets out to inspire kids to take on daily challenges that collectively can make a big difference to the health of our planet. It has been developed in collaboration with WWF, a world-renowned environmental organization.
Climate Action Project is a free, global education project that was launched by Take Action Global, an education non-profit based in the USA, involving 2,700,000 teachers and students across 146 countries. The project aims to help students learn about the climate crisis in authentic ways and disseminate solutions online. The recognized schools submitted their work for the past year and met extensive criteria, including a school-wide commitment to climate education and student solutions.
Sarala Birla Gyan Jyoti has participated in global projects RiseUp4SDGs (India), Let's Be Human, Be One (Serbia), LeapEd Global Learning – Climate Change (Malaysia), the 17 Sustainable Development Goals competitions, implementing the three R's schoolwide and planting gardens in the community, at home and school. Students committed to training to become active Global SDG Ambassadors to raise awareness during virtual Student Hubs with 21 other countries. Students also actively collaborated with students in Brazil, Croatia, South Africa, Sweden and the UK in task-based projects. Currently, all Climate Change projects are student-led.
The selected 250 Climate Action Project Schools of Excellence were announced on 4 November 2021, during Climate Action Day, an annual online live event attended by 250,000 people globally. The event speakers included HRM Prince William, President James Alix Michel, Seychelles, Rick Davis, NASA, Matt Larsen-Daw, WWF, HRM Princess Esmeralda, Belgium, Juan Pablo Celis Garcia, UN Environment Programme, and other world leaders and climate scientists.
The winners were announced by Dan Russell, the voice actor behind several characters in Cartoon Network global hit series The Amazing World of Gumball, and Nandi Bushell, an 11-year-old musician, an influencer, and passionate climate advocate.
Statement by HRM Prince William "We need youth's creativity to repair our planet. We need students to invent and to innovate – to think beyond where we are now and to be optimistic about our future."
Statement by Koen Timmers, Climate Action Project: "Young people have the capacity to do more than learning about climate change. They all can come up with solutions, take small actions, and inspire others to change their lifestyles."
Statement by Dr. Jennifer Williams, Climate Action Project: "Our community of educators has come together in support of climate education for all. We are committed to ensuring students have access to information, ideas, and opportunities to take action for the planet, and, today, these Schools of Excellence are leading the way for the entire world."
Statement by Dr. Diganta Halder, Principal Sarala Birla Gyan Jyoti: "Stopping Climate Change has become a critical issue that needs to be addressed by every human being, but even more importantly in our schools. Students should be aware of Climate Action and the importance of achieving the goals set by the United Nations for peace and prosperity for all by 2030 and to become leaders of impact in the future."