Soccer encourages girls to attend school in Jharkhand
Franz Gastler founded Yuwa, an NGO which uses soccer as the medium to engage with rural and underprivileged girls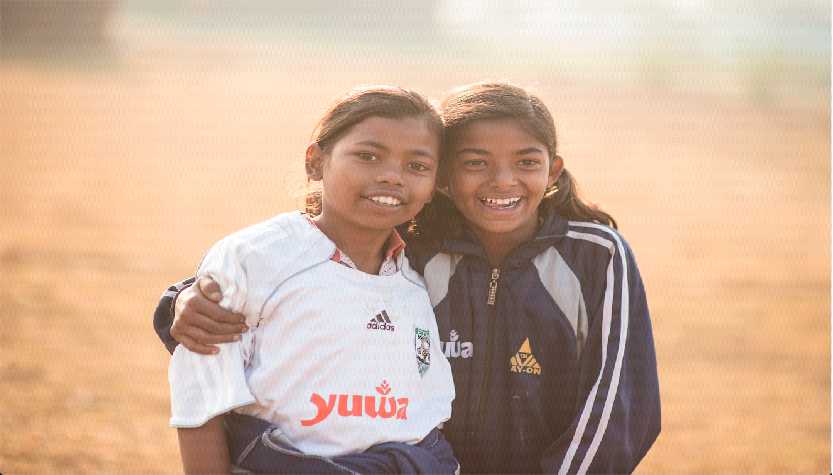 In a country subject to gender contrasts and inequality, Franz Gastler says that if there is one thing that can unite the nation, it is football.
According to UNICEF, girls in the eastern Indian state of Jharkhand do not grow up with many opportunities. The state is infamous for human trafficking and childhood marriage. In 2008, in a village near Jharkhand's capital Ranchi, Gastler founded Yuwa, an NGO that works with girls from socially and economically disadvantaged families in rural Jharkhand.
Yuwa – which means "youth" in Hindi – is a scholarship program for a group of eight deserving students, three boys and five girls. A couple of years after it began, some of the girls asked Gastler to teach them to play soccer. So Yuwa started a soccer club for the young boys and girls. On the first day of training, only girls showed up. "The boys say they have other options. But for the girls, who are bound to stay at home for household work, soccer is the only medium through which they can exert their independence and leave all the social constraints behind," said Gastler.
Today, Yuwa has 300 players, more than 90% of which are girls. These girls have participated in world-wide tournaments such as the 2014 Schwan's USA Cup, spoken at universities, TEDx conferences, and symposiums in India and abroad.
In a recent interview with Women and Girls Hub about how the program works and how it helps to ensure that the girls who take part stay in education, Gastler shares the influence of his project.
When asked about what Yuwa aims to achieve in a state like Jharkhand, which has some of India's worst social and economic indicators, such as high school dropout rates, dowry-related violence and child marriage, Franz answered," Yuwa empowers girls through team sports and education in one of the most impoverished region of rural India. It focuses on providing girls with world-class education and leadership training. In 2015, we launched Yuwa School, a full-time English medium school for the SCs, STs and the OBCs with the goal of preparing young women for top universities. In 2017, Yuwa will open its first Centre for Girls' Leadership Development. This school for 320 girls will be a regional hub for sustainable empowerment, and will include a university-preparatory school, leadership hostel, sports training and regional outreach programs. We want to empower these girls into female change-makers in India."
Gastler also talked about the parents' resistance towards sending their daughters to Yuwa. "Parents are often reluctant to pay the small fee of up to 500 rupees and also to their daughter dropping back one or two grade levels to be in a class where she is learning well. Our team counsel parents, encourages them to understand the benefits of a quality education for their daughter."
He further explained why he chose football as the tool to engage with the girls in a cricket-crazy nation like India. "First Yuwa was scholarship fund designed to give diligent students in low-quality local government schools the chance to attend a higher-quality local private school. Girls who were on scholarship would come once a month to collect their school fees and would miss 40-50 days of school easily. Once we introduced football, the girls on the team started to attend school every day, the team encouraged one another to go to school to the point that one rarely missed a day. Our education and health programs are linked and held together by the strength of the football teams – and positive peer pressure. Society tells girls to fit in. Yuwa coaches girls to stand out."
Image courtesy: newsdeeply.com
Sarala Birla Gyan Jyoti honoured with prestigious 'Climate Action Project School of Excellence' Award
Only 250 schools globally were recognized because of their intense work on climate education in a whole-school approach. The recognition was awarded by Cartoon Network Climate Champions and Climate Action Project.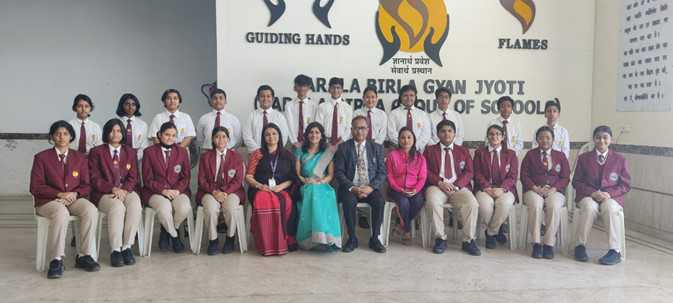 Sarala Birla Gyan Jyoti in Guwahati, India, was awarded the Climate Action Project School of Excellence. Only 250 schools globally were recognized because of their intense work on climate education in a whole-school approach. The recognition was awarded by Cartoon Network Climate Champions and Climate Action Project.
Cartoon Network Climate Champions is a climate change awareness initiative that sets out to inspire kids to take on daily challenges that collectively can make a big difference to the health of our planet. It has been developed in collaboration with WWF, a world-renowned environmental organization.
Climate Action Project is a free, global education project that was launched by Take Action Global, an education non-profit based in the USA, involving 2,700,000 teachers and students across 146 countries. The project aims to help students learn about the climate crisis in authentic ways and disseminate solutions online. The recognized schools submitted their work for the past year and met extensive criteria, including a school-wide commitment to climate education and student solutions.
Sarala Birla Gyan Jyoti has participated in global projects RiseUp4SDGs (India), Let's Be Human, Be One (Serbia), LeapEd Global Learning – Climate Change (Malaysia), the 17 Sustainable Development Goals competitions, implementing the three R's schoolwide and planting gardens in the community, at home and school. Students committed to training to become active Global SDG Ambassadors to raise awareness during virtual Student Hubs with 21 other countries. Students also actively collaborated with students in Brazil, Croatia, South Africa, Sweden and the UK in task-based projects. Currently, all Climate Change projects are student-led.
The selected 250 Climate Action Project Schools of Excellence were announced on 4 November 2021, during Climate Action Day, an annual online live event attended by 250,000 people globally. The event speakers included HRM Prince William, President James Alix Michel, Seychelles, Rick Davis, NASA, Matt Larsen-Daw, WWF, HRM Princess Esmeralda, Belgium, Juan Pablo Celis Garcia, UN Environment Programme, and other world leaders and climate scientists.
The winners were announced by Dan Russell, the voice actor behind several characters in Cartoon Network global hit series The Amazing World of Gumball, and Nandi Bushell, an 11-year-old musician, an influencer, and passionate climate advocate.
Statement by HRM Prince William "We need youth's creativity to repair our planet. We need students to invent and to innovate – to think beyond where we are now and to be optimistic about our future."
Statement by Koen Timmers, Climate Action Project: "Young people have the capacity to do more than learning about climate change. They all can come up with solutions, take small actions, and inspire others to change their lifestyles."
Statement by Dr. Jennifer Williams, Climate Action Project: "Our community of educators has come together in support of climate education for all. We are committed to ensuring students have access to information, ideas, and opportunities to take action for the planet, and, today, these Schools of Excellence are leading the way for the entire world."
Statement by Dr. Diganta Halder, Principal Sarala Birla Gyan Jyoti: "Stopping Climate Change has become a critical issue that needs to be addressed by every human being, but even more importantly in our schools. Students should be aware of Climate Action and the importance of achieving the goals set by the United Nations for peace and prosperity for all by 2030 and to become leaders of impact in the future."