Taking coding out of the realm of the privileged to government school students
What started as an idea by the Lego Foundation in 2010 is slowly but surely finding feet today. Robotics classes introduced in govt schools have nurtured teams who will participate in the annual RoboCup held in Germany later this year.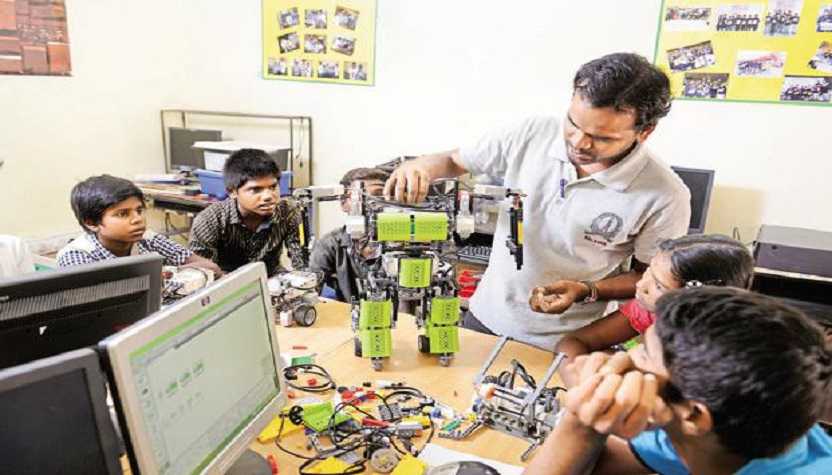 RoboCup 2016, the prestigious annual international robotics competition to be held in Leipzig, Germany, is just 27 days away.
In a 10ft x 10ft room in a school in central Bengaluru, 6 children, all between the ages of 12 and 15, huddle around their mentor P. Sridhar, an Indian Institute of Science (IISc) graduate with a master's degree in instrumentation. Sridhar is engrossed explaining how wireless technologies work, setting off a chain of questions from the children.
This could be a scene from a science camp at any of the international schools, only which it isn't. The school—Seva Bharat Trust Government School—is a Telugu-medium government school. The children are preparing for RoboCup, a technology event that aims to promote interest in robotics and artificial intelligence among young students.
"We are out to make a point that with access and opportunity, government school kids can really shine," said Ashok Kamath, chairman of Akshara Foundation, an educational NGO that works with government schools in Karnataka. The robotics programme at the Seva Bharat Trust Government School was actually the pilot set up by the non-profit 2 years ago.
Just imagine a robot programmed to dance to the tune of the Mission Impossible theme song, yes that robot won them the RoboCup Junior Nationals held in Bengaluru in February. They pipped 15 other entrants, including private schools such as St. John's High School and Bishop Cotton Girls School to win the title. On 30 June, the students from Seva Bharat Trust will be one of the 500 teams from 40 countries that will participate in the German finale of the competition.
A staggering 61.8 million children attended 244,653 secondary schools in 2014-15 in India. Of these, only 36.6% schools have access to a computer and Internet connection, according to a 2014-15 report of the District Information System of Education (DISE). Given the poor state of infrastructure, children in government schools often find themselves on the back foot.
Kamath, who has been working in the field of education for underprivileged children for more than 15 years, said the idea to introduce robotics in government schools came from Lego Foundation, one of their donors. Lego Foundation offered to give its robotic kits with software and hardware to create customizable, programmable robots.
The Lego Foundation also gave an annual grant of Rs.10 lakh for 3 years to promote learning and ignite creativity among government school students. Without pondering much on the outcome of conducting the program with government schools, Akshara Foundation set up a lab in Seva Bharat Trust with a dozen computers and 20 robotic kits. It was set up at a one-time cost of Rs.7-8 lakh. Running the programme cost another Rs.6 lakh a year, which was fully funded by Lego Foundation.
Sridhar, who quit his job at a multinational technology company to join Akshara, is credited with designing a curriculum that not only starts from the basics but also ends up covering writing codes to program motors and sensors of robots.
"These children pick up anything that is practical and where they can use their hands. They were able to sustain their interest as they were able to apply every concept I taught them," said Sridhar.
Learning robotics has actually led to an improvement in academic performances too, said Sridhar, who found that English speaking was a bigger challenge for the kids than learning robotics.
When they took part in the RoboCup Junior Nationals in 2014, they could not understand the questions that the judges posed to them in English. Since then, they have been working hard on their language skills.
"We were scared how we will talk, but now we are more confident," said Ramakrishna, who dreams of becoming a programmer.
Sneha Philip, team lead of knowledge curation at Dasra, a philanthropic organization, says while NGOs should look at innovation coupled with sustainability as the way forward. "Because there is a huge need for the basic services, it is important to balance sustainability with innovation. It is important to see where does this go next," said Philip.
Kamath is well aware of the fact that programmes such as this aren't very scalable as their success solely relies on good mentors like Sridhar. Still, he is optimistic as this is a step towards building scientific temperament in children—a thought that is absent in most schools. "Kids should be taught to push the envelope, and exposure to technology can help them do that," he said.
The fact that there is a growing public support to this initiative was highlighted when last week Akshara raised₹ 5 lakh using crowdfunding platform Ketto, which will go towards paying for the children's expenses in Germany.
For wider adoption, Kamath says after the international competition, the non-profit will approach the state government to expand the programme to schools at the block level.
Smile Foundation and Shell Launch STEM Project on Pi Day
The initiative will benefit less-privileged students from government schools.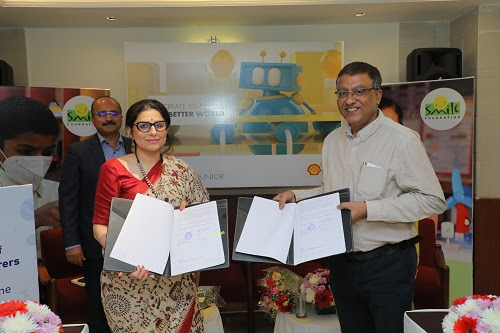 On the occasion of International Pi (π) Day, Smile Foundation and Shell launch 'NXplorers Junior' programme in three Indian states. NXplorers is Shell's global flagship Social Investment STEM (Science, Technology, Engineering, and Mathematics) educational programme aims to benefit over 25,000 children during the first year by enabling them to understand, navigate and address local and global challenges, as underlined in the Sustainable Development Goals (SDGs). NXplorers is also aligned with the National Education Policy 2020 and delivers societal benefits.
The innovative initiative will benefit less-privileged students from government schools and affordable private schools, studying in rural and hard-to-reach areas in the states of Andhra Pradesh, Telangana and Kerala. Its design also includes endeavour to create awareness amongst parents on the importance of STEM education, especially for girl children.
"Shell firmly believes that, provided with the necessary skills and guidance, young people can be a driving force to find sustainable solutions to the major global challenges of our time. Launched in 2018, Shell's global flagship STEM programme NXplorers is aligned with the National Education Policy 2020 that aims to transform India into an equitable and vibrant knowledge society. With the Smile Foundation partnership, we aim to expand this programme to Andhra Pradesh, Kerala, and Telangana and offer young minds the platform to design sustainable solutions to ease the pressure on food, water, and energy," said Ms. Latika Taneja, Head of Corporate Relations – India.
The programme is being rolled out in concurrence with the educational authorities of the respective state governments. Besides students, teachers, parents and communities are involved actively while implementing the programme so that it remains sustainable in the long-term.
"We are excited to roll out this innovative programme in India. We are hopeful that our children will not only leverage STEM education in building their future career but also will grow up and develop leadership ability in finding sustainable solutions in various walks of life," said Mr. Santanu Mishra, Co-founder & Executive Trustee, Smile Foundation.
The NXplorers Juniors will train both 6th and 7th grade students. NXplorers Juniors Level-I course will be delivered through a combination of teacher's guide, PowerPoint slides, and several instructional videos. The facilitator guide will outline the essentials to be covered in each session, exercises, discussion, checkpoint questions, a summary, assessment, and research to be undertaken by students after the session.
The United Nations Sustainable Development Goals (SDGs), exploring SDG Solutions, researching global goals, and developing a challenge and choosing a solution etc. are covered in the NXplorers Juniors Level-1.
NXplorers – Learning for a Life Time, envisions to provide a minimum of 3-5 years of NXplorers exposure to the students at various levels. The objectives include developing strong knowledge and skill set among students so that local and global challenges can be addressed by them. Developing sustainable models of implementation by engaging teachers, school leaders and communities effectively, creating awareness amongst parents regarding the importance of STEM education, especially concerning girl education are part of the overall goals.
About Smile Foundation
Smile Foundation is a national development organization directly benefiting over 1.5 million underprivileged children and their families every year through more than 400 welfare projects in education, healthcare, livelihood and women empowerment spread across 2,000 remote villages and urban slums in 25 states of India.
About Shell
Shell is one of the most diversified international energy company in India with over 10,000 employees and presence across upstream, integrated gas, downstream, renewable energy, and deep capabilities in R&D, digitalisation, and business operations; with a retail presence across six states – Karnataka, Tamil Nadu, Telangana, Maharashtra, Gujarat, and Assam.