A boy's incredible journey from the labyrinthine lanes of Bhatta Basti to the lofty stage of completing school
Mohsin Farukhi a potential child labourer who almost ended up being a part of the statistics managed to turn around his life and pass out school. His is a story of inspiration and persistence to go after your dreams.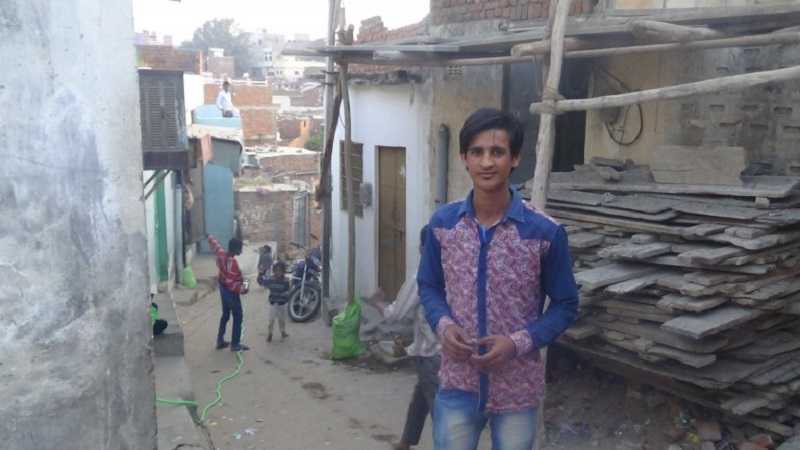 Rajasthan holds the unfortunate distinction of being the home of nearly 10% of the total child labourers of India and Jaipur alone shelters 50,000 child labourers in the age group of 5-14 years. In terms of child labour the state ranks third behind UP and Andhra Pradesh.
"Bhatta basti in Jaipur is notorious for child labourers who work on lac bangles within their households. Most of the adult members are either working on making jewellery or are unskilled labour. Dropouts are common as children become workers early on in life," says Magic Bus' Neelima, who is in charge of the programme here.
Bhatta basti is home to largely a single community, engaged in bangle-making, stone-cutting, or tailoring. In the dusty narrow lanes of Bhatta basti lives a 19-year-old whose shining story deserved needs to be brought to the world.
Meet Mohsin Farukhi the boy who almost became just another face in the army of child labourers in Rajasthan. For most of these children, going to school is just another in the long list of unfulfilled desires and it was no different for Mohsin. In fact, he kept avoiding the question "Which class are you in?" ever since he was 13 and stopped going to school.
"My father worked as a stone-cutter in a nearby shop. My elder brother joined him after he finished his seventh standard because we were in desperate need of money. My younger brother failed in the eighth standard and started work at a local watch repair shop. My father stopped going to work once both my brothers started earning. When they got married and had their own children, they could barely spare any money to support the family. This is why my parents started putting pressure on me to start working," explains Mohsin.
He dropped out in Class 7 and started assisting in a shoe shop where he was paid a measly Rs 5 for slogging out for 12 hours a day.
"My father dropped me to my first workplace. I could never tell him how much I wanted him to drop me to a school instead," Mohsin's eyes tell it all as he shares the memories of his first day at work.
However, it panned out differently for him right from the first job where he didn't stick around for long. He soon made friends of his own age from the neighbouring stores and found a different place to work, with better pay.
"I realised one thing: there are always jobs available for children like us because children can be paid less and made to work more."
While Mohsin's life as a child labourer saw him work for longer hours in jobs that did draw his interest, his father, meanwhile, started working as a priest (locally called mohzim) in a dargah. His mother is a homemaker.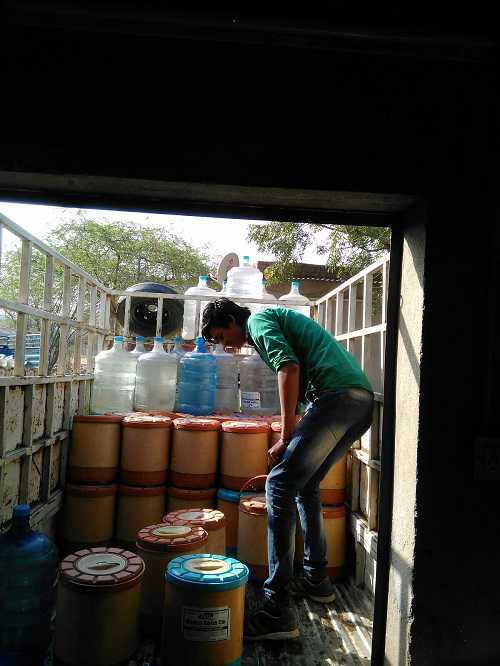 Life sometimes serves an opportunity, a turning point that has the potential to change lives forever. For Mohsin that moment came 3 years ago when he attended one of Magic Bus' sessions held in Bhatta basti. He was 16 then. Having never spending time with children of his age, Mohsin took an instant and strong liking to the activity-based sessions.
"The person leading the session sat us down in a circle and asked how many of us went to school. I saw several hands in the air, and ran away in embarrassment," he recounts.
Mohsin's hurried exit didn't escape the attention of Sarfaraz, who was conducting the session that day. He decided to find out more about Mohsin. Mohsin confided in Sarfaraz his eagerness to learn the next day.
Sarfaraz turned out to be not only Mohsin's mentor but also the support, the encouragement which should have ideally come from within his family. Speaking with Mohsin's parents revealed their abject lifestyle. Undeterred, Sarfaraz approached an NGO in order to arrange for funds for Mohsin's education. Mohsin was allowed to resume school on the condition that he would continue to work in order to support the family.
Getting back to studies after 3 years wasn't a walk in the park for Mohsin as he found it difficult to concentrate in the classes that he attended for class X. "I found the lessons difficult. After all these years, I found it difficult to concentrate. It was exhausting to work and study simultaneously," he shares.
As luck would have it, he failed to clear the Class X examination. "His parents persuaded him to discontinue education. They didn't think it was a worthy investment. But Mohsin persisted in his attempts. And of course, we stood by his decision," says Sarfaraz.
Today, Mohsin is a proud class XII passout and aspires to become a nurse because getting an MBBS degree would be too expensive for him.
"I am, by far, the most educated in my family. My parents never went to school and my brothers dropped out. I don't want to stop here. I want to study further and work in dignity," he shares.
Regardless of where he lands up, Mohsin is a living inspiration for all those people who face hurdles in acquiring an education.
Teacher Warriors 2022: The story of Sushil Kumar Meena, an Engineer turned Educator
This is the story of Sushil Kumar Meena, an engineer who found his purpose in working with underprivileged kids.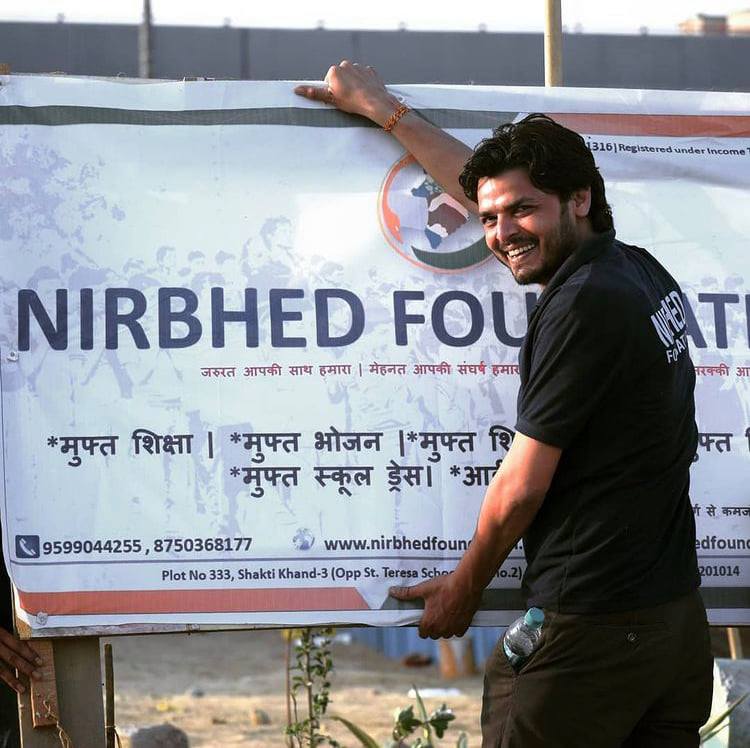 One night, a railway engineer was walking home from the station. With him, walked little kids from the nearby slums with a rag on their backs. It was an odd hour to be awake and he was surprised to see so many of them around the neighbourhood. They were collecting things that could be later sold for money; hair pins, pens, a scarf. Some were also looking for food and would find a half-eaten packet of biscuits along the road. Their parents were either missing or asleep but, they didn't seem to care what the children were going through. They needed money and kids as young as 4-year-old were trying to fend for themselves and their families. This wasn't his usual route home but, that night, what he saw changed his perception of life. This is the story of Sushil Kumar Meena, an engineer who found his purpose in working with underprivileged kids.
Sushil Kumar was always a keen observer. His family shifted to Delhi from a village in Rajasthan, in the early 2000s. Even as a child, he would observe the existing gaps in society. When he would go to school, many children of his age would only loiter around because their parents could not afford to send them to school. This would make him want to help those children.
In 2009, he was preparing for competitive exams and attending coaching classes. There, he saw that many students were very capable and intelligent but were not able to pay for the classes because of their weak financial background. After successfully clearing his exams, he was posted in Delhi and returned from his training in 2013. He already knew what he had to do; balance his job and start teaching the children.
He started a free-of-cost coaching class for students preparing for government exams and took 3-hour classes at least while juggling with work and also engaging in teaching children of the slums. Instead of taking fees from the students, he asked a few students to help him teach the little children after their coaching classes. Within months, he had 300 students studying with him.
When he approached a few government organizations and schools to get the children admitted, they would have their set of excuses ready for not taking them in. This left a bitter impression of such organizations in Sushil Kumar's mind. With only three teachers, they discontinued the government exam coaching classes and focused only on the primary education of the children with the hope of eventually getting them enrolled in mainstream school. The classes continued in a park where volunteers would join from time to time but, not regularly. However, with time the public came forward to contribute to the open school, and in 2015 Nirbhed Foundation was registered.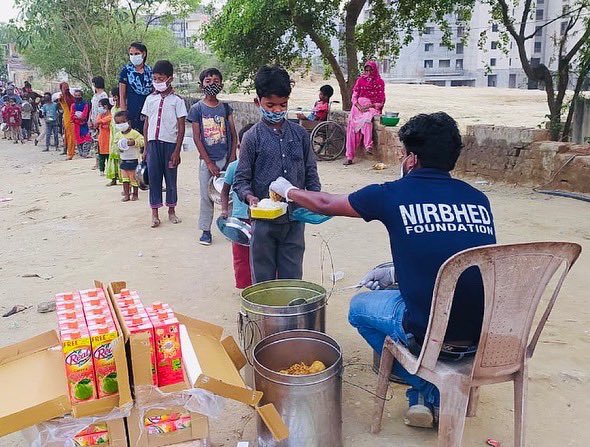 Challenges along the way
In 2019, a was study conducted on the sanitary facilities for adolescent girls in an urban slum in Central India. It was seen that privacy was a huge problem in the use of public toilets, use of sanitary napkins was very less, and changing of absorbent material in toilets was also a matter of concern for the girls.
During college, Sushil Kumar joined National Service Scheme (NSS). They would go to nearby villages to conduct awareness drives and campaigns. "We would organize awareness camps regarding sanitation, education, general cleanliness, availability and development of toilets by governments and provide the village with basic materials to build toilets or schools," he said. "Availability of sanitary pads was a huge issue because they wouldn't buy it from the shops and men had too big of an ego to do that for the females of the house. I observed all these issues during my time and now I teach the interns, the volunteers, the children, everybody about nutrition, sanitization, women's health, and safety," he added. Teaching the values of living life is just as important as education.
Nirbhed tries its best to improve the lives of neglected children. They came up with many initiatives but unfortunately, none received any assistance from CSR funds or the government. Members of the organization have been pitching their own money and using crowdfunding platforms for whatever little help they can get.
Sushil Kumar also played the role of a real-life superhero when his centre in Ghaziabad was set on fire in the middle of the night. Just as things were starting to come together, one April night of 2019, the center in Ghaziabad was burnt to the ground. There were two reasons for that; land disputes and the anger of people who were opposed to this initiative. At 12:30 am, the kids stood next to Shushil Kumar, crying as they watched their school, materials, and donations disappear into thick smoke.
"In Ghaziabad, it is common for people to illegally acquire land. Our centre was not built illegally but, some people wanted our piece of land too. We did not comply and would often fight them off if they came to harass us. We had set up tents and small lights because children would study as late as 2 am at the night," he said. "The night of the fire, we were all sitting close to the centre but nobody was studying inside. Thankfully, none of the children or staff members got hurt. I still remember the faces of the children and parents whose hopes were turning into ashes," he added.
The next morning, supporters of the centre, parents, and teachers gathered outside the police station. An FIR was lodged at the police station. The harassment continued still. The female staff of the organization was being followed on their way home, and children would spot the faces of the troublemakers from that night and share it with their teachers. Sushil Kumar gathered all the help he could get and built the centre again, this time with support from the police and government. The area of Ghaziabad is full of such incidents.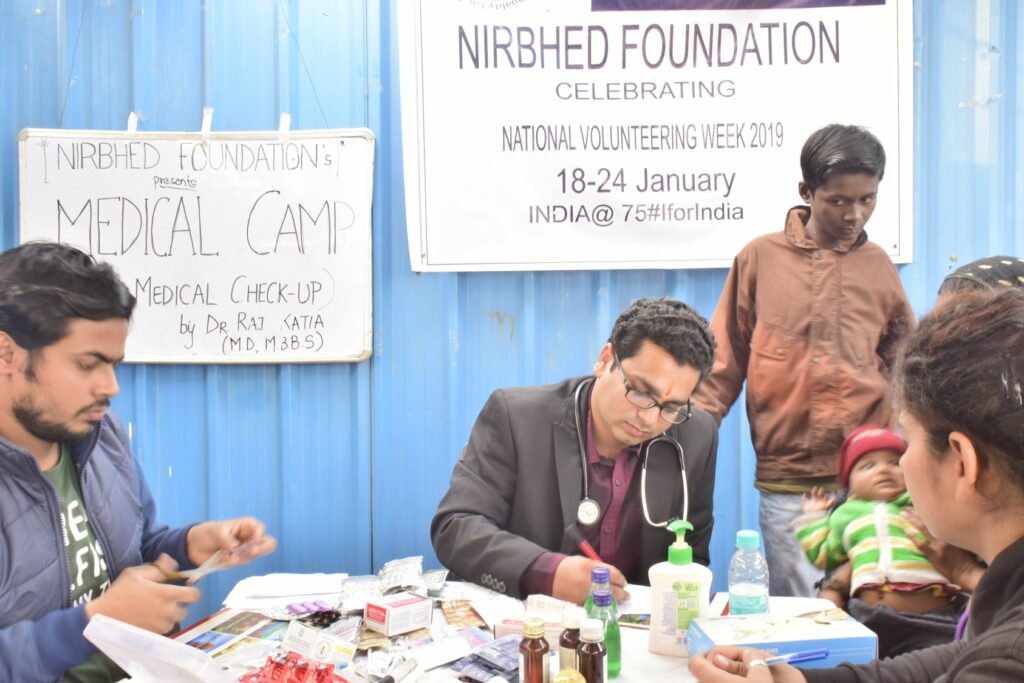 Innovative teaching method
"We follow Bal Bhasha Bharti Adhyapak Pustika that comes for just ₹25. It covers the basics for students. We follow NCERT books to cover the syllabus of CBSE as they enroll into schools later. We teach in Hindi to the senior secondary grades but for students who start with us from the beginning, we teach them in English and Hindi both. We conduct examinations at the centre after every grade and accordingly get their admissions into formal education. Our admissions are open throughout the year and the timing is equally flexible. We understand that some children still have to be the bread earners for their families so, we open as early as 7 am and go on till midnight. Our main aim is that the students are provided a safe environment to learn and study," he said.
In India, the closure of 1.5 million schools due to the pandemic and lockdowns in 2020 impacted 247 million children enrolled in elementary and secondary schools. In addition, there were over six million girls and boys who were already out of school even before the COVID-19 crisis began. Online education is not an option for all as only one in four children has access to digital devices and internet connectivity. Pre-covid, only a quarter of households (24 percent) in India had access to the internet and there is a large rural-urban and gender divide, according to a report by UNICEF.
During the pandemic, Sushil Kumar found a unique way of continuing the classes through an initiative called 'Main Bhi Hoon Shishak'. The students of grades 8, 9, and 10 were asked to teach the junior classes and the initiative paid them ₹3000 monthly, giving the family a source of income when everything was shut down. The volunteers would train the senior students and they would go door-to-door to help the junior class students. The homework and progress would be checked by the staff weekly. "If you ask me, I don't think we went through any loss in terms of education. We fully utilized the time we had during the lockdown and kept the classes going," he said.
When asked about different subjects, Sushil Kumar said, "we teach arts to the students like drama and theatre and host workshops for crafts like soap making, bag making, envelope making, etc. We also have yoga instructors, martial arts instructors dance and games teachers who assist in the overall development of the children. We also participate in exhibitions during festivals where the students display their creations at the stalls. Like festive goodies such as handmade Rakhi or diyas during Diwali. The girls of our school are very good at henna art."
"The Ghaziabad team of the Indian Medical Association also has a tie-up with us so they organize medical camps for our students twice a month. We are yet to provide medical facilities in other centres but, that should happen soon. We also send eatables to the centre in Bihar but, are yet to start meal systems in the other centres due to lack of resources," he added.
NEP 2020
India recently announced the National Education Policy 2020 which seems like a tremendous transformation in the education system. It promises high-quality education and global exposure to all. The policy aims to make the education system flexible, holistic and multidisciplinary; things that will meet the demand and needs of this century. This policy is also very different from those that have been governing the system, therefore it has also divided the opinions into two categories.
Shushil Kumar supported the views of NEP but highlighted the accessibility of schools in rural areas and urban slums of the cities. "While the policy has much to look forward to, it still seems to be neglecting the children of urban slums. The fundamental rights must be equally accessible to our children. We work with them from the root level, we must have the support of government schools to help them grow and receive a quality education," he said.
Pat on the back
"Often, we lie to our own families, fake a smile and hide our worries. I can't tell you how the number of times I've sat in the car by myself listening to Kishore Kumar as he sings Ruk Jana Nahi. The song also happens to be my callertune for the same reason; it motivates me to keep going. To the teachers working with the underprivileged, my message is to never stop trying, no matter how tough the situation. A problem is merely a delay of some time and the solution will get you a very positive result," he said.
Sushil Kumar and their NGO have provided almost 1000 children in the nearby slums with two-time meals while teaching many of them in his centre. His aim for them is to be able to earn through education instead of working as rag pickers. During the lockdown, the NGO distributed ration kits in UP and Bihar to over 4,300 families. It adopted 2,200 families who received regular meals. In total, the NGO distributed over 40 lakh meals to needy families.
When asked for a message to those students who want to study and turn their life in a different direction, he proudly said, "share my number with them. If I can't get them to my centre here in Ghaziabad, I will get their admission done and if they are unable to do that, I will arrange for their studies. My number is available on Google always."
Call for action
Nirbhed Foundation is always looking for volunteer teachers to reduce their student-teacher ratio. All 27 centres need helping hands. We urge the readers to visit their website and reach out to the members to contribute and engage in this cause for change.