Free Below-bridge school in New Delhi gives hope to underprivileged children.
India's first open-air school is set up Rajesh Kumar and operates from under the Delhi Metro flyover provides free education to underprivileged children. Kumar makes time from his schedule every morning to teach the children while volunteers from across the globe come and teach maths, English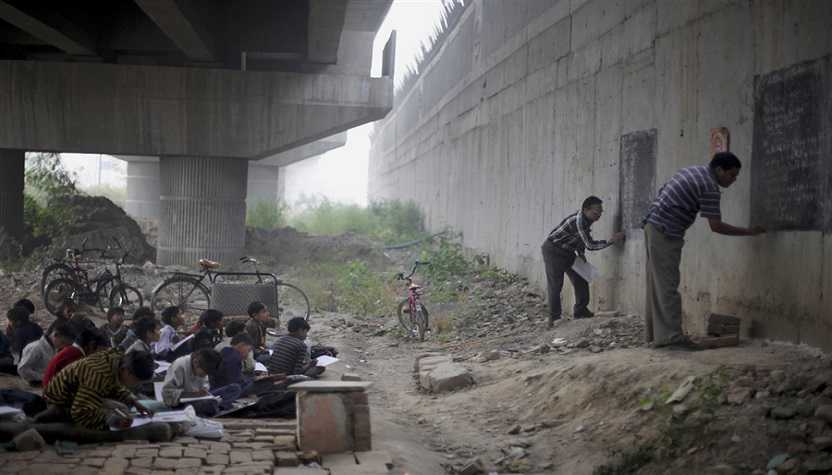 The iconic Kutub Minar whizzes past, so do glass and concrete structures leaving you doubting the country in which you are travelling. That's the experience of riding in the Delhi Metro. However, a diametrically opposite world inhabits the underbelly of the gleaming train.
The pillars supporting the Metro track are home to slum dwellers and their little children. The sight of these children playing in the construction zone instead of attending school disturbed 43-year-old, Rajesh Kumar so much that he took it upon himself to give these children a decent shot at education.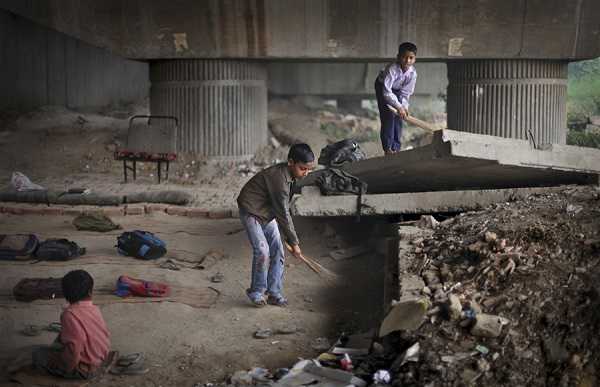 The result was India's only open-air school operating from under the Delhi Metro flyovers providing free education to underprivileged children. Close to 80 children from the neighbouring slums attend the school today. Kumar makes time from his schedule every morning to teach the children.
The school is minimalist with blackboards painted on the walls while a few polystyrene foam pieces form the seats for students. The Spartan school along with the constant racket of trains overhead does little to faze the children who are attend the school without fail.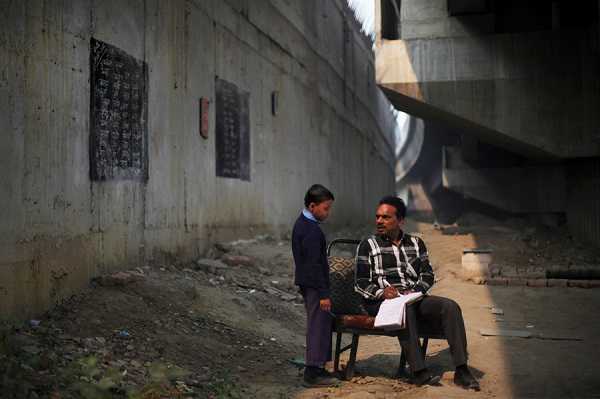 Additionally, the school receives cardigans, books, shoes, and other stationery tools from anonymous donors. "It's most important to inspire these children to study and give them an opportunity of an education. I will be fortunate even if two out of 20 study further. I will feel satisfied that I contributed to their future generations." Rajesh says.
Over the time, the school has gained recognition and international attention, with it has arrived a stream of volunteers from around the globe who offer education across areas including math, reading, and writing. Then there are certain volunteers who contribute by helping students achieve admission to formal schools, giving the children a chance to integrate in mainstream schools. Today, the school attendance has risen to hundreds of underprivileged students who attend regularly every day.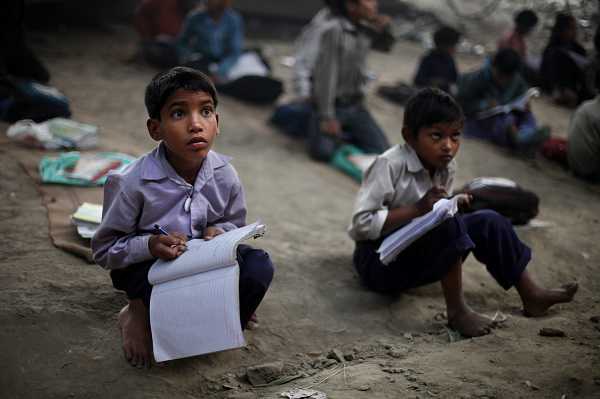 While the open-air school is a step in the right direction for the few students who make it to school every day, one can't help but wonder what the government is doing to reach out to millions of children who slip out of the cracks of regulations like the RTE Act and the net of government-run schools.
Read the original story by Maverick Baker at www.interestingengineering.com.
Gender Inclusive Holistic Education in NEP
The NEP focuses on 'Equitable and Inclusive Education' which reverberates the idea that no child should be left behind in terms of educational opportunity because of their background and socio-cultural identities.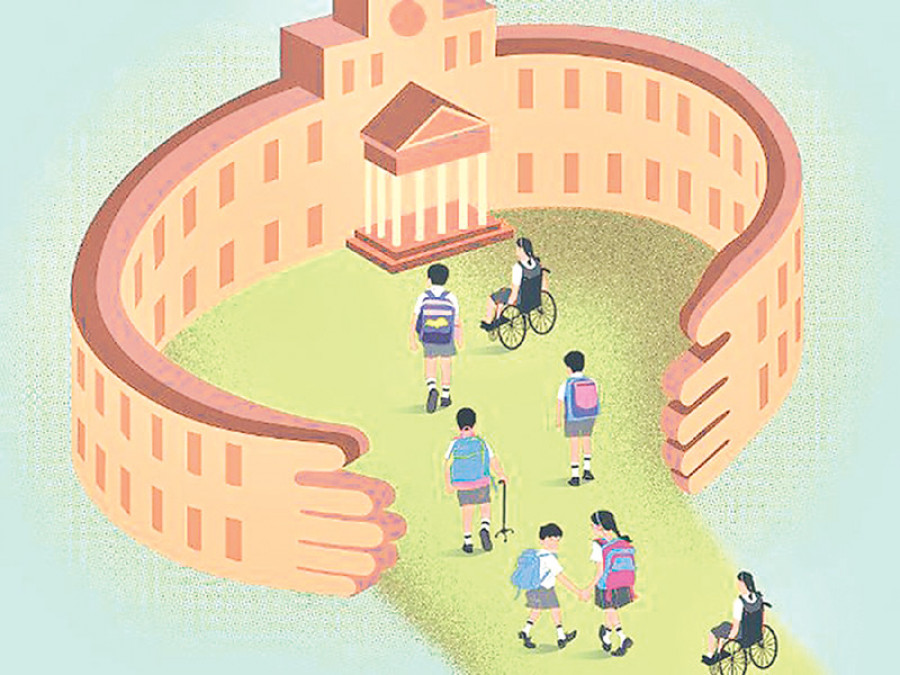 The National Education Policy 2020 envisages an inclusive and structural change in the educational system. It focuses on 'Equitable and Inclusive Education' which reverberates the idea that no child should be left behind in terms of educational opportunity because of their background and socio-cultural identities. It has taken into account the concerns of the Socio-Economically Disadvantaged Groups (SEDGs) which includes female and transgender individuals, Scheduled Castes, Scheduled Tribes, OBCs, minorities, and other categories. This policy aims at bridging the social category gaps in access, participation, and learning outcomes in school education.
The National Council of Educational Research and Training (NCERT) is implementing the Adolescence Education Programme (AEP) as part of the National Population Education Project (NPEP). One of the learning outcomes of AEP is to make the learners aware of the concerns of adolescence, i.e. process of growing up during adolescence & HIV/AIDS, and to inculcate in them a positive attitude regarding these concerns.
Further, the aspects related to gender-inclusive holistic education are covered through age-appropriate integration in different textual materials in the school curriculum, as well as in training and resource materials on the Health and Wellness of School Going Children, especially under the aegis of the School Health Programme under Ayushman Bharat.
As per UDISE+ 2019-20, a total of 61214 transgender children are enrolled in schools, of which 5813 and 4798 transgender children are enrolled in Class 10 and Class 12 respectively.
Department of School Education and Literacy (DoSEL), Ministry of Education is implementing Samagra Shiksha which is an overarching programme for the school education sector extending from pre-school to class XII and aims to ensure inclusive and equitable quality education at all levels of school education. Samagra Shiksha reaches out to girls, and children belonging to SC, ST, Minority communities, and transgender.
Further, National Education Policy (NEP) 2020 also identifies transgender children as Socio-Economically Disadvantaged Groups (SEDGs) and provides for equitable quality education, inter-alia, for all such students. This includes provisions for assisting transgender children in gaining access to education, and support for community-based interventions that address local context-specific barriers to transgender children's access to and participation in education, thereby aiming to eliminate any remaining disparity in access to education (including vocational education) for children from any gender or other SEDGs.
Additionally, under NISHTHA (National Initiative for School Heads' and Teachers' Holistic Advancement), a nationwide integrated teacher training program for teachers under Samagra Shiksha, teachers are trained on the relevance of Gender Dimensions in the Teaching and Learning Process which helps teachers to use and adapt learning activities that foster gender sensitive classroom environment.