Imparting skills which make students employable is far more valuable than a degree on paper.
Degrees are simply not able to fetch jobs to graduates. Graduates from Engineering, MBA and MCA backgrounds are facing extreme difficulty in securing a job. A tried and tested solution to enabling skill learning and providing a job opportunity is the apprenticeship programmes. The vocationalisation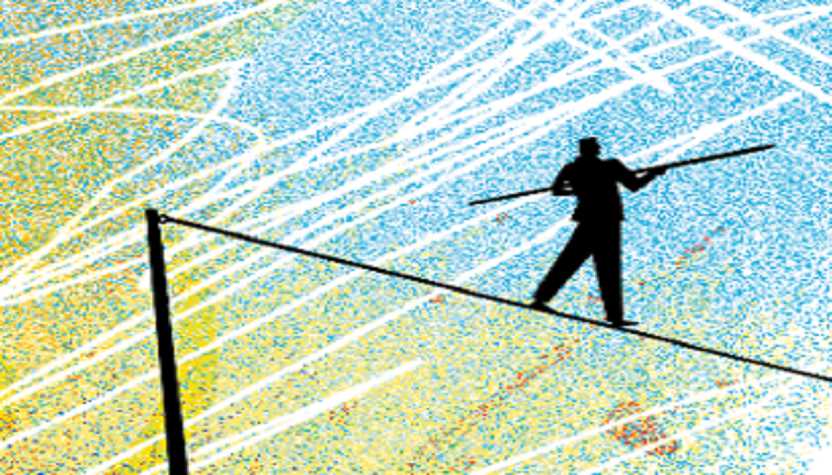 Indian education system is undergoing a crisis. Degrees are simply not able to fetch jobs to graduates. The time spent on earning the degree along with its fees yield absolutely no return. A simple instance in Uttar Pradesh where over 23 lakh candidates (including 2.22 lakh engineers and 255 PhD holders) applied for 368 vacant positions shows the value of degrees generated by our system.
Graduates from Engineering, MBA and MCA backgrounds are facing extreme difficulty in securing a job. The repercussions are already seen across engineering colleges in Maharashtra where close to 50,000 seats were vacant last year. A similar picture is painted in Tamil Nadu, Gujarat, Telangana or even Andhra Pradesh. The national regulator of engineering education predicts that the overall capacity of the education system will slide to nearly 11 lakhs from the current 16.7 lakhs.
So how can our education system help our graduates reach out to their aspirations and goals? By helping them in generating skills rather than simply earning degrees. This is the first year when the salaries of top 20 percentile of ITI graduates will exceed that of the bottom 20 percentile of engineers. In fact, Michael Spence won the Nobel Prize for Economics for suggesting that employees are able to use their education credentials to get social signalling value. In India, this problem has been magnified by poor strategy, execution and accountability.
The Vocational training setup in India suffers badly as there is no policy head as the strategy comes from the Central Government while the execution lies with the states. There is a clear disconnect between the classrooms and the industry; students are taught automobile mechanics on a carburettor while all Indian cars have long ago stopped using this technology. India's skill crisis requires solutions that create new connections between the education and employment system to reduce the mismatch between what students learn and what employers want.
A tried and tested solution to enabling skill learning and providing a job opportunity is the apprenticeship programmes. These have been in place in Austria and Germany since decades.
While the Modi Government has taken a step in the right direction by setting up a Ministry of skills, it is only one piece of the puzzle. As of today 23 central ministries are involved in skills but we all know what happens to the broth with too many cooks. Same is the case with the National Skills Development Corporation (NSDC).
The need of the day is a syllabus overhaul and for every state to setup a Skills University which is completely industry focused. These Universities should offer academic modularity (flexibility to move between certificates, diplomas and associate degrees), flexible curriculum delivery, and a refreshed apprenticeship programme. Such universities will be equipped to offer both employability and social signalling value.
The National Skills Qualifications Framework is a good start by the government. The next step should be for the government to start hiring on the basis of skills' evaluation and creating a Skills Mission, which converges all such programmes into one. Lastly, Right to Education Act needs to be amended to become the Right to Learning Act.
India is sitting on a large youth population – 10 lakh children which unless the government moves swiftly, firmly and decisively will turn into a demographic liability. The vocationalisation of higher education is an overdue reform.
Read the original story by Vikrant Pande at www.economictimes.com
NIOS celebrates 33rd Foundation Day
Dr. Subhas Sarkar addresses the 33rd Foundation Day Celebrations of NIOS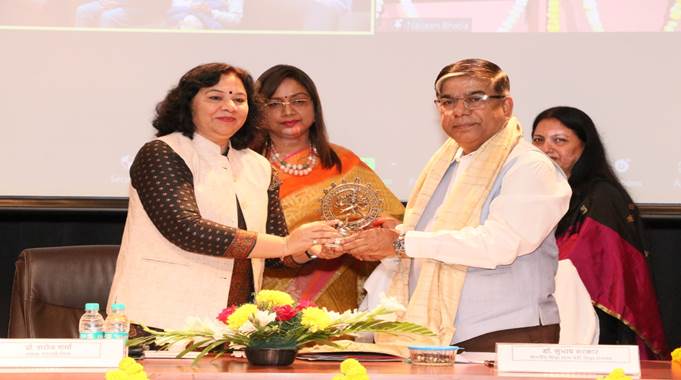 Union Minister of State for Education, Dr. Subhas Sarkar addressed the 33rd Foundation Day Celebrations of NIOS as the Chief Guest.
The function was attended by senior officials of the Ministry of Education, Chairpersons of educational institutions, Heads of Departments, officers, and staff of NIOS. Prof. Naval Kishore Ambasht, former Chairman, of NIOS and Pro-Vice Chancellor, of the Central University of Haryana, Prof. Sushma Yadav graced the occasion.
Dr. Subhas Sarkar in his address appreciated the various programmes and schemes of NIOS and said that NIOS is lighting the lamp of knowledge all over the world. Talking about the Azadi Ka Amrit Mahotsav, he mentioned that today's children will be young people in the age group of 30-40 years on the completion of 100 years of independence and will be responsible for building our nation.
He said that the Ministry of Education has entrusted NIOS with several responsibilities such as developing inclusive education resources, expanding the open and distance education system in states/UTs, translating all courses into more languages as required, creating Indian Knowledge Tradition based courses and propagating Indian culture by translating them into major foreign languages. He also praised the programmes of NIOS enrolling 10 crore adults under 'Basic Literacy Assessment', training of in-service teachers, Gender Green Project, and training in Yoga. He said that Indian Sign Language as a subject at the secondary level has been acknowledged on national and international platforms. He described the launch of an e-library called 'DEEP' by NIOS as a big step forward.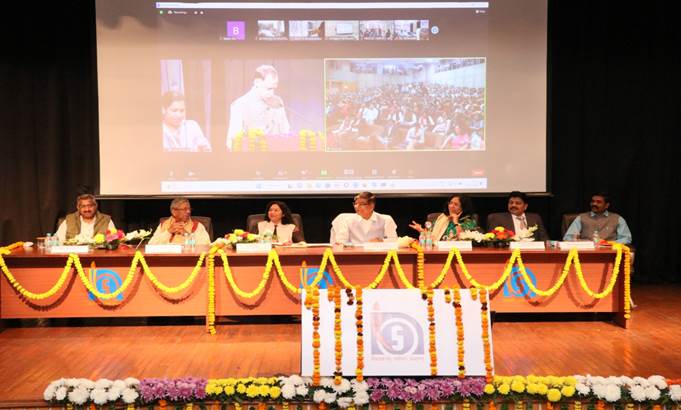 Prof. Saroj Sharma spoke about the journey of 33 years of NIOS and highlighted the special achievements. She said that NIOS is one of the two National Boards of Education under the Ministry of Education, which provides school education through Open and Distance Learning (ODL) for secondary, senior secondary, and vocational education. She elaborated on the role of NIOS in the field of education, efforts being made by NIOS for the successful implementation of the New Education Policy, Virtual Open School, Digital Library (DEEP), NEPIA Project, MoU with Ministry of Defence for Agniveer Project, setting up of Mukta Kaushal Kendras and subjects offered under Indian knowledge Tradition.
It was also conveyed by her that a curriculum called 'Aarambhika' is being developed by NIOS for catering to the Indian Diaspora.
A documentary based on the journey of 33 years of educational endeavours of NIOS was presented on the occasion. In this documentary, 'All England Badminton winner Pullela Gopichand said that most of the players in his badminton academy are getting an education from NIOS.
NIOS alumni, Ms. Niranjana and Vinod Kumar Chaudhary were also felicitated on the occasion. Shri Vinod Kumar said that only due to his education in NIOS, he was able to get the credit of making the Guinness Book of World Records 10 times (8 in Typing and 2 in sports). A proud learner of NIOS, Ms. Niranjana is a successful ventriloquist. Prof. N. K. Ambasht, former Chairman, NIOS said that in this age of technology, innovations must lead to developing 'standalone' courses for the Indian Diaspora, to achieve the goals of the National Education Policy- 2020. Pro-Vice Chancellor, Prof. Sushma Yadav said that the role of NIOS increases in the light of New Education Policy. NIOS has such potential that the institute will be able to achieve the ambitious goals of National Education Policy 2020 in the coming years.
The half-yearly magazine of NIOS 'Pragyan' was released by Dr. Subhas Sarkar on this occasion.