A decade long study shows the way how to prevent child marriages.
It is imperative to know which are the girls most likely to marry before they turn 18 and have a child at a young age if interventions to stop child marriages are to be effective in high prevalence areas says Renu Singh, Country Director, Young Lives.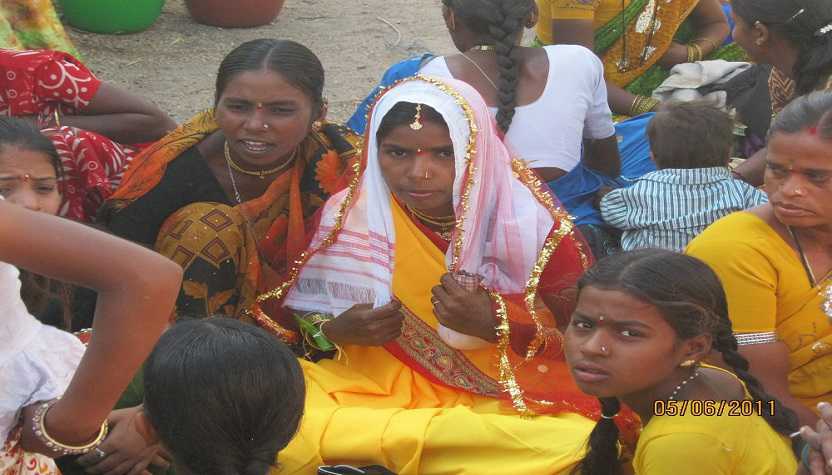 A recent international research has revealed a positive correlation between economic and social factors and early marriages of young girls in many parts of India.
Early marriage is a violation of a child's rights and sadly a very rampant practice in India, considering it's rooted in patriarchy and gender discrimination. The figures speak for themselves: the latest census shows that over 17 million children between the age of 10 and 19 years were married of in 2011, many of them hail from Andhra Pradesh and Telangana.
The international study, 'Young Lives', conducted in the 2 states with assistance from local partners, revealed, 37% girls here are married off by the age of 19 while 28% tie the knot before their eighteenth birthday. Interestingly, less than 1% of the boys are pushed into matrimony before they turn 18.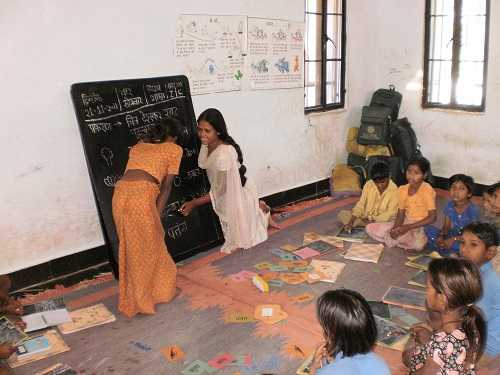 The study painstakingly followed the lives of 3,000 children 2002 onwards for a decade.
The 2015 National Family Health Survey (NHFS-4) revealed some disturbing statistics regarding early marriage and pregnancy. In Andhra Pradesh, while a third of the women in their early twenties (32.7 %) had married before age 18, one-in-eight girls between 15 and 19 years were pregnant or had already become mothers. In Telangana, while close to 25% of young women were married before 18, 10.6%, between 15 and 19 years, were already mothers or pregnant. Overall, almost 60% of married girls give birth to one or more children by the age of 19.
"There is evidence that early pregnancy is a consequence of early marriage and often comes with tragic consequences. Girls giving birth before they turn 19 are twice as likely to die as those who become mothers after the age of 20. Therefore, it is imperative to know which are the girls most likely to marry before they turn 18 and have a child at a young age if interventions to stop child marriages are to be effective in high prevalence areas," points out Renu Singh, Country Director, Young Lives.
"The number of child marriages is extraordinarily high, particularly among the marginalised communities. Most girls who married before 18 came from to poor families," says Singh, who presented the study findings in June 2016.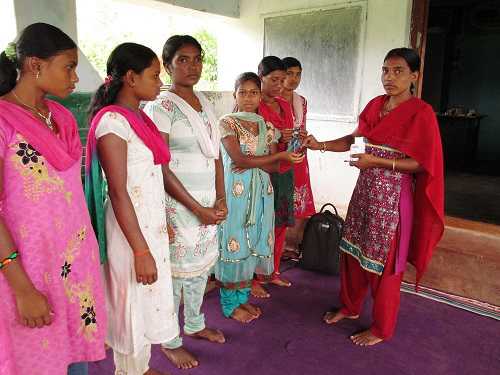 Firstly, Caste and geographical location are factors that can help determine if a girl would go on to become a young bride. "Caste analysis of the data shows that 42% girls from backward classes get married before 18, followed by those belonging to scheduled castes (38%) and scheduled tribes (34%). Apart from that, where the girls live also determines their fate. Those in rural areas are twice as likely to be married by 19 as opposed to their urban counterparts," elaborates Singh.
Here is the story of Bhavna who hails from a backward class and resides in Katur village in Rayalseema. The youngster was forced to quit school after Class II when her father passed away unexpectedly. Much like her siblings she too was expected to contribute to the family income. When she turned 16, she was married off to an auto rickshaw driver because her brothers felt "it was a good match".
What if Bhavna had not dropped out of school after Class II? Would her life have been any different today? "Most definitely," says Singh, "Education plays a crucial role in delaying the marriage of girls. Our research demonstrates that girls who leave school by the age of 15 are four times more likely to marry before they come of legal age than those who continue with their education."
Incidentally, higher the mother's education lesser are the chances of an underage nuptials of the girl child. The research revealed that over 81% of girls whose mother had completed middle school remained single at 18. If the older women had studied beyond secondary school then there was just a 9% chance that they would marry underage – a whopping 91% of girls escaped this situation.
The next factor that increases the probability of a child marriage is the aspiration levels of parents, caregivers and even the girls themselves. The decade long observation of the girls provided the researchers the insight that 75% of the girls who, at the age of 12, had expressed the wish to complete higher education remained unmarried at 19.
The study has clearly shown that education greatly helps in promoting the girls' self-confidence and thereby helps them in resisting early marriage. However, certain interventions need to be introduced and followed through to ensure that this becomes a reality.
Ensuring access to secondary education for girls and providing them social protection, engaging with men and boys to address regressive gender and social norms while making available productive livelihood opportunities are some of the interventions that will not only break the cycle of continued generation-to-generation poverty but also effectively remove the spectre of marriage from the lives of young girls.
*The above article originally appeared in www.thebetterindia.com.
Smile Foundation and Shell Launch STEM Project on Pi Day
The initiative will benefit less-privileged students from government schools.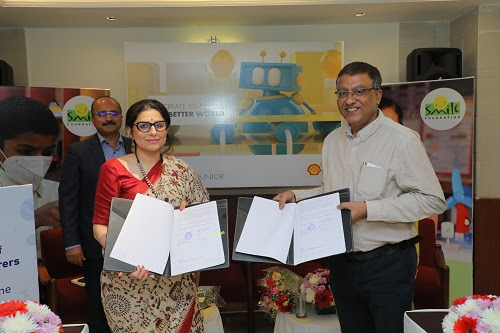 On the occasion of International Pi (π) Day, Smile Foundation and Shell launch 'NXplorers Junior' programme in three Indian states. NXplorers is Shell's global flagship Social Investment STEM (Science, Technology, Engineering, and Mathematics) educational programme aims to benefit over 25,000 children during the first year by enabling them to understand, navigate and address local and global challenges, as underlined in the Sustainable Development Goals (SDGs). NXplorers is also aligned with the National Education Policy 2020 and delivers societal benefits.
The innovative initiative will benefit less-privileged students from government schools and affordable private schools, studying in rural and hard-to-reach areas in the states of Andhra Pradesh, Telangana and Kerala. Its design also includes endeavour to create awareness amongst parents on the importance of STEM education, especially for girl children.
"Shell firmly believes that, provided with the necessary skills and guidance, young people can be a driving force to find sustainable solutions to the major global challenges of our time. Launched in 2018, Shell's global flagship STEM programme NXplorers is aligned with the National Education Policy 2020 that aims to transform India into an equitable and vibrant knowledge society. With the Smile Foundation partnership, we aim to expand this programme to Andhra Pradesh, Kerala, and Telangana and offer young minds the platform to design sustainable solutions to ease the pressure on food, water, and energy," said Ms. Latika Taneja, Head of Corporate Relations – India.
The programme is being rolled out in concurrence with the educational authorities of the respective state governments. Besides students, teachers, parents and communities are involved actively while implementing the programme so that it remains sustainable in the long-term.
"We are excited to roll out this innovative programme in India. We are hopeful that our children will not only leverage STEM education in building their future career but also will grow up and develop leadership ability in finding sustainable solutions in various walks of life," said Mr. Santanu Mishra, Co-founder & Executive Trustee, Smile Foundation.
The NXplorers Juniors will train both 6th and 7th grade students. NXplorers Juniors Level-I course will be delivered through a combination of teacher's guide, PowerPoint slides, and several instructional videos. The facilitator guide will outline the essentials to be covered in each session, exercises, discussion, checkpoint questions, a summary, assessment, and research to be undertaken by students after the session.
The United Nations Sustainable Development Goals (SDGs), exploring SDG Solutions, researching global goals, and developing a challenge and choosing a solution etc. are covered in the NXplorers Juniors Level-1.
NXplorers – Learning for a Life Time, envisions to provide a minimum of 3-5 years of NXplorers exposure to the students at various levels. The objectives include developing strong knowledge and skill set among students so that local and global challenges can be addressed by them. Developing sustainable models of implementation by engaging teachers, school leaders and communities effectively, creating awareness amongst parents regarding the importance of STEM education, especially concerning girl education are part of the overall goals.
About Smile Foundation
Smile Foundation is a national development organization directly benefiting over 1.5 million underprivileged children and their families every year through more than 400 welfare projects in education, healthcare, livelihood and women empowerment spread across 2,000 remote villages and urban slums in 25 states of India.
About Shell
Shell is one of the most diversified international energy company in India with over 10,000 employees and presence across upstream, integrated gas, downstream, renewable energy, and deep capabilities in R&D, digitalisation, and business operations; with a retail presence across six states – Karnataka, Tamil Nadu, Telangana, Maharashtra, Gujarat, and Assam.