Meet Sugata Mitra who feels primary education may not need teachers
Sugata Mitra's "Hole in the Wall" experiments in the slums of New Delhi found that children aged 6 – 12 with no prior experience with computers intuitively figured out how to operate the machine, overcoming both language barriers and educational gaps in the process.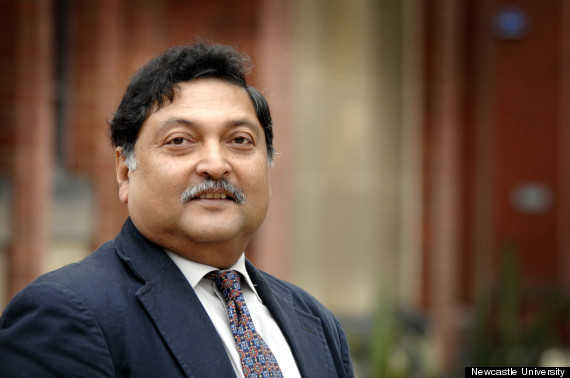 Dr. Sugata Mitra is a long-term educationist and an international scientist. His repertoire boasts of over 25 inventions and path breaking applications in of Cognitive Science, Information Science and Education Technology. Dr. Mitra has been the Chief Scientist at NIIT and currently a Professor of Educational Technology at Newcastle University, UK.
His numerous accolades are testimony to his silent demeanour yet a restless mind which is constantly working to educate underprivileged children across the world. His numerous trophies include "Man of Peace Award" from Together for Peace Foundation, USA, "Social Innovation Award" from Institute of Social Inventions, UK along with the "Dewang Mehta Award" by the Indian Government for his work related to Hole-in-the-Wall experiments.
His "Hole in the Wall" experiments in the slums of New Delhi include placing a computer in a wall, connecting it to the Internet, and waiting to see what would happen. There were no instructors, just free access to a world of information online. The results were amazing, he found children aged 6 – 12 who had no prior experience with computers intuitively figured out how to operate the machine, overcoming both language barriers and educational gaps in the process. In fact, they went on to teach each other based on the interest of their peers.
Sugata was fascinated with the idea of unsupervised learning and computers as early as 1982. However, finally, in 1999, he took to field testing. On 26th January, the republic day of India, Dr. Mitra's team carved a "hole in the wall" that separated the NIIT office where he worked from the adjoining slum in Kalkaji, New Delhi. Through this hole, a freely accessible computer was put up. The computer was an instant hit among the slum dwellers, especially the children. With no prior experience of computers, the children took to operating them as fish take to water. This prompted Dr. Mitra to propose the following hypothesis:
The acquisition of basic computing skills by any set of children can be achieved through incidental learning provided the learners are given access to a suitable computing facility, with entertaining and motivating content and some minimal (human) guidance.
Encouraged by the success of the New Delhi experiment, the experiment was replicated in Shivpuri in Madhya Pradesh and in Madantusi in Uttar Pradesh. The findings from the 2 new locations confirmed the results of the initial experiment. It appeared that the children in these 2 places picked up computer skills without any guidance or instruction. Sugata even coined a term for this new way of learning – Minimally Invasive Education.
To further isolate how the children tackled the problem ignorance of the English language, the experiment was conducted in a northeastern village of Madantusi, where, for some reason, there was no English teacher, so the children had not learned English at all. A similar hole-in-the-wall was built and the kiosks were stacked with a lot of CDs as the village had no internet access. 3 months later the results were astonishing.
Suagata found 2 children aged 8 and 12-year-olds glued to the screen, engrossed in playing a game. And as soon as they saw the professor they said, "We need a faster processor and a better mouse." Besides being amusing, it was a light bulb moment as they claimed to have picked it up by reading the CD covers. Not only this, the children interacting with the computers had actually picked up 200 English words, many of them mispronounced yet with the absolute correct usage. So, the Madantusi experiment showed that language is not a barrier; in fact children may be able to teach themselves the language if they really wanted to.
The true test of a successful experiment is its repetitive verification of the result time after time. This was demonstrated across 30 such clusters of computers or Learning Stations that have been set up in India and abroad in collaboration with International Finance Corporation. The results have been uniformly encouraging, and consistently show that children learn to operate as well as play with computers with minimum intervention.
So what was the conclusion over the 6 years of work? It was amply clear that primary education has the potential to happen on its own, or some parts of it can happen unaided. It does not have to be imposed. Learners, children more so have the potential to self-organize and attain an educational objective.
SEL in the Classroom: Strategies for Successful Integration into Curriculum
Man is a social and gregarious animal and therefore we need to get along with family, friends, neighbors, etc – if nothing – learn to go along to get along.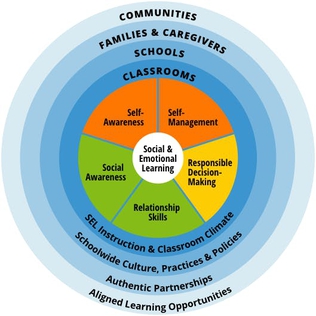 Today, there is a lot of talk about social and emotional skills; there are talks, seminars, podcasts, etc—what needs to be taught and how and when. Of course, everything has to be taught in schools; parents have no time – they are working from home / from the office so the duty falls on the teacher almost entirely as does the blame if something is not learned. SEL doesn't work that way. Unlike subjects, these skills are very cultural, flexible, and contextual but in whichever age or society we live in there are some basic skills we need to have. Man is a social and gregarious animal and therefore we need to get along with family, friends, neighbors, etc – if nothing – learn to go along to get along.
Having said that what do we as teachers need to teach, at what stage should they be taught and how do we ensure that what we teach makes sense to the children and therefore is learned?
Among the social skills, communication needs to be given top priority. Rather than making a boring list of skills I would like to be specific, brief, and precise. Speaking could be subdivided into skills to discern what to speak and what not to speak for example. As a rule, it is linked to empathy but before that recognizing one's own and other's feelings is also linked to honesty. A thumb rule- if you think what you are about to say will hurt the other person's feelings, keep your thoughts to yourself.
After the what, comes how to say—one has to be honest but need not be brutally so. So, this is linked to tact and diplomacy without being dishonest or unnecessarily flattering.
Then comes when to say what you want to say—judging the appropriacy of time is important too. This is linked to patience and sensitivity.
Very often, especially in our country, listening is not considered a skill. Kids are encouraged to talk to "gain confidence" but never taught to shut up and listen. They are growing up with a lot of noise surrounding them –of various kinds. This leads to narcissism and an undue notion of self-importance. So, listening develops respect for other's thoughts and opinions, refection, tolerance, and acceptance of diversities, respect for others' knowledge and experiences, etc
Emotional skills deal primarily with recognizing and admitting one's own feelings and therefore those of others. Culturally we do not encourage kids to show or express their emotions—partly because as adults we ourselves do not know how to deal with feelings—we have hardly been taught and we have very few words in the vernacular to express the myriads of feelings. So, feelings are very often suppressed. This is somehow in my opinion inextricably linked to values like courtesy, integrity, gratitude, respect for elders, helpfulness, respect for the disabled and underprivileged, respecting boundaries and personal space, justice, ability to take a No—the list goes on—it is never exhaustive as I said it keeps changing and we need to be flexible as to the degree it can be enforced. At some stage, we must allow kids to make their own choices.
I am reminded of two very apt pieces I have read- one is a poem by Dorothy Law Nolte-Children Learn What They Live. The other is a book 'All I Really Need to Know I Learned in Kindergarten" by Robert Fulghum. They both talk about everything there needs to be said on the above topic. I will nevertheless attempt to explain how some of these can be taught.
Let me start by saying that it is no longer a 'Do as I say"-it is a 'Do as I do" world and I think rightly so. Today kids starting from the KG classes need to understand the why of everything.
So, as they undertake individual or group play they can be taught fair play, sharing, patience to wait for one's turn for toys, etc, talking softly, saying sorry if they have unintentionally hurt another, saying thank you for receiving something, putting things back, perseverance to complete a job, doing things as best as they can and so on. They also learn not to take things that do not belong to them.
They learn empathy when another child is hurt and is crying, learn what the teachers are doing to comfort him/ her, they also can subconsciously learn words to describe some feelings upon which they can build.
In Class they can be taught to speak one at a time- patience, consideration for others, respect for the teacher—how to show that respect and why, hoping this will be extended to the older family members at home. They can be taught to ask for things politely and a zillion other thing.
Certain aspects of behavior are very cultural like standing up when a teacher enters and wishing them, not touching each other, appropriacy of clothes which is steadily merging with that of the West, revealing clothes for example, modesty is very Indian. According to me, we can teach the Indian way and as the kids grow older be allowed to make their own choices based on the society they move with. Celebrations are also very cultural and Indian.
Now I shall mention some issues in the teaching of both communication skills and social and emotional skills. There is no clear consensus among the parents themselves and/or teachers themselves as to what is the right thing to teach. They are very often confused. Hence that confusion is passed on to the kids. Sometimes it is ok not to stand up when the teacher enters the class- some insist- some don't, some are 'friends' with the kids' others are strictly teachers and so are the parents. Parents and teachers can only be friendly with kids-they can never be their friends. The issue is that they have blurry lines as boundaries – and when kids cross that boundary, the parents and teachers are offended not realizing they are the ones that did not define the boundaries.
So, in India the issues in teaching social and emotional skills are many, and as long as the migration of people back and forth to the West and East continues and inter-marriages continue, there is going to be a constant fluid state and this transient stage is what we will have to live with for some decades till the cultures merge and stabilize.
Children Learn What They Live—by Dorothy Law Nolte
If children live with criticism,
They learn to condemn.
If children live with hostility,
They learn to fight.
If children live with ridicule,
They learn to be shy.
If children live with shame,
They learn to feel guilty.
If children live with encouragement,
They learn confidence.
If children live with tolerance,
They learn to be patient.
If children live with praise,
They learn to appreciate.
If children live with acceptance,
They learn to love.
If children live with approval,
They learn to like themselves.
If children live with honesty,
They learn truthfulness.
If children live with security,
They learn to have faith in themselves and others.
If children live with friendliness,
They learn the world is a nice place in which to live.
The author Robert Fulghum very nicely says – ALL I REALLY NEED TO KNOW about how to live and what to do and how to be I learned in kindergarten. Wisdom was not at the top of the graduate-school mountain, but there in the sandpile at Sunday School.
 Author – Bhavani Raghunandan, Director, Vidya Mandir Sss, Chennai